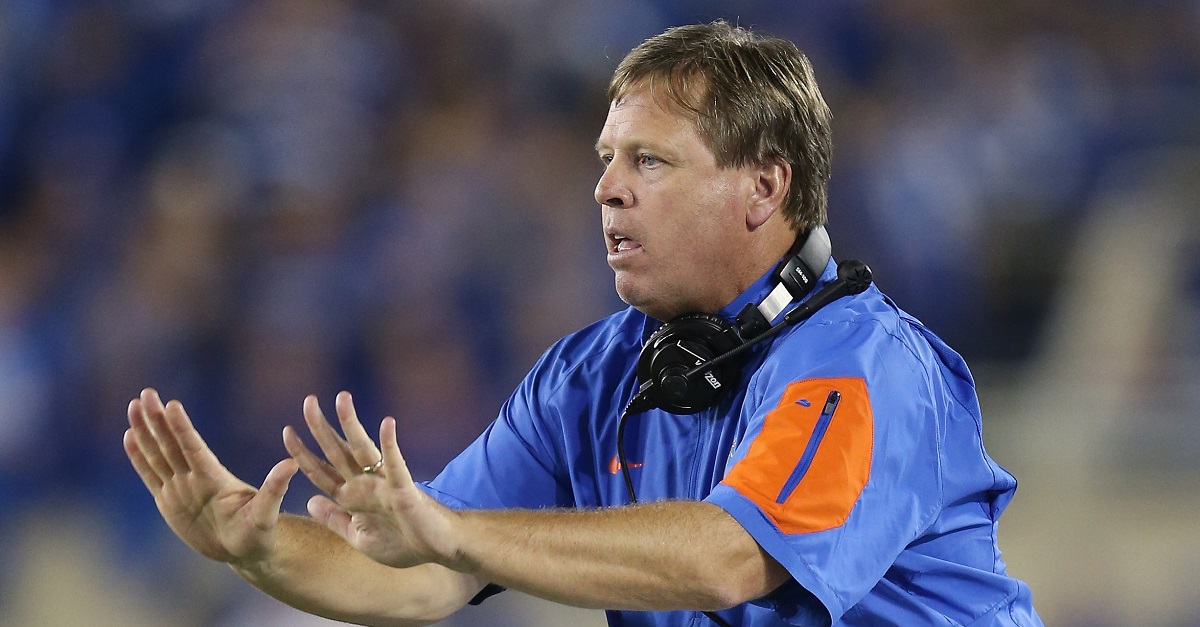 Andy Lyons/Getty Images
LEXINGTON, KY - SEPTEMBER 19: Jim McElwain the head coach of the Florida Gators gives instructions to his team against the Kentucky Wildcats at Commonwealth Stadium on September 19, 2015 in Lexington, Kentucky. (Photo by Andy Lyons/Getty Images)
UPDATE: Oregon State has reportedly reach agreement with Jonathan Smith.
Florida fired head coach Jim McElwain back in October, and according to at least one report, he has interest from Oregon State for their head coaching vacancy.
While it seems the process is still early, there was speculation that McElwain could have headed north even before threats were reported and everything spiraled out of control in Gainesville.
CBS Sports? Dennis Dodd speculated that McElwain could have shipped off to the job at Oregon State, which currently has an opening after the school and coach Gary Anderson parted ways.
McElwain was thought to be on the short list at UCLA and an interesting candidate for Nebraska.
McElwain is generally thought to be a West Coast guy considering he worked for the Oakland Raiders for a year and got his start as a graduate assistant at Eastern Washington with stops at Colorado State and Fresno State before eventually making his way to Florida.
He went 22-12 while leading the Gators and 16-8 in the conference to go with two appearances in the SEC Championship Game that were losses to his former boss in Alabama?s Nick Saban. However, this was supposed to be the season where the Gators had a real offense and would put up serious scoring numbers. That never came to fruition and his 3-4 record just wasn?t good enough for new athletic director Scott Stricklin who hired Dan Mullen on Sunday.