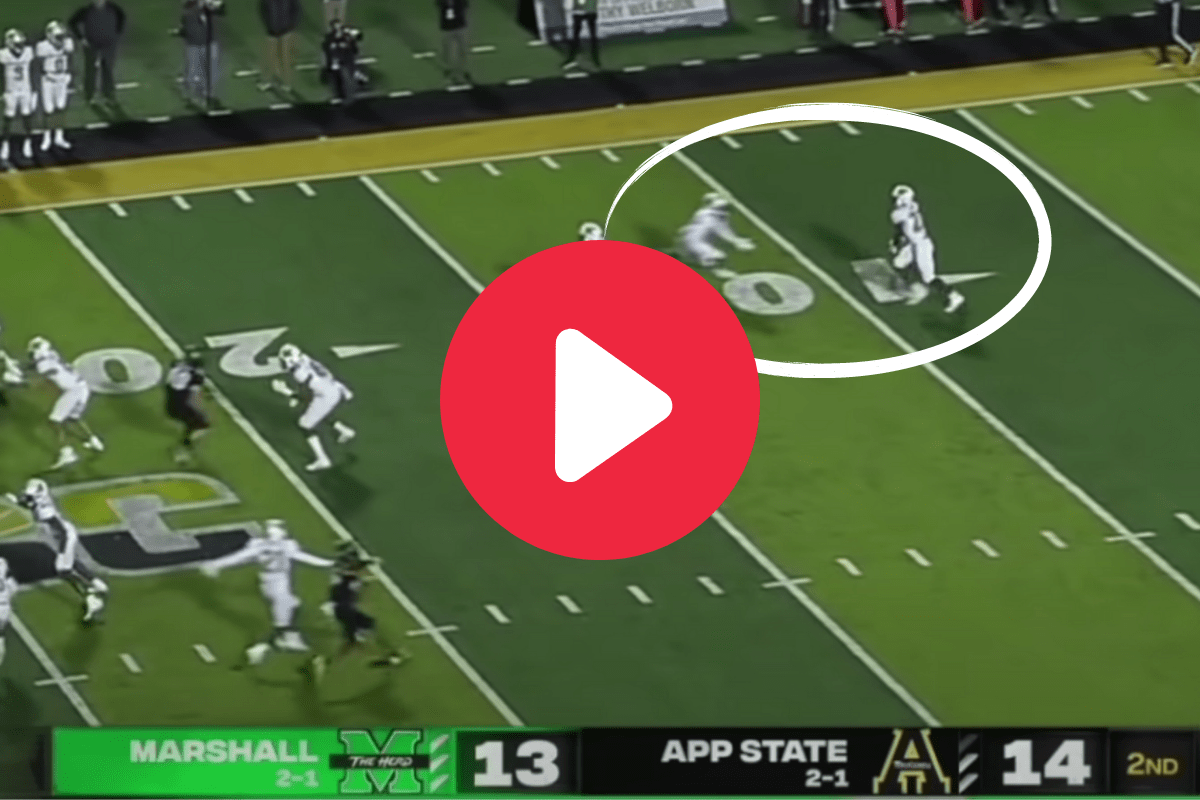 Screenshot from YouTube
It's easy to forget that four weeks into the college football season is still the preseason. Refs make mistakes, teams make dumb penalties, players are still finding their rhythm. Preseason lasts until halfway through the conference schedule.
It's preseason for the cameramen, too.
In a matchup between the Appalachian State Mountaineers and Marshall Thundering Herd, we saw a Grade A example of the preseason getting the best of a cameraman during a kickoff.
Marshall's Fake Reverse Kickoff Return
RELATED: This Bizarre Trick Play Formation is Why College Football Remains Awesome
Appalachian State had scored to go up 14-13 with seven minutes and some change left in the second quarter. App State kicker Michael Hughes kicks like he would any other kickoff. Rasheen Ali returns for the Thundering Herd.
Ali fields the ball at his own 3-yard line and looks for an opening on the right side of the field. At the same time, one of his teammates comes back to take the handoff for the reverse. Or does he?
I didn't know. Appalachian State didn't know. The cameraman at ESPN didn't know.
The broadcast follows the supposed ball carrier down the left sideline. Meanwhile, Ali, who did the ole fakerooski, kept the ball and slipped past coverage for the touchdown. The cameraman didn't catch up until he was 20 yards from scoring.
Touchdown Herd. Just like that, it's 20-14.
The play would've undoubtedly been the highlight of the game had Marshall come out on top. Appalachian State scored 10 unanswered points in the fourth quarter to win 31-30.
I personally love the trick play call from Marshall head coach Charles Huff. He pulled it out at exactly the right time and caught Appalachian State off guard. Maybe he'll decide to actually hand it off next time. Even though they fell short, it's important to test bold plays. After all, there's no better time to try out wrinkles than the preseason.
Related Videos