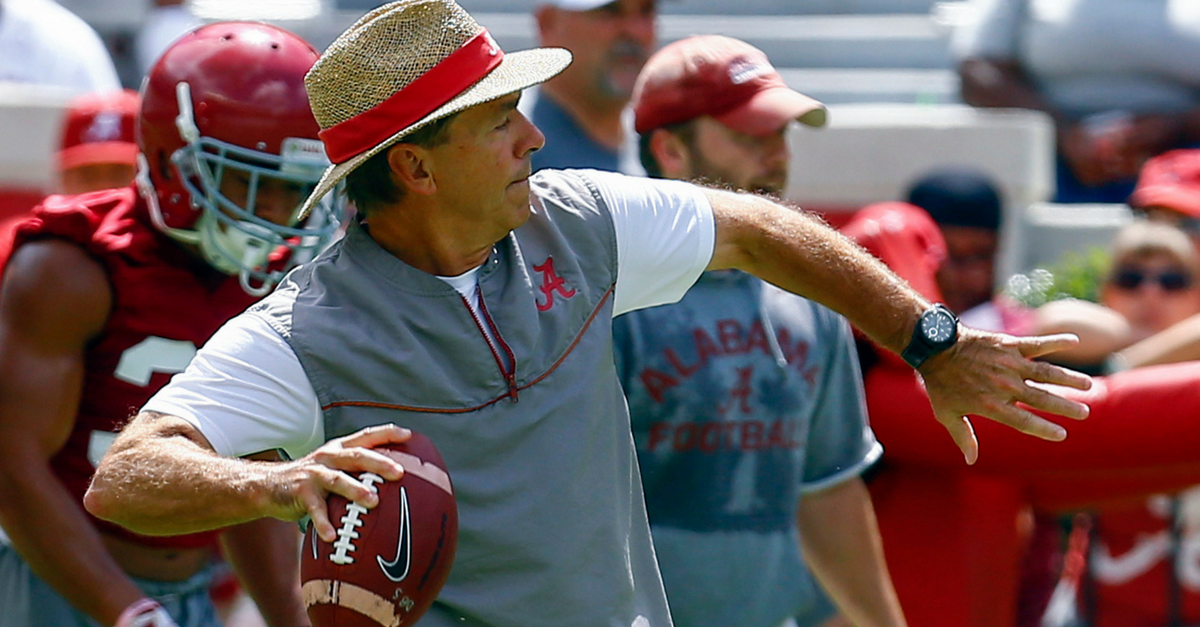 AP Photo/Butch Dill
Nick Saban has completely dominated college football the last decade and every single program in the country is simply trying to play catch up. The Alabama Crimson Tide head coach has the preseason No. 1 team right now, lands the top recruits, and even gets prank called on vacation.
Obviously Saban knows what he?s doing to run a top-notch program, winning five of the last nine national championships. But is he overrated? One coach certainly believes so.
CBS Sports brilliantly ran a ?Candid Coaches? poll to ask those in the coaching fraternity who are the most overrated and underrated coaches in college football.
Florida State?s Willie Taggart and Penn State?s James Franklin each topped the ?Most Overrated? poll with 20 percent each, while Stanford?s David Shaw and Washington?s Chris Peterson were both tabbed ?Most Underrated? with 12 percent each.
?James Franklin. His coaching peers know he is full of it,? one coach said.
?Willie Taggart because he still has a career losing record,? another coach added.
Each coach who participated remained anonymous, which is beautiful because the quotes section was absolute fire.
One quote in particular completely blasts Saban for being overrated:
?If you had the No. 1 recruiting class in the country every year [you?d win like Nick Saban]. He shows up at every single game with a better roster than the teams he?s playing? If you count cheating and getting the best players in the country as part of running a program, he?s the best in the country. It?s like saying an NFL coach is the best coach in the league if he gets 25 first-round picks every year.?
For the ?recruiting stars don?t matter? crowd, this coach certainly believes they do.
For the ?Nick Saban runs a clean program? bunch, this coach definitely believes the man at the helm of the Crimson Tide cheats.
For those who are undoubtedly jealous of Alabama?s success, this coach might be the most bitter of all.
If only the world found out who said this, the only way to settle it for good would be for Saban to demand this game on the football schedule immediately.
Now that would be fun.