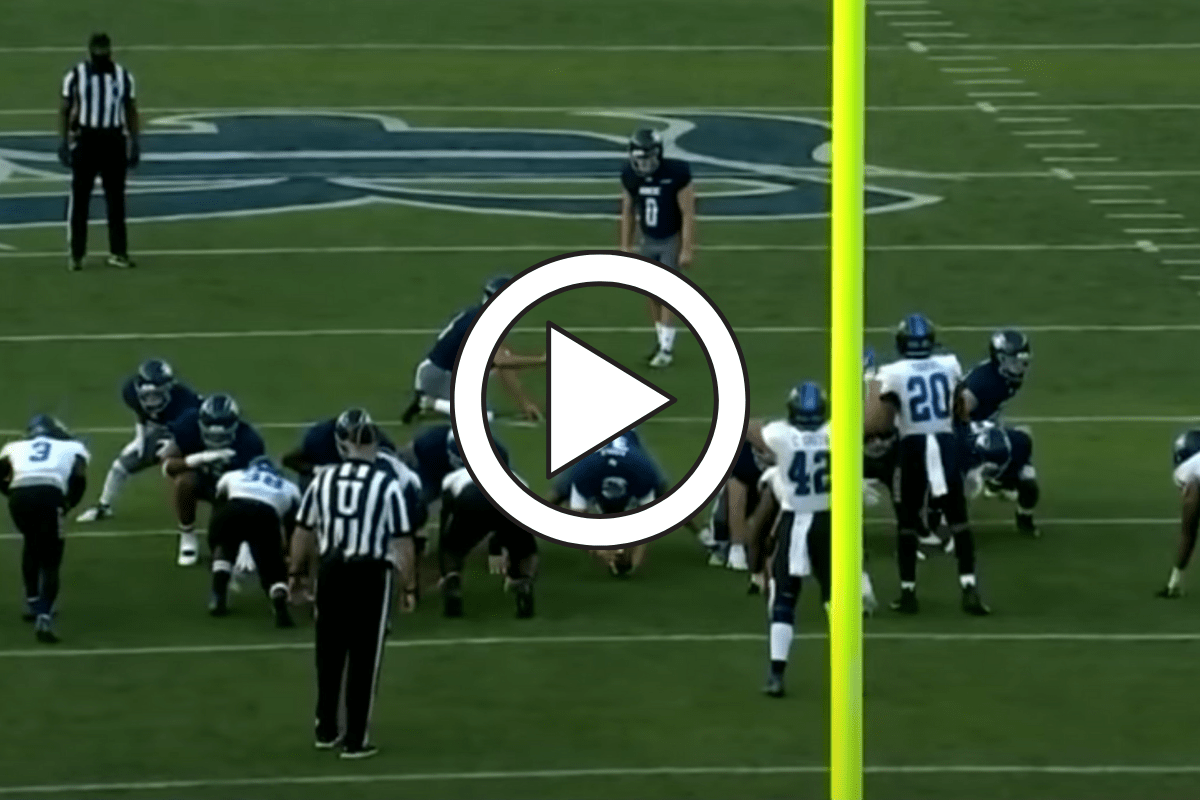 Screenshot from YouTube
Losing a football game sucks. Getting blown out sucks. Falling to a last-second touchdown sucks. Being screwed by the refs sucks. Missing a field goal sucks. No matter how it happens, it's always a terrible feeling, and nobody understands that more than the Rice Owls.
In the first game of the 2020 season, Rice found itself in a college football showdown with the Middle Tennessee Blue Raiders at Rice Stadium in Houston. The Owls stormed back in the fourth quarter to force overtime.
That's where kicker Collin Riccitelli lined up for a 45-yard field goal attempt to seal the game and earn a season-opening victory. What happened next might never be replicated ever again.
Rice's Quadruple Doink Field Goal
RELATED: Kicker Forgets to Take the Field, Then Shanks It
Collin Riccitelli's kick looked good. It was pushing a little to the right, but nothing too crazy. Then, somehow, the ball hit the right upright, bounced off the crossbar, nailed the left upright, bounced off the crossbar again and fell short into the end zone.
The kick was no good. Riccitelli, a grad transfer from Stanford, couldn't believe it. Nobody could. The ball literally hit all three goal posts and somehow didn't go in.
It got worse. Rice lost in double overtime. Riccitelli had his next attempt blocked. MTSU quarterback Asher O'Hara scored the game-winning touchdown for the road win.
What a crushing way for a football team to lose a season opener. It was trending on social media immediately.
"It's heartbreaking for him and heartbreaking for our team," Rice head coach Mike Bloomgren said. "Did it hit four times? I think it hit four times. I don't think you could ever replicate that one."
The announcer compared it former Chicago Bears kicker Cody Parkey and his double-doink in the NFL playoffs against the Philadelphia Eagles in January 2019.
The stakes certainly weren't higher here, by any means, but it's still a ridiculous thing to happen. It's unfortunate the second overtime wasn't much better.
There were a lot of crazy things that happened that Saturday. From Khabib Nurmagomedov winning to UFC 254 to Indiana upsetting Penn State on a wild two-point conversion to the Los Angeles Dodgers somehow losing their World Series game to the Tampa Bay Rays.
There was nothing quite like the Rice field goal miss, however, and it will be hard for football fans to forget.
Related Videos