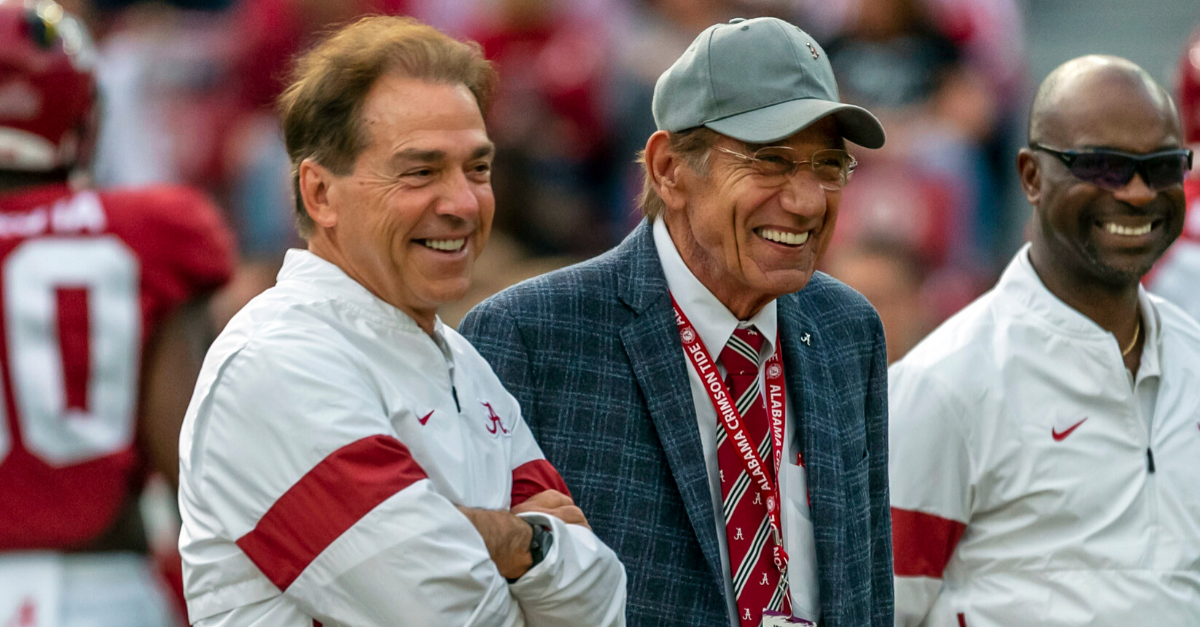 AP Photo/Vasha Hunt
McEachern High School in Powder Springs, Georgia is home to one of The Peach State's most dominant athletic programs. On the basketball court, five-star point guard Sharife Cooper is a McDonald's All-American who's headed to play for the Auburn Tigers next fall. On the football field, head coach Franklin Stephens brought his winning ways to McEachern and led the Indians to a 12-0 record before losing in the Class 7A quarterfinals in his first season.
That team was loaded with talent. Six players were ranked among the top 200 in Georgia, including cornerback Tajiri Smith, who signed with Kansas State, and running back Jordon Simmons, who is on his way to Michigan State.
But the Indians' best players and top-rated recruits were defensive tackle Jamil Burroughs and wide receiver Javon Baker. Both were All-Americans this past season, both were four-star recruits, and now, both of are officially members of the Alabama Crimson Tide after inking their National Letter of Intent on National Signing Day 2020.
4-Star WR Javon Baker Signs with Alabama
Nationally, Baker is the higher-ranked of the two teammates. Standing 6-foot-1 and weighing about 200 pounds, Baker caught 58 passes for 629 yards and 11 touchdowns as a senior. 247Sports' Charles Power described him as a "strong-handed pass catcher who plays with a confidence when the ball is in the air," adding that Baker "projects as a Power Five starter with the upside of developing into a NFL Draft selection."
Baker held over a dozen offers from Arkansas, Auburn, Florida, Florida State, Michigan, Ohio State, Ole Miss, Tennessee, and Virginia Tech. Powerhouses like Clemson and Georgia also reportedly showed interest, but the Crimson Tide came out on top.
Alongside returning starters DeVonta Smith and Jaylen Waddle, as well as the emergence of sophomore John Metchie III, Baker has work to do before he takes the field, but he has all the tools to be a big-time weapon in the SEC.
4-Star DT Jamil Burroughs Signs with Alabama
RELATED: 4-Star RB Roydell Williams Stays Home: "Alabama is My Heart"
He's 6-foot-2 and weights 323 pounds. If you build an ideal interior defensive lineman in the Southeastern Conference, he looks exactly like Jamil Burroughs.
Burroughs finished his senior season with 48 total tackles and 9.5 sacks. Statistics submitted to MaxPreps credit the Georgia native with 31.0 tackles for a loss in three seasons, which by the look of his highlights doesn't do justice to how disruptive Burroughs truly was for McEachern.
His offer list looks exactly how you'd expect: massive programs wanting a sure-fire starter with NFL-level talent. Arkansas, Clemson, Florida, FSU, Georgia, Georgia Tech, LSU, Michigan, Mississippi State, Nebraska, Notre Dame, Ohio State, Oklahoma, and Oregon all offered scholarships to a player nicknamed "The Freak."
Burroughs verbally committed to Georgia back in 2018, but the Tide ultimately flipped him from UGA prior to his senior season.
Baker and Burroughs put the finishing touches on college football's No. 2 recruiting class, which includes the No. 1 player in America, quarterback Bryce Young. Five-star signees Will Anderson, Chris Braswell, and Drew Sanders inked their names during December's Early Signing Period and are already enrolled and preparing for spring football, while North Carolina transfer Carl Tucker stocks up the tight end position.
This Alabama football program didn't reach the College Football Playoff last season, but did you really think Nick Saban's juggernaut wouldn't be back and better than ever?