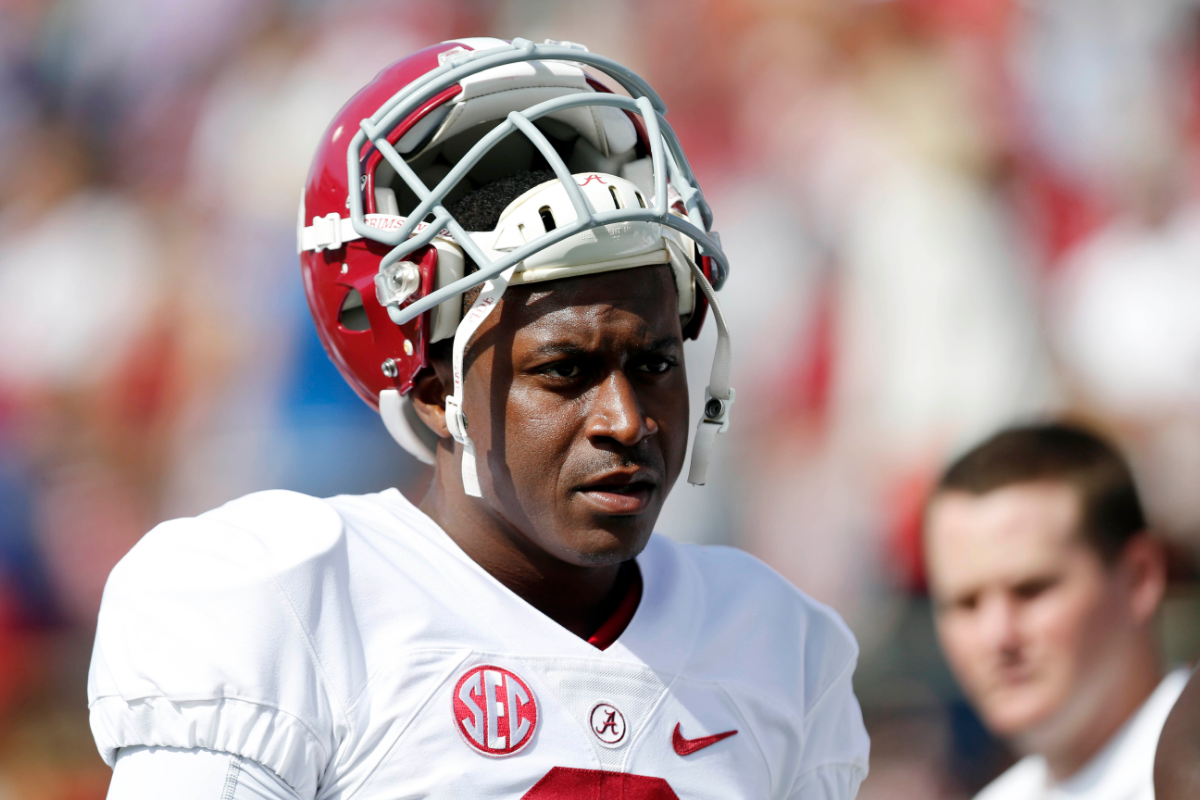 AP Photo/Rogelio V. Solis
Two national championships. More passing yards in a single season than AJ McCarron and Greg McElroy. The second-most passing yards in a single game (445 against Florida) in Alabama Crimson Tide history. Who accomplished all of this is none other than Blake Sims.
The kid from Gainesville, Georgia, came to Tuscaloosa as a four-star recruit in the Class of 2010. He waited his turn behind AJ McCarron and won national titles in 2012 and 2013 before taking over as starting quarterback for head coach Nick Saban in 2014.
Though his final season in the SEC ended with a disappointing loss to Ohio State in the College Football Playoff semifinal game, Sims gave Alabama fans some great memories before Jake Coker stepped in the following year.
Now, the 2014 SEC Championship Game MVP is still playing to this day and even recently made his acting debut.
Blake Sims Now
RELATED: Jake Coker Won a National Title at Alabama, But Where is He Today?
After a 2014 college football season in which he threw for 28 touchdowns and 10 interceptions, Sims wasn't considered a top NFL Draft prospect by any teams. He went undrafted and received some interest as a running back but never signed with an organization.
Throughout the last five years, the 'Bama product has bounced around other professional football leagues.
In 2015, he spent time with the Toronto Argonauts and Saskatchewan Roughriders in the Canadian Football League. His career even took him down under to Australia's National Gridiron League for the Wollongong Devils.
From 2016-17, Sims was signed as a member of the Atlanta Falcons and Tampa Bay Buccaneers practice squads. He then played with the Birmingham Iron of the Alliance of American Football before the league collapsed in 2019.
Now, Sims plays for the Spokane Shock of the Indoor Football League. For nearby Alabama fans interested in watching him, the team plays in Spokane, Washington. Include the NFL, AAF, CFL, NGL and IFL and I think it's fair to call Sims a journeyman.
Blake Sims Acting
Disney released a new football movie in December 2020 called "Safety." While the flick followed the inspirational journey of Clemson football player Ray Ray McElrathbey (played by actor Jay Reeves), it also starred a very real football player in former Alabama quarterback Blake Sims.
Sims plays an FAU Owls quarterback in the movie. While it may not be the biggest role, it's pretty cool that he can say he's starred in a motion picture.
Sims took to Instagram to tell his fans how grateful he was for the opportunity.
"First and foremost I would like thank the Lord for life because without that none of this would be possible. Secondly I would like to thank @disneyplus for this amazing opportunity to be in my very first movie. This experience has been nothing short of amazing and I can?t wait to see what?s next. I hope you all enjoy it as much as I enjoyed filming it. Stream ?Safety? on Disney plus," Sims wrote.
I'd like to see Tua Tagovailoa or AJ McCarron do something like that.
The 28-year-old Blake Sims seems to have his hands full. He has a daughter who's in the sixth grade. He's got an acting career and still spinning the pigskin.
Let's hope we seem on an NFL field one day.