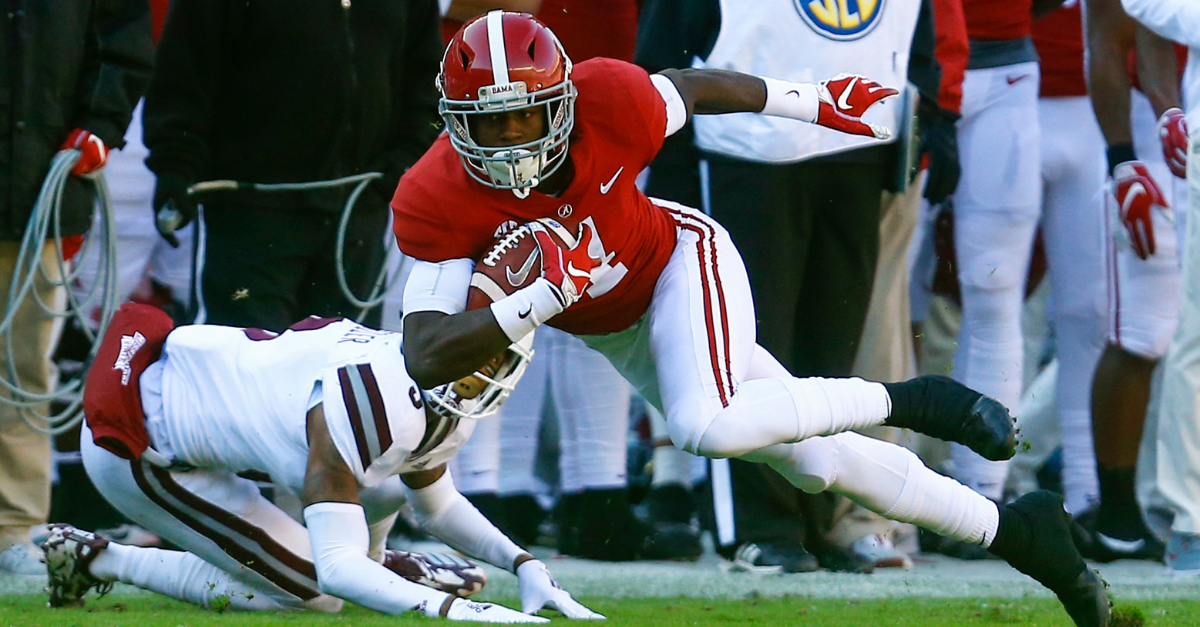 AP Photo/Butch Dill
AP Photo/Butch Dill
While the week before the end of the college football regular season is typically a rewind to the early part of the year, when major NCAA teams schedule middle-of-the-road programs to beat on in home games prior to a postseason push, some games might actually be worth the price of admission.
Take this Saturday's game between the undefeated Alabama Crimson Tide and The Citadel Bulldogs from the FCS. By most accounts, people are going to bet Alabama to make some easy money, but when you dig deeper, does The Citadel pose a legitimate threat to the Tide?
According to VegasInsider.com, head coach Nick Saban's team is a 51.5-point favorite to steam roll the 4-5 Bulldogs at Bryant-Denny Stadium. It's warranted, too — Alabama is the best team in the FBS, and The Citadel is about as average as you could be at the FCS level.
If you have $750,000 lying around, you could head to Vegas and place it on the Crimson Tide to win and make 100 bucks, or you could do the smart thing, play that money line and bet it all on The Citadel.
RELATED: Is Alabama's Dynasty Really Ruining College Football?
I mean, this team is dripping in confidence, and they're coming back for more blood in the SEC, just like the time they beat the South Carolina Gamecocks back in 2015.
Don't let their 2018 record or Citadel Blue uniforms full you — This team is for real, and if any one of these four very reasonable scenarios happens, you'll be singing "The Fighting Light Brigade" all the way home to Charleston, South Carolina.
1. Clemson Disguises Themselves as The Citadel
What better way to take advantage of playing a night game against the Duke Blue Devils than to just knock off the Tide when they're least expecting it!? Dabo Swinney is a crafty guy. Why can't he decide to hijack The Citadel's equipment and travel plans, take his team into Tuscaloosa wearing The Citadel's uniforms, roll the Tide in the afternoon, and be back in time for their night game?
It's a solid first plan, and it could work out very well for both sides — Clemson gets rid of Alabama, and The Citadel are saved from an embarrassing afternoon.
2. Alabama Forgets There's a Game
Ah yes, the old "my alarm didn't go off!" excuse. We've all used it before, and it's likely never actually worked, but what happens when an entire team sleeps in? A quick overnight operation to reset everybody's alarms, and they'll be sleeping like a baby while the Bulldogs come out with a win via forfeit.
The Citadel is one of six senior military colleges in the U.S., so you know they'll be on time, but they can really only hope time runs out on the Tide.
3. The "Angels in the Outfield" Trick
If you've never seen the movie, shame on you. This sports classic starred a young kid who needed a sign from above to help the Los Angeles Angels win the American League pennant and get his family back. Sure enough, real angels from heaven swooped in and (literally) carried the team to victory. If The Citadel has a shot, maybe they'll look for some help from the man upstairs?
Somebody get Joseph Gordon-Levitt on the phone and make it happen.
4. Move the Game to Outer Space
There's no gravity in outer space, so the Crimson Tide's incredible size and speed won't make a lick of difference! Call up Elon Musk, grab quarterback Tua Tagovailoa a space suit, and let's just see how good Alabama is in zero gravity.
In reality, this game is going to be a great time to take a nap, because Alabama could very easily beat this team by 70 points. It's kind of embarrassing for a game like this to even happen in the first place, but then again, what an opportunity for The Citadel to pull off the ultimate upset and makes history?
Just kidding, it's going to get ugly…