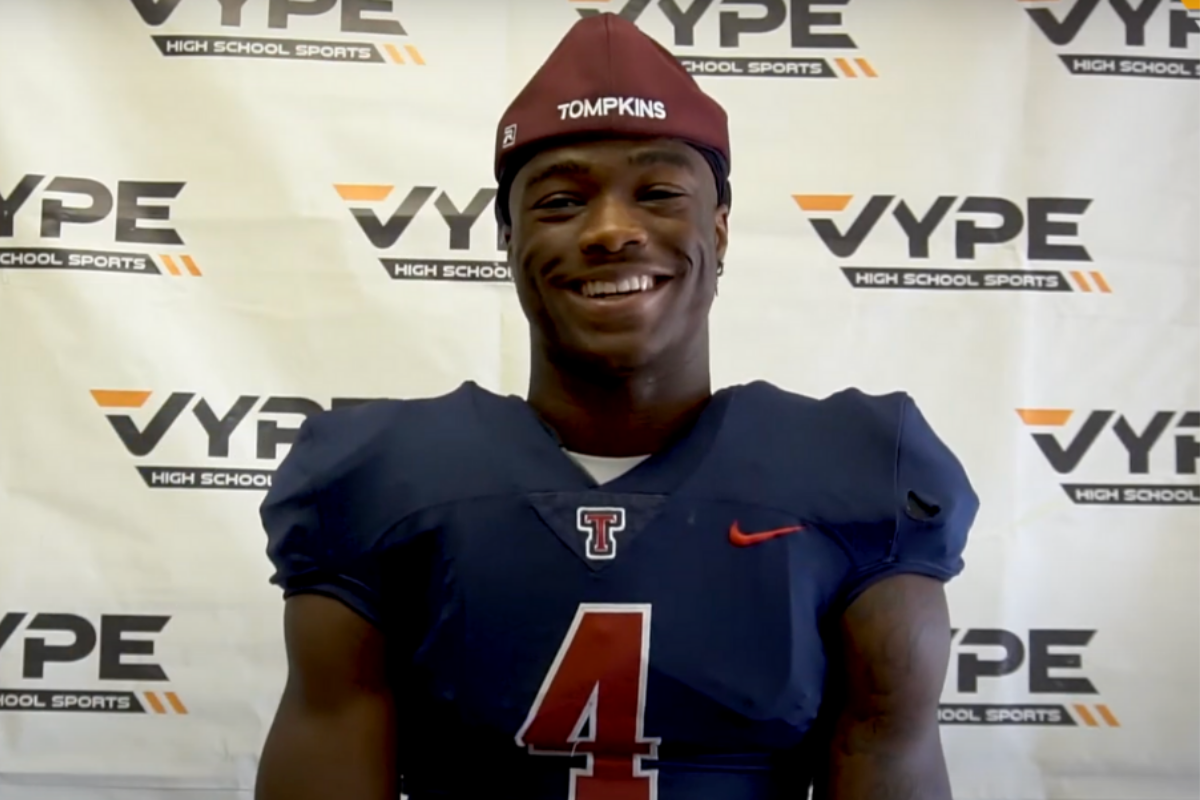 Screenshot from YouTube
Jalen Milroe was excited to play for the Texas Longhorns. The four-star dual-threat quarterback had been committed for over a year, too. Then, something happened, and he will now take his talents to the SEC.
Milroe, the Tompkins High School star in Katy, Texas, had a decision to make: Stay with his commitment or find a new place to thrive. At that stage, there was no wrong answer.
He chose a different path for his college football career.
4-Star QB Jalen Milroe Flips Commitment to Alabama
RELATED: How Alabama Flipped LSU's Top-50 Recruit at the Last Second
Ranked as the No. 81 overall prospect nationally, according to the 247Sports Composite, dual-threat quarterback Jalen Milroe certainly had several high-profile programs to choose from. It just had been a while since he was available.
Most everyone thought he would join Texas head coach Tom Herman's 2021 football recruiting class in Austin after fielding offers from Alabama, Arizona, Arizona State, Arkansas, Baylor, Duke, Florida State, Houston, Miami, Nebraska, Northwestern, Ole Miss, Oregon, Texas A&M, Virginia, and Virginia Tech, among others.
Of course, Herman was fired and Texas hired head coach Steve Sarkisian after the 2020 season.
Perhaps 2022 five-star quarterback Quinn Ewers committing to the Longhorns was the final straw at the time. (Ewers has since committed to Ohio State.)
Nevertheless, Milroe decommitted from Texas and committed to Alabama Crimson Tide head coach Nick Saban in August 2020.
"First, I'll like to give thanks to God for blessing me in all that I am and all that I do. I want to say thank you to Coach Herman and Coach Beck for recruiting me and giving me the opportunity to chase my dreams and further my academic and athletic career at the University of Texas. I want to also thank Coach Yurcich. I know initially I wasn't your guy, but you continued to build a relationship with me. To the #trUth21, you're a special group and you all are gonna be dangerous! Lastly, I'll like to thank the University of Texas' fans. You all have shown me tremendous support and love since I committed over a year ago.

"At this time, after taking a lot into consideration, much prayer, and speaking with my parents, I have decided to decommit from UT and commit to another University that shares my vision and aspirations. With that being said, I'll be committing to the University of Alabama! My recruiting is 100% closed. Roll Tide!"
That's it. The star signal-caller will leave the State of Texas and start his NCAA career in Tuscaloosa.
QB Jalen Milroe Highlights
Jalen Milroe definitely has the athleticism to shine at the next level. He's quite the passer, too.
In three high school football seasons, Milroe racked up 5,350 passing yards with 52 touchdowns and 13 interceptions, while added 1,220 rushing yards and 18 touchdowns. In 2020, Katy Tompkins went 10-1 and went on a deep playoff run.
For a while, many thought Milroe was going to be a future replacement for Texas quarterback Sam Ehlinger and compete against Oklahoma in the Big 12 before possibly taking his talents to the NFL.
Now,  and even though a redshirt freshman season is possible, it looks like Milroe will battle five-star quarterback Bryce Young to see the field and dominate against the likes of LSU and Georgia.
This is the wild world of recruiting.
This post was originally published on August 19, 2020 before updating.