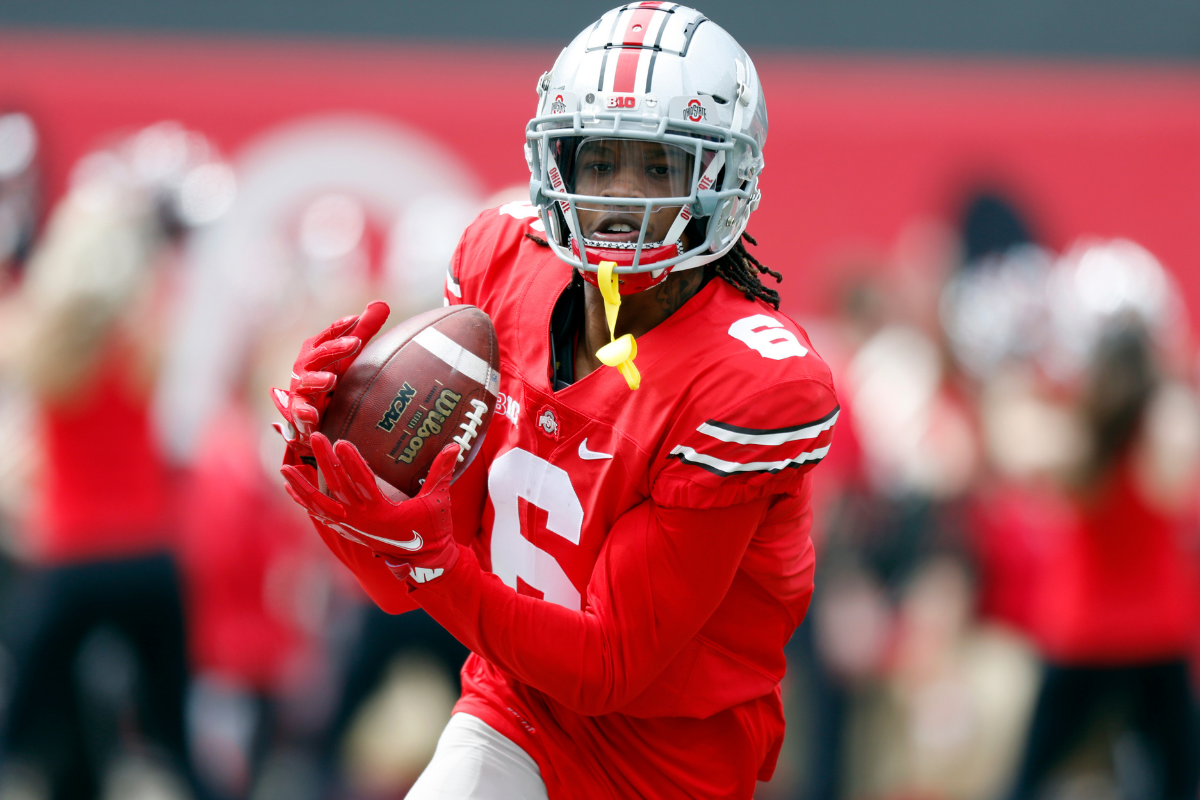 AP Photo/Paul Vernon
The NFL Draft has developed a trend.
There are A LOT of players from the University of Alabama who hear their name called. The Crimson Tide had 10 players selected in 2021 alone.
This is an enticing recruiting tool for any player, particularly wideouts. Some of the league's best wide receivers played their college ball in Tuscaloosa.
Julio Jones, Amari Cooper, and Calvin Ridley are well established. Jerry Jeudy and Henry Ruggs III are due to break out. First-round draft picks Jaylen Waddle and Heisman Trophy winner DeVonta Smith are exceptional talents.
Ohio State wide receiver Jameson Williams took notice and decided to leave Columbus for Nick Saban's program.
Jameson Williams at Ohio State
Jameson Williams was a four-star recruit out of Cardinal Ritter College Prep High School in St. Louis, Missouri. He chose the Buckeyes over Alabama, Auburn, Florida, Florida State, UCLA, Georgia, LSU, Michigan, Penn State, Oregon, Tennessee, Texas A&M, Miami, Oklahoma State, and USC, among others.
He was the 13th-ranked receiver in the 2019 recruiting class, according to the 247Sports Composite rankings.
The wideout played in four games as a freshman, snagging six receptions for 112 yards and a touchdown. In his sophomore campaign, he appeared in every contest ? including the College Football Playoff National Championship Game against his new team ? and grabbed nine receptions for 154 yards and two scores.
Williams' father publicly voiced his disappointment in his son's lack of playing time. He took his comments to the perfect place for civil discussion ? Instagram ? and claimed OSU was playing favorites in the receivers room.
Chris Olave and Garrett Wilson were quarterback Justin Fields' favorite targets last season.
Jameson Williams Transfers to Alabama
RELATED: America?s No. 2 RB Bringing Heisman Talent to Tuscaloosa
Williams entered the Transfer Portal on April 28, 2021. Four days later, he committed to the Crimson Tide. He'll be able to play right away thanks to the new NCAA rule that allows players to transfer once without sitting out a year. He'll have two years of eligibility.
He explained his reasoning to BamaOnLine:
?It?s Bama because I felt the want and need of my skill from Coach (Nick Saban) as he explained everything to me,? Williams said. ?And I also had a great relationship with Coach (Holmon) Wiggins from the previous years. He made it most definitely feel like a place that I could be.?
With the departure of Waddle and Smith, Williams will certainly have the opportunity for targets. Junior receiver John Metchie III is the most experienced returning pass catcher. In 2020, he caught 55 receptions for 916 yards and two touchdowns. Slade Bolden and Javon Baker will round out a depth chart chock-full of talent.
Williams brings blazing speed to the Tide offense. In high school, he broke the state record in the 300-meter hurdles previously held by Dallas Cowboys running back Ezekiel Elliot.
At 6-foot-2 and 189 pounds, Williams could take over Waddle's role in the slot. Get the former Ohio State receiver in the open field and it will be a doozy for anyone to catch him. He can also keep defenses on their toes as a deep threat.
Jameson Williams should contribute to the SEC powerhouse right away.