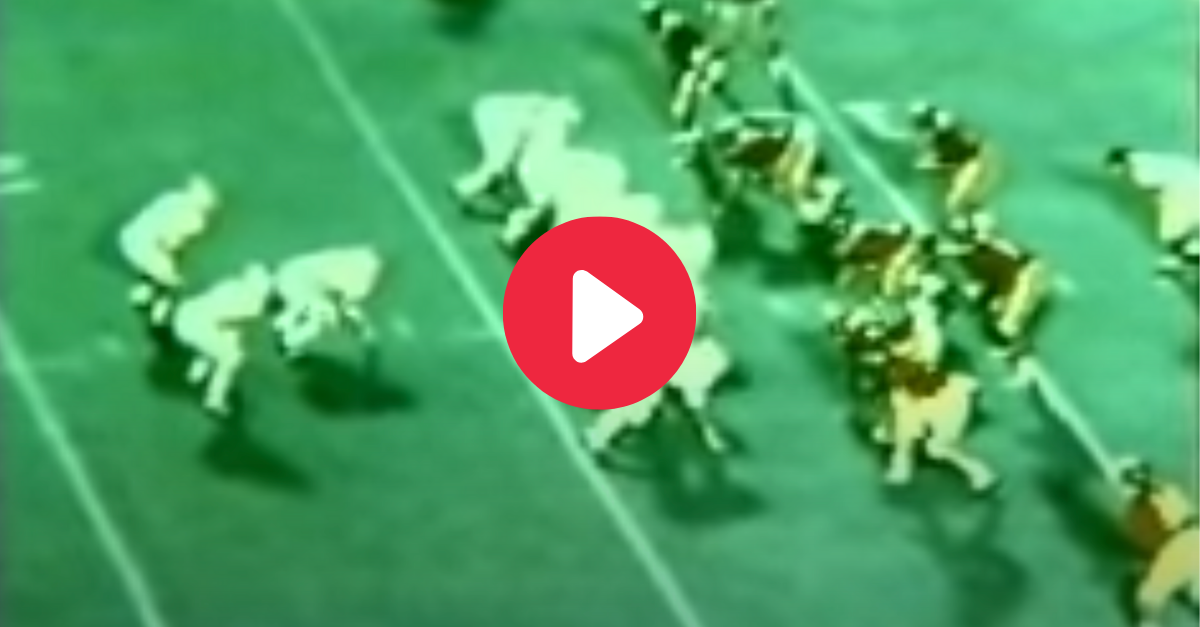 Screenshot from YouTube
Johnny Musso is one of the greatest football players in the Alabama Crimson Tide's storied history. That's not up for debate, either. What the star running back did during his playing days in Tuscaloosa was incredible and his "The Italian Stallion" nickname only adds to his legacy.
Musso, an Alabama Sports Hall of Fame and College Football Hall of Fame inductee, punished opposing defenses for three seasons under Crimson Tide football coach Bear Bryant. He was an All-American in 1971 and finished fourth in the Heisman Trophy voting that season.
What really started it all off that year was a 13-yard touchdown run against the USC Trojans, too.
Johnny Musso's Touchdown Run vs. USC
For Alabama, playing on the road against a top-5 USC team in the regular season opener was no easy task. Head coach John McKay had a good football team that year. Luckily, the Crimson Tide had Johnny Musso to pull off the upset.
Musso scored two touchdowns in the first half, including that 13-yard scoring run in the first quarter, to help Alabama leave California with a 17-10 win. His season took off from there.
A 5-foot-11, 200-pound running back, Musso finished the season with 1,088 rushing yards with 16 touchdowns. He dominated the SEC and made the cover of Sports Illustrated, but missed out on the Heisman Trophy that went to Auburn's Pat Sullivan.
The Crimson Tide went undefeated during the regular season, but lost the National Championship Game to Nebraska at the Orange Bowl.
Johnny Musso's Football Career
RELATED: Joe Namath's Nickname at Alabama Was Just "N-Word"
Born in Birmingham, Alabama, Johnny Musso starred at Banks High School before taking his talents to the University of Alabama to play for head coach Bear Bryant.
Musso racked up 2,741 rushing yards and 34 rushing touchdowns in three seasons with the Crimson Tide. The Italian Stallion also caught 61 passes for 495 receiving yards and four touchdowns and added two touchdown passes because he could.
After college, Musso was selected in the third round of the 1972 NFL Draft by the Chicago Bears, but decided to start his professional football career in Canada instead. He played three seasons for the BC Lions in the Canadian Football League, where he was named a CFL West All-Star, then played one more season for the Birmingham Vulcans in the World Football League (WFL).
Musso signed with the Bears in 1975 to backup Walter Payton. He played in 30 games total for the NFC franchise, where he rushed for 365 yards with six touchdowns before retiring after the 1977 season.
Where is Johnny Musso Today?
Once his playing days were over, Johnny Musso worked for the Chicago Board of Trade and was in futures market exchanges, according to Alabama Newscenter. He was also a deacon in the Baptist Church of Hinsdale, Illinois and served in youth ministry. As of 2017, he was still living in the Chicago area.
Although Musso has long since retired, it's impossible to forget how great The Italian Stallion was for the Alabama Crimson Tide.