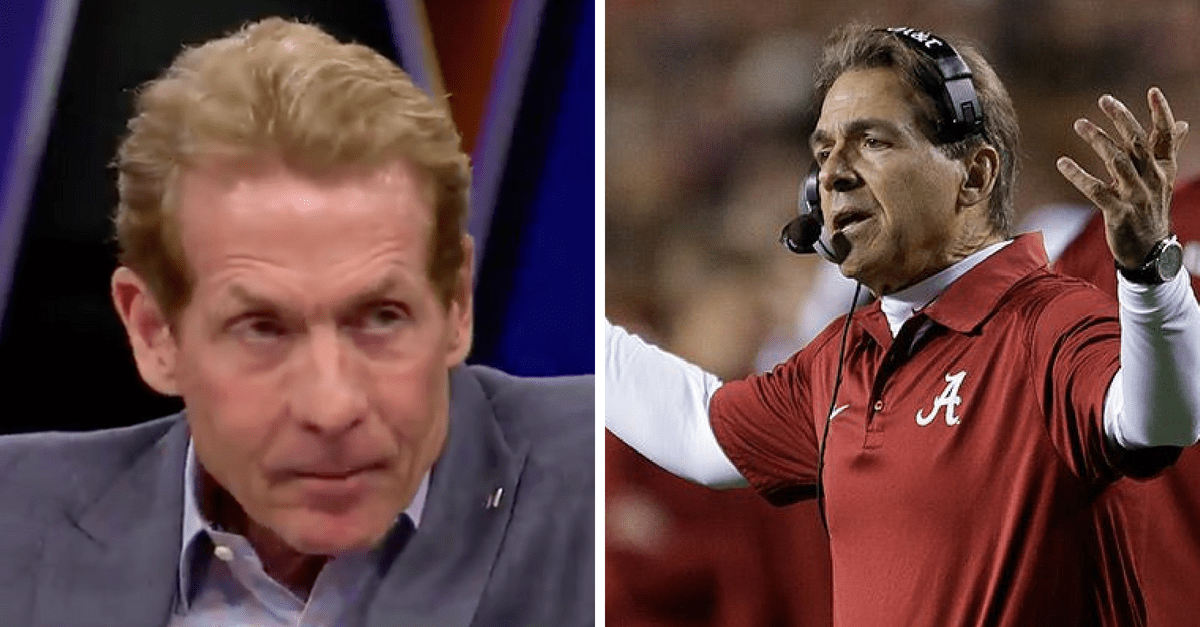 Twitter: @FOXSports, @AdvFootball
Twitter: @FOXSports
Twitter: @AdvFootball
Skip Bayless has made a career of ridiculous posturing. From saying Tom Brady would get cut in favor of Jimmy Garappolo to giving LeBron James' NBA Finals stat line of 39 points, 16 rebounds and 11 assists a C+ grade, the most annoying broadcaster in sports is at it again.
On his FS1 show Undisputed, alongside co-host Shannon Sharpe, Skip Bayless has officially gone off the rails, and this time he's coming at Alabama Crimson Tide head coach Nick Saban.
Starting in the early 1970s, Bayless began as a journalist at the Miami Herald. Over the years, he built his career with publications like the Los Angeles Times, Dallas Morning News, Dallas Times Herald, Chicago Tribune and the San Jose Mercury News.
In 2004, Bayless was hired full-time on ESPN's Cold Pizza, joining fellow journalist legend Woody Paige. Later, the show was rebranded as First Take, and Bayless' career took off even further.
Now on Fox, Bayless is known for his ridiculous predictions and outlandish takes that are nowhere near based in fact, but his most recent comment might top them all.
Not only did old Skip claim he could win a National Championship as a head coach, but he went so far as to call Michigan's Jim Harbaugh a better football coach than six-time national champion Nick Saban.
The next two minutes and 36 seconds you're about to watch goes from questionable to ludicrous to downright insanity.
I don't know even know where to begin.
The entire thing is insane. He compared the two coaches' NFL careers, which are decades apart. Then, he claims that Saban is just a great recruiter, while Harbaugh is actually a better football coach.
Harbaugh is 2-3 in his career coaching in college bowl games and has a very average 39-23 record against conference opponents during his time at Stanford and Michigan.
Skip Bayless is at it again, and this video of him arguing with himself is peak Skip Bayless.
How many national titles does it take for Skip Bayless to call Nick Saban the best football coach of all time?
Apparently, six doesn't even do the trick…