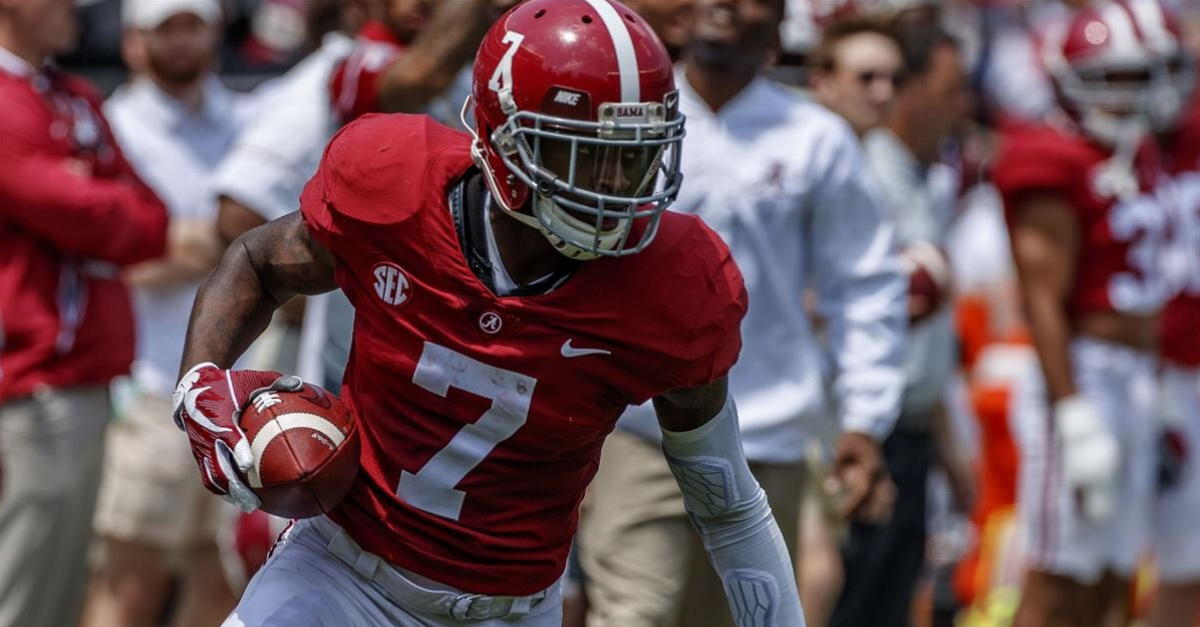 Twitter: TrevonDiggs
Twitter: TrevonDiggs
The Alabama Crimson Tide offense has been the star of the show through the team's unblemished 6-0 start, but it's their defense that has risen to the challenge. Replacing numerous starters from last season's national championship defense brought questions and uncertainty into the season, which still isn't validated for some despite the Tide defense allowing just 16.0 points per game to start the season.
After blowing out SEC West foe Arkansas 65-31, Alabama is primed to run the table with one of the most complete college football teams in recent memory, but they'll be going forward without starting cornerback Trevon Diggs patrolling their secondary.
The junior defensive back is in his first full season as a defensive starter for the Tide, but the Gaithersburg, Maryland product suffered a broken foot during the game against the Razorbacks that will sideline him for quite some time.
"Trevon Diggs broke his foot in the game on Saturday," head coach Nick Saban announced Monday. "I did not know about this until yesterday. He will have an MRI, so he's out indefinitely."
Diggs ranked third in the SEC with six pass breakups so far this season and earned Alabama's Defensive Player of the Week honors following the team's win over Louisiana-Lafayette in which he recorded four tackles, one interception and a forced fumble.
Losing Diggs to this foot injury for an extended period is huge for the Crimson Tide. He's been one of the best defensive backs on the team and is arguably the program's best all-purpose athlete.
Coming out of high school, Diggs, a four-star recruit, was rated as the No. 4 athlete in the country and No. 5 player in the state of Maryland by 247Sports. Originally tabbed as a receiver and return specialist, Diggs burst onto the scene as a true freshman returning 13 punts for 130 yards, seven kickoffs for 166 yards, and catching 11 passes for 88 yards and touchdown. The following season, Diggs transitioned to the defensive side of the ball while also contributing as a punt returner.
Coming into 2018, the junior was considered one of the top defensive backs in the conference and was one of 43 players named to the Paul Hornung Watch List, given to college football's most versatile athlete, an award won by former Penn State running back Saquon Barkley (2017) and Michigan defensive back Jabrill Peppers (2016).
Trevon comes from a great football bloodline, too. He's brothers with former Maryland Terraphins star and current Minnesota Vikings wide receiver Stefon Diggs.
RELATED: Why Did Stefon Diggs Buy a $15,000 Starbucks-Inspired Chain?
So, what comes next for the Crimson Tide secondary already boasting All-American caliber talent Deionte Thompson at free safety?
Freshman cornerback Patrick Surtain II will move into a role as the team's primary cornerback, and junior Saivion Smith will likely replace Diggs as the starter for now.
Expect to see redshirt freshman Kyriq McDonald, senior walk-on D.J. Lewis, and true freshman Josh Jobe to all rotate as the slot corner and contribute in a dime package, as well as spelling Surtain and Smith on the outside.
Losing Trevon Diggs with Drew Lock and the Missouri Tigers aerial attack up next is bad timing, but don't expect Alabama to sweat the challenge because it's not like they've really had one yet…