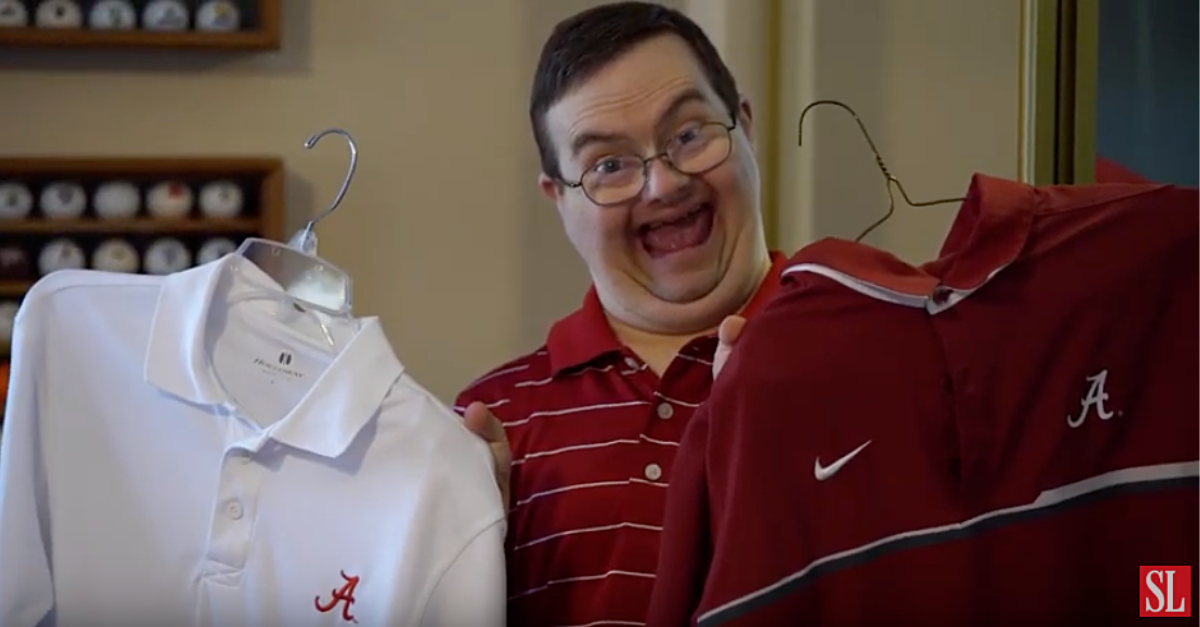 YouTube: Southern Living
Every Thursday evening, Walt Gary was waiting for coach Nick Saban. The faithful University of Alabama fan would greet players as they left practice, and most importantly, deliver his score prediction for the Alabama football game that weekend. Walt's dedication to the Crimson Tide was unparalleled, as Saban himself once told ESPN's College GameDay how Walt "is one of the people that, in my opinion, project the spirit and tradition of Alabama football."
On Thursday night, Alabama superfan Walt Gary died after spending several days in UAB hospital's intensive care unit. Walt's grandmother Betsy Shirley confirmed to TuscaloosaNews.com that her grandson battled health issues throughout his life, but suffered from bleeding in his brain before passing away. Walt Gary was 36 years old.
Alabama athletic director Greg Byrne tweeted the news early Friday morning. Shortly after, Walt's name began trending nationwide as former Alabama Crimson Tide football players, fans, boosters, and even rival programs remembered one of the truly awesome fans in college football.
"Walt Gary was a special part of the Alabama football program and our hearts are broken by the news of his passing. He was beloved by everyone on our team, in our athletic department and throughout the Alabama family. Our thoughts and prayers go out to his family, friends and everyone who knew and loved Walt as much as we did. The Thursday night radio show won?t be the same without hearing his game prediction and seeing his infectious personality. Walt will be truly missed."

? Statement from Alabama head coach Nick Saban
One of the most incredible parts of tributes across social media was that so very few mentioned that Walt Gary suffered from Down syndrome. That's because Walt was so much more than that. He loved Tuscaloosa and Tuscaloosa loved him. Not out of charity or anyone feeling sorry for him, but because Walt spread love to everyone he met and asked for nothing in return.
Walt began coming to Alabama football practices when coach Gene Stallings, who had a son with Down syndrome himself, walked the sidelines of Bryant-Denny Stadium. Ever since, Walt only wanted one thing in return: to see his friends at Alabama succeed.
Excitement. Energy. Confidence. Generosity. If there's anything we should learn from Walt Gary's incredible life, it's that these values transcend all of us, no matter where we come from or what we look like.
The college football world lost one of its greatest fans, but Walt Gary will never be forgotten. A memorial service to celebrate his life will be held Wednesday, June 12 at 2 p.m. at Bryant-Denny Stadium.
Rest in peace and Roll Tide, forever.