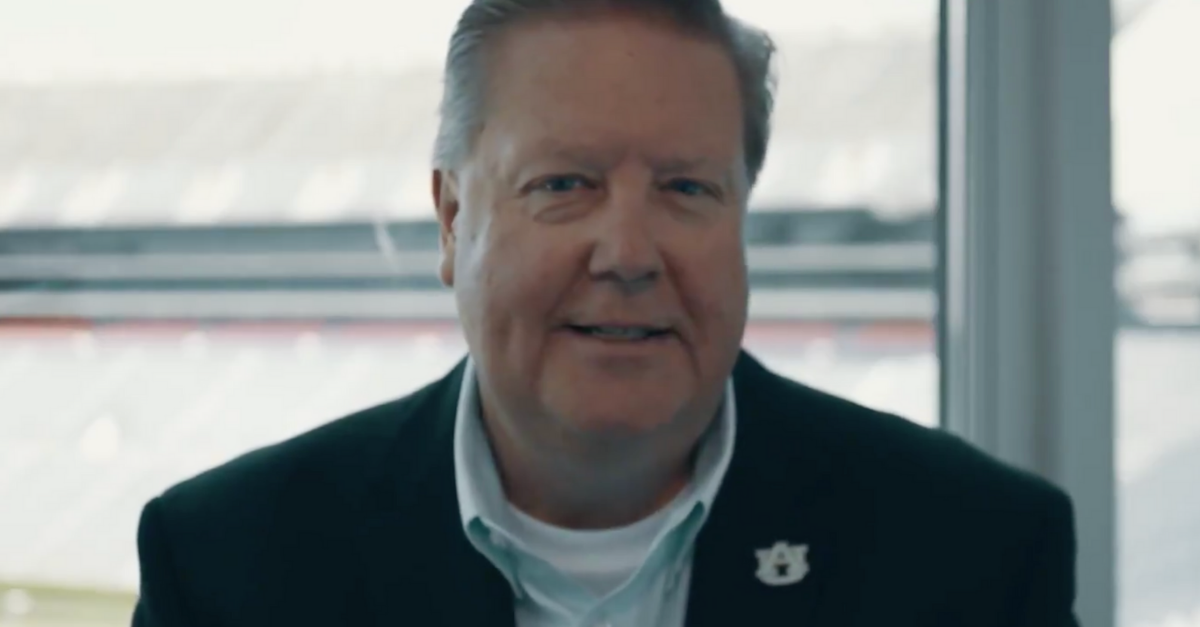 Screenshot from Twitter: Auburn Tigers
Auburn University is in the process of making some changes. Not only will there be a slight modification to the traditional logo, but Auburn Athletics and Auburn Sports Properties also had to find a new "Voice of the Auburn Tigers" for this season and the future.
The lead announcer role for Auburn was previously held by Rod Bramblett, who died in a car accident with his wife, Paula Bramblett, in May. Now, the man in charge for Tigers football, men's basketball and baseball is a voice fans are very familiar with.
Andy Burcham has been a part of Auburn radio broadcasts for over three decades, working alongside Bramblett during Auburn baseball games. He's also been the play-by-play voice for Auburn women's basketball team since 1988.
RELATED: The 100-Year-Old Legend Behind Auburn's "War Eagle"
Additionally, Burcham has worked on SEC Network + broadcasts, including Auburn soccer, and hosted Auburn Opelika This Morning as the station manager at WANI in Alabama.
"I'm thrilled to be selected as the Voice of the Auburn Tigers. While it's a bittersweet time and I wish the circumstances creating this opportunity were different, I am honored to be following in the footsteps of such legends as Rod Bramblett, Jim Fyffe, and others.

"With this job, you're not just the voice of Auburn football, men's basketball and baseball. You're also the voice of Auburn. You represent Auburn every day, and I will never forget that. I have been in this community and broadcasting Auburn games for 31 years. I understand and love Auburn and its tradition. I can't wait to be a part of it moving forward."

— Andy Burcham
This is a home run higher for Auburn Sports Properties vice president and general manager Chris Davis and Auburn director of athletics Allen Greene.
"During the very difficult process of replacing Rod, it was was very clear that Andy Burcham was the right man to be the new Voice of the Auburn Tigers," Davis said, "He is well respected not only in his profession, but by his coworkers, Auburn Athletics coaches and administration, and in the community. He understands the importance of this role. Andy is a consummate professional who puts great preparation, execution and passion into his work. Most importantly, Andy is a man of great character who loves and cares deeply for Auburn and what it represents. We're very excited for Andy and can't wait for the Auburn Family to embrace him in his new role."
If something crazy happens with Gus Malzahn during football games or Auburn basketball and Bruce Pearl makes another run in the NCAA Tournament, the play-by-play announcer for AU athletics will be Andy Burcham and he will do everything he can to honor Rod Bramblett's legacy.