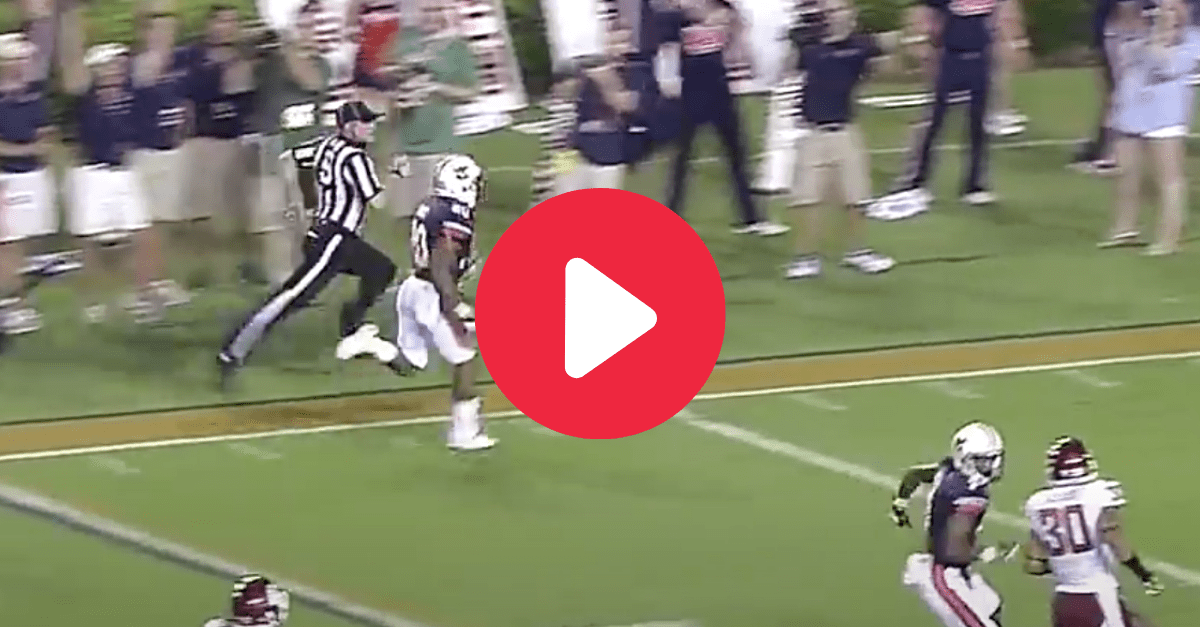 Screenshot from YouTube
Auburn's history of producing running backs over the years is second to none. Of course, the Auburn Tigers boast the greatest athlete of all time in Bo Jackson. Cadillac Williams and Ronnie Brown were special players as well. Even quarterbacks like Cam Newton and Nick Marshall became 1,000-yard rushers during their NCAA careers on The Plains.
Corey Grant deserves some love, too. Before his NFL career with the Jacksonville Jaguars and Green Bay Packers, Grant flashed his blazing speed in the SEC as a running back and kick returner from 2012-14. The kid from Opelika High School amassed more than 1,000 career rushing yards and 10 touchdowns under head coach Gus Malzahn.
Grant initially joined the University of Alabama before transferring to the rival school in 2011 and subsequently helped Auburn win the Iron Bowl in 2013. Auburn's memorable 2013 season may have fell short against Florida State in the BCS National Championship Game, but it kicked off with a bang against Washington State in the season opener.
Cougars defenders probably still have nightmares over Corey Grant.
Corey Grant's 75-Yard TD Against WSU
RELATED: Cadillac Williams? 80-Yard TD Opened 2003 Iron Bowl in Style
Mike Leach's Washington State teams have fared better than they did that year. They knocked off a ranked USC but finished just 6-7. Still, they weren't a bad a football team.
WSU actually led the Tigers 21-15 in the second quarter at Jordan-Hare Stadium. Quarterback Nick Marshall handed the ball off to Grant (not starter Tre Mason) for what looked to be a simple first down. Grant then turned on the burners and flew right past everyone down the sideline for a 75-yard touchdown.
The best part? The referee who somehow kind of kept pace with Grant until the end zone. Seriously, watch it again while looking at the ref. That's NFL-caliber speed. That's 4.25 40-yard dash speed. Incredible.
The Cougars' defense was definitely bad that season. They surrendered 246 points in a five-game stretch at one point. But still, Grant's touchdown was nonetheless impressive, and it helped Auburn win the opener, 31-24.
Plays like that got Grant noticed. He signed with the Jaguars as an undrafted free agent following the 2015 NFL Draft. He served as former LSU running back Leonard Fournette's back-up in Jacksonville and scored his first career touchdown in 2016.
He was released by the Packers in 2019 and is currently unsigned, but something tells me he'll be picked up by a team.