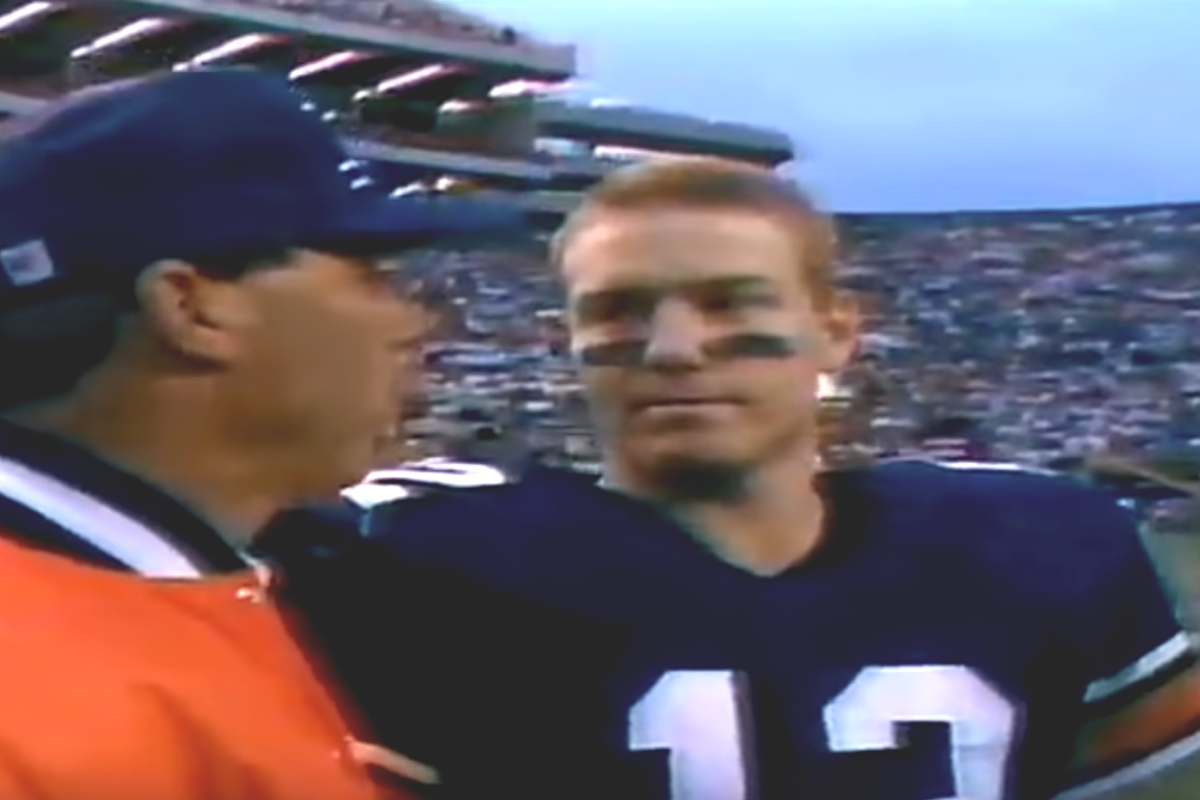 Screenshot from YouTube
Auburn football in the mid 1980s was the Bo Jackson show, and rightfully so. The Bessemer, Alabama running back was making a mockery of college defenses while spending his offseasons hitting dingers.
It's not a big surprise that the guys handing it off to Jackson were pushed to the background. One of those guys was quarterback Jeff Burger.
Burger certainly made noise during his time on campus, even if it wasn't for the right reasons. Nonetheless, he was able to captain the Auburn Tigers to a SEC championship in 1987.
Where is the former signal caller more than 30 years later?
Jeff Burger at Auburn
RELATED: What Happened to Joe Cribbs and Where is He Now?
Burger attended Cedartown High School in Cedartown, Georgia. He worked the family business at Burger King while he grew up.
I'm kidding, but while Burger wasn't flipping his namesake he was flipping dimes to receivers well enough to earn a college football scholarship to Auburn University. He saw limited action in his first two seasons on The Plains. When Auburn coach Pat Dye hired 1971 Heisman Trophy winner and Auburn icon Pat Sullivan as the quarterbacks coach in 1986, Burger's playing time and confidence increased.
He assumed command of the huddle the next two years, leading the Tigers to a combined 19-3-2 record. The most important win was a 10-0 win over Alabama to secure the 1987 SEC Championship. He finished his NCAA career with 4,082 passing yards and 24 touchdown passes. He ranks 12th on Auburn's career passing yards list.
Following the deaths of Dye and Sullivan, Burger spoke to 247Sports about his special bond with each coach.
On Dye:
?He and I always had such a good bond, a special bond,? Burger said of Dye. ?I am not saying it was different than any other player he had. He looked over at me and was telling some stories. It was kind of cool because he was sitting in a rocking chair and we were all around him like a bunch of kids around paw-paw or their father figure who was telling stories."
On Sullivan:
?It is a very special thing,? he said. ?Not many people have the chance to be influenced by two great Auburn men like Coach Dye and Coach Sullivan. Boy, I miss Coach Sullivan. I loved him. The thing he did for me was he gave me confidence. He believed in me and filled that confidence in me.
Jeff Burger Controversies
Burger's success on the field didn't overshadow his controversies off it. The Auburn QB got into trouble when he was arrested for "fighting, drinking and carrying a concealed weapon outside a fast-food restaurant" in the summer before the 1987 season. Sullivan signed a $700 bond for his release.
Burger was accused of plagiarism for the misuse of quotation marks in a paper. His case was brought to Auburn's Academic Honesty Committee, who issued a three-quarter suspension for the Tigers' 1987 season opener at Jordan-Hare against Texas. Auburn Vice President Warren Brandt later removed the suspension. Both incidents were resolved without any impact on his eligibility.
He also once committed an NCAA violation when he accepted a free plane ride to go hunting. The NCAA declared him ineligible for a third time in the 1987 season as a result, though Auburn appealed.
Jeff Burger Now
Burger had the perfect chance to use his name in the fast-food business. Jeff's Burger Shack?a Louisville, Kentucky burger joint?beat him to the punch.
Burger doesn't dwell on the missed opportunity. According to his LinkedIn, his last job was a regional sales director for Pernix Therapeutics?a now defunct pharmaceutical business. He's been in the industry since 1998. He also has a wife named Esther and children with her. They seem to be living a happy life, judging from their Facebook profile.
The former Auburn QB performed well on the gridiron but wasn't shy about getting involved in controversy. Still, Auburn fans will never forget the 1987 season he was a part of.