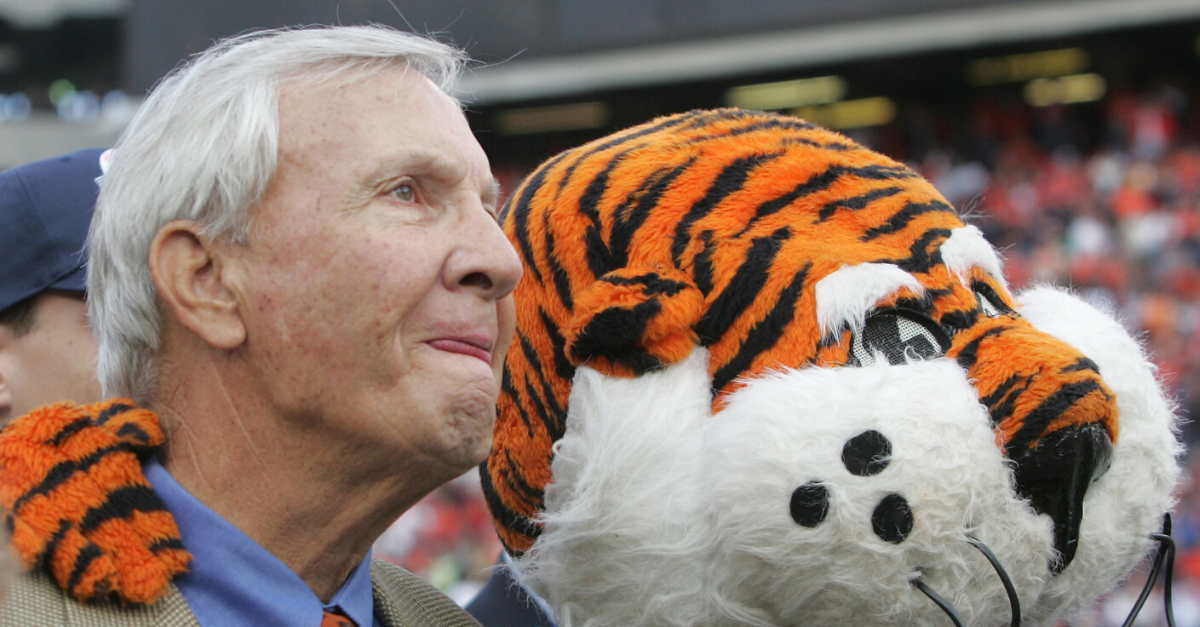 AP Photo/Jamie Martin
When Auburn University interviewed Pat Dye for its head coaching job, his resume jumped off the page. He was an All-American playing offensive line and linebacker for Wally Butts' Georgia Bulldogs. He'd already coached under Bear Bryant at the University of Alabama, Auburn's arch rival. Dye led East Carolina University to a 48-18-1 record in six seasons, and he flipped an abysmal Wyoming Cowboys team into a winning program after one year.
Dye could succeed anywhere, but only one question mattered when it came to Auburn's next football coach: How long would it take you to beat Alabama?
The Blythe, Georgia, native replied, "60 minutes."
Auburn Tigers Head Coach Pat Dye
After taking over in 1981, Dye led Auburn to an 11-1 record, including a spotless 6-0 mark in SEC play in 1983. Led by senior quarterback Randy Campbell and future Heisman Trophy winner Bo Jackson, the Tigers beat Florida, Maryland, Georgia, and Alabama in consecutive weeks — all were top-20 teams at the time — then survived Michigan to win the 1984 Sugar Bowl. Auburn finished No. 1 in the New York Times' poll, claiming the school's third national championship.
Dye won 99 games and four SEC Championships during his 12 years on The Plains. He also served as Auburn's athletic director during those years, making his lasting contribution to the program in 1989 when the Iron Bowl versus Alabama was moved to Auburn's campus for the first time — The previous 45 matchups were held at historic Legion Field.
RELATED: 'Punt Bama Punt' Produced an Iron Bowl for the Ages
Under Dye's leadership, the Iron Bowl is now played at Tuscaloosa's Bryant-Denny Stadium and Auburn's Jordan-Hare Stadium in alternating years.
Dye was inducted into the College Football Hall of Fame in 2005, and the university honored him by naming Auburn football's playing surface Pat Dye Field.
Pat Dye Hospitalized, Tests Positive for COVID-19
The three-time SEC Coach of the Year was hospitalized in Atlanta, Georgia, according to an email sent to Toccoa First United Methodist Church members. The email explained that Dye recently tested positive for coronavirus, but a family member confirmed to CBS 42 in Birmingham that Dye is asymptomatic.
Dye's ongoing battle with kidney issues is also linked to his hospitalization:
"Please join us in praying for and lifting up Jayne Snell's brother, Pat Dye. Pat recently tested positive for Covid-19, and has since been hospitalized with ongoing kidney problems. Jayne says he is very weak, and is experiencing loss of appetite and some confusion.

"Pat Dye was the head football coach at Auburn University from 1981-1992. He was inducted into the College Football Hall of Fame in 2005, and later that year, Auburn's playing field was renamed "Pat Dye Field" in his honor.

"Please help us lift Pat up in prayer so that God may help him. Pat is loved by many people far and wide and there is no better reminder of this love than constant prayer for him and his family."
We will update this story as more information on the former Auburn coach's condition becomes available.