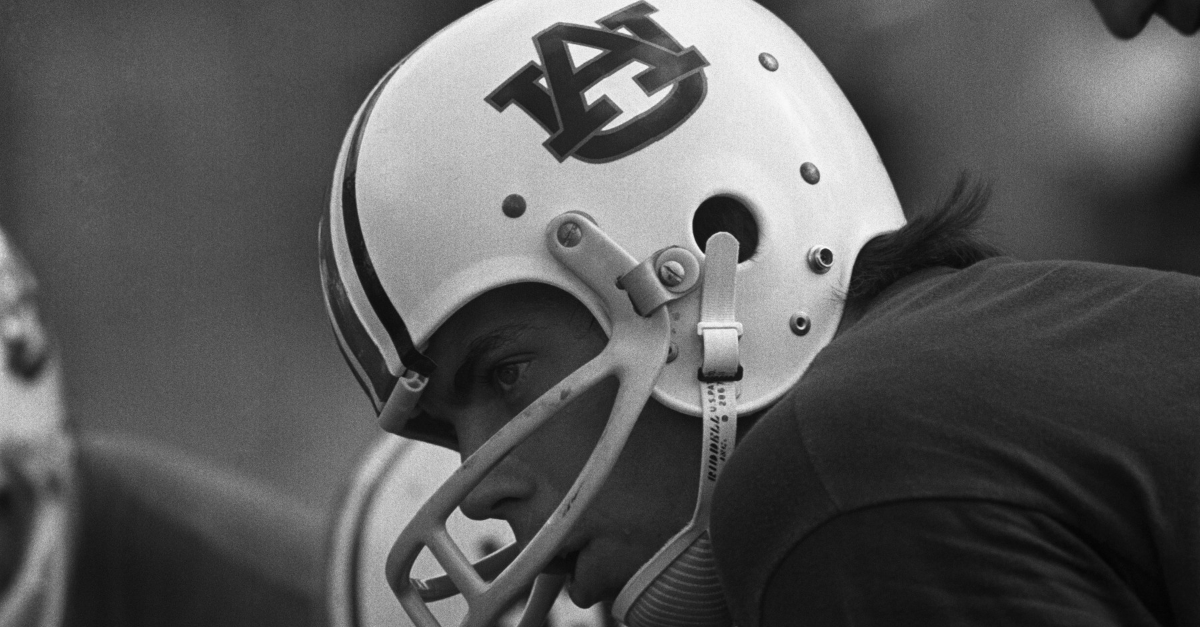 AP Photo
In Iron Bowl history, there have been some crazy finishes between the Auburn Tigers and Alabama Crimson Tide, but none have been as wild as the game known simply as 'Punt Bama Punt.'
In 1972, the Crimson Tide entered the fourth quarter leading 16-0, and it seemed like they had the game won until a pair of blocked punts allowed the Tigers to climb back into the game.
Punt Bama Punt
Alabama entered the game as the second-ranked team in college football with a 10-0 record under Bear Bryant and were the obvious favorite over an Auburn football team, who had an 8-1 record under head coach Ralph Jordan.
The Tide were controlling the game and it seemed as if it were probably over early in the fourth quarter with Bama dominating up until that point. With less than six minutes remaining in the game, they led 16-0.
With the ball in Alabama territory, Jordan elected to kick a field goal instead of going for it on fourth down, much to the dismay of the crowd, but it would prove to be the right decision.
On the next drive, the Crimson Tide would be forced to punt the ball. Bill Newton ran through the middle and blocked punter Greg Gantt's kick. Auburn legend David Langner raced down the field to scoop up the ball at the 25-yard line and ran it in for a touchdown to bring the score to 16-10.
RELATED: Auburn Fans Will Never Forget When Alabama Blew a 24-Point Lead
Just minutes later, Alabama would have to punt once again, and this time, it was the same outcome. Newton jumped in front of Greg Gantt's punt, and Langner was once again in the right place to scoop up the ball for another touchdown. With the extra point, Auburn took the lead, 17-16.
Now trailing, the Crimson Tide had to go down the field and score to try and maintain their perfect record for a shot at the National Championship. But once again, Langner made a play, this time at defensive back.
With little time on the clock, he intercepted a pass to shut down the comeback attempt.
The game would have given Auburn the SEC title, but Alabama played one more game in their conference schedule and ended atop the rankings. This would be the last time Auburn would beat the Crimson Tide for a while, though, with Bama winning an Iron Bowl record nine-straight games between 1973 and 1981.
Auburn's next victory became known as 'Bo Over the Top.'
The game was traditionally played in Birmingham at Legion Field, but today flips between Tuscaloosa's Bryant-Denny Stadium and Auburn's Jordan-Hare Stadium.
The "Punt Bama Punt" game is one of the best moments in Auburn history. Langner passed away in April 2014, but ended his career as the football program's the all-time leader in interception return yards and as one of the most remembered football players in school history for his Iron Bowl heroics.
This post was originally published August 14, 2019.