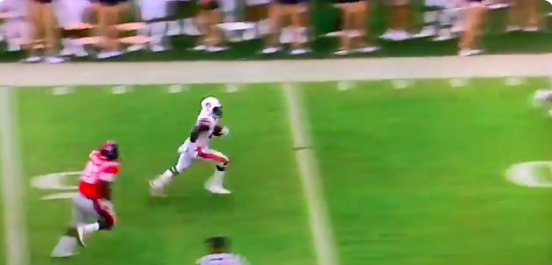 Twitter: PwrofDixieland
Twitter: Power of Dixieland
Gus Malzahn may have not only saved his job, but the Auburn Tiger?s season (5-3, 2-3) as they defeated Ole Miss, 31-16. The Tigers offense and defense finally showed signs of life in defeating Ole Miss, as several factors went into play for the Tiger?s victory.
1. Boobee Whitlow
Whitlow had a monster game against the Rebels, carrying the ball 19 times for 170 yards including a 55-yard touchdown. That was a career high for Whitlow and because of that, the Tigers were able to establish the run early, and keep the Ole Miss offense off the field.
2. The Auburn Defense
Coming into this game Ole Miss had one of the most high powered offenses in the country, but not today. The Tigers defense basically shut down the Rebels and their quarterback Jordan Ta?amu. Even when the Rebels moved the football into the red zone, the Tigers defense would shut them down.
3. Jarrett Stidham
Stidham didn?t play the best game of his career, but it was better than last week. He threw for over 200 yards, one touchdown and zero interceptions. Gus Malzahn got exactly what he wanted out of Stidham: consistency. Auburn?s victory assured them that they will play in a bowl game this season, but the question now is where that game will be. Fans are also wondering if Gus Malzahn survive the season if the Tigers don?t win another SEC game.
Malzahn lives to coach another day, but if this team doesn?t continue its winning ways, will this be the end of his tenure at Auburn? The Tigers have an off week before they welcome an improved Texas A&M team to town whose defense has improved under new head coach Jimbo Fisher. This game may be the difference between Auburn going back to the Peach Bowl and them headed to the Birmingham Bowl. This game may also may decide if Malzahn stays or goes.