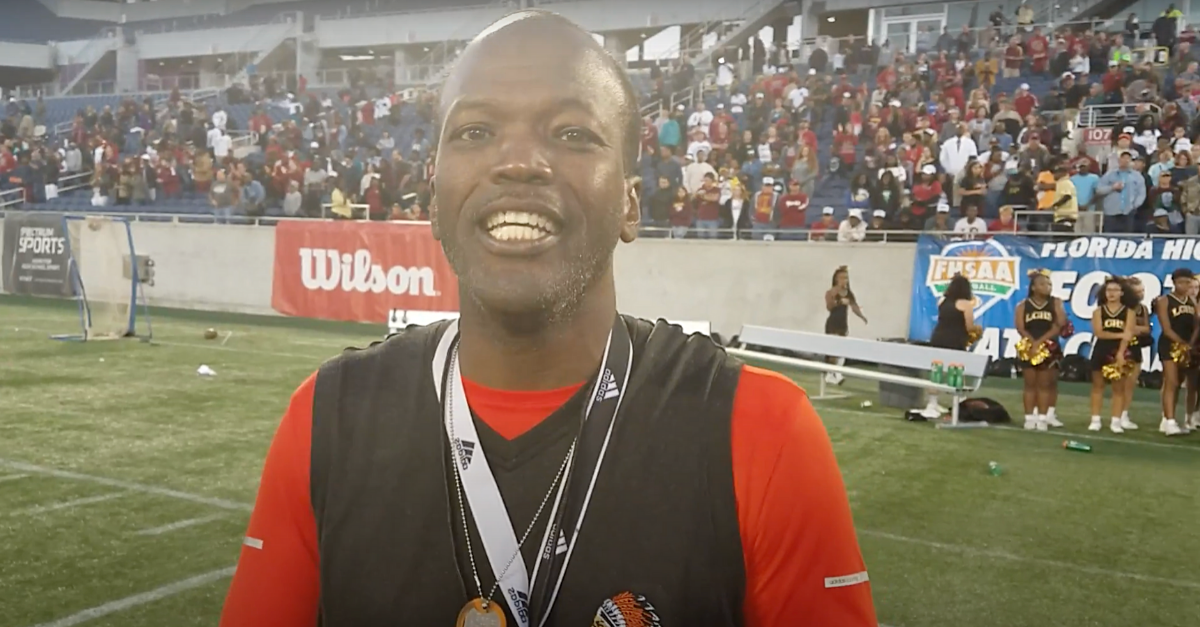 Screenshot from YouTube
Former Florida Gators wide receiver and FIU wide receivers coach Aubrey Hill died after a lengthy battle with cancer on Sunday. He was just 48 years old.
Hill helped establish a winning program in Gainesville. He arrived to the SEC school the same year head coach Steve Spurrier took over in 1990 and spent the next five years there, winning three SEC championships.
Former Gators WR Aubrey Hill's Career
RELATED: Danny Wuerffel?s Record 7 TDs Left Peyton Manning Speechless
Spurrier's "Fun 'n Gun" offense allowed wide receivers to thrive, and under eventual Heisman Trophy-winning quarterback Danny Wuerffel that's exactly what Hill did. The standout player and 1994 UF captain caught 87 passes for 1,454 receiving yards and 18 touchdown catches during his NCAA career, and became a fraction of Florida's dynamic wide receiver group that included Jack Jackson, Chris Doering, Reidel Anthony and Ike Hilliard.
The Miami Carol City High School alumni wrapped up his playing career in 1994, but he served as a graduate assistant for the Gators from 1996-1998. In his first season on the sidelines, he won a national championship.
His college football coaching career included stops at Duke, Marshall, Elon, Pittsburgh and the Miami Hurricanes before he came back to Gainesville under Will Muschamp in 2011. He was named head coach of his high school alma mater and won a state championship in 2016, the same year he was a finalist for the Don Shula NFL High School Coach of the Year award.
He then earned a spot on Florida International University head coach Butch Davis' staff the next year. Hill was set to coach in his fourth season for the Panthers.
Reaction from Former Teammates and Coaches
Hill was clearly beloved by former teammates and coaches. Many of them, such as Spurrier, Davis and former Florida quarterback Shane Matthews posted to social media following news of the longtime coach's death.
"Devastated to hear of the passing of Aubrey Hill…one of the best teammates of all time…RIP #82 #aubreypost" Matthews tweeted.
"Deeply saddened to hear that one of my all-time favorite players has passed away. Aubrey Hill was one of our co-captains in 1994. He was the first wide receiver that I ever used as a tight end," Spurrier tweeted before noting some great memories and touchdowns.

"He will always be remembered as a truly wonderful teammate and Gator. He will be missed. Rest In Peace."
"It was a shock to learn of Aubrey's passing tonight after his long battle with cancer," FIU coach Butch Davis said of the FIU assistant coach in a statement. "Aubrey was loved and adored by so many who saw him not only as a coach, but as an amazing husband and father. We mourn his loss, but we will also hold on to the great memories he left behind and how honored we all were to be a part of his life. We pray for his family and loved ones during this difficult time."
"I first met Coach Hill when I was in high school. I then had the pleasure of working with him when I was a GA at Miami. He was such a great person," Don Shula's son Dan Shula tweeted. "Always had a smile on his face and a great attitude towards life. Going to miss you coach."
The University of Florida lost a former member of the Gators, but it sounds like the world lost a great man.