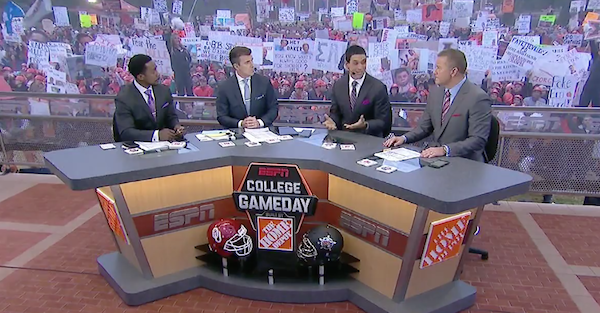 Clippit/Screenshot
ESPN College GameDay Clippit/Screenshot
Florida moved on from head coach Jim McElwain after two consecutive SEC Championship Game appearances.
During College GameDay, Kirk Herbstreit, David Pollack and the crew discussed who Florida should target next. The three names? Virginia Tech's Justin Fuente, Chip Kelly and UCF's Scott Frost:
Former Florida great Tim Tebow has laid out the specific qualifications necessary for the next Gators coach, Steve Spurrier has apparently reached out to Bob Stoops and Paul Finebaum apparently is high on Frost.
Odds currently favor Frost after the UCF coach inherited a winless team upon taking over in 2016 and led Central Florida to a bowl game appearance during his first season, as well as an undefeated record in his first seven games in 2017.
Kelly, the former head coach has racked up a 28-35 record in four years in the NFL, splitting time with the Philadelphia Eagles and San Francisco 49ers. He's been to the playoffs once (2013) with the Eagles and single-handedly dismantled what was a playoff roster in Philly.
Kelly has coached since 1990, but had his most success at Oregon, where he was the offensive coordinator from 2007-08 before taking the head coaching position from 2009-2012.
Fuente has the Hokies on the outside looking into the College Football Playoff race. Virginia Tech is averaging more than 400 yards per game. His team won 10 games in his first season as head coach and won a Bowl game, and the Hokies are 7-1 in Year 2.
McElwain had relative success in his two-plus seasons with the Gators, winning two SEC East titles. However, offensive struggles (notably his inability to find a quarterback) combined with McElwain's death threat allegations apparently proved to be too much for the Florida administration.