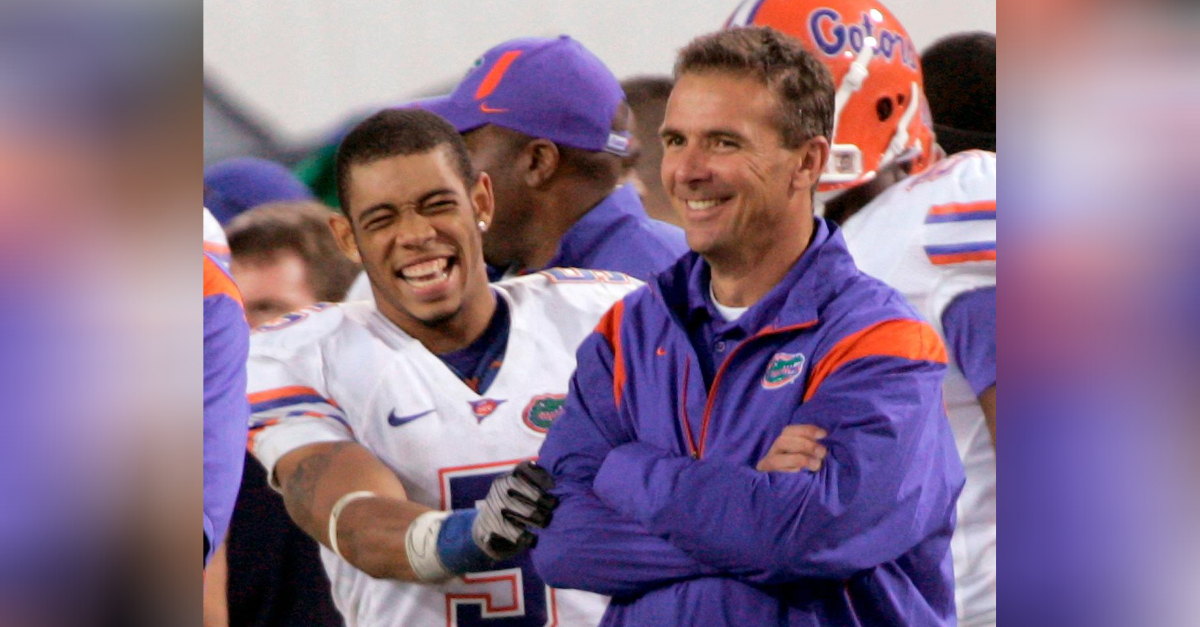 AP Photo/Phil Coale
As 70 Georgia Bulldogs poured onto the field in Jacksonville, Fla., the famous "Gator Stomp" celebration irked everyone wearing orange and blue. That 2007 rivalry game saw Mark Richt's 20th-ranked Dawgs beat Urban Meyer and company, then ranked No. 9 in the polls, 42-30.
The Florida Gators parlayed its 5-3 record into a 9-4 finish in 2007 as Tim Tebow became the first sophomore to win the Heisman Trophy. The following year saw "The Promise" deliver a BCS National Championship and maybe the greatest revenge game in college football history.
Florida vs. Georgia: 2008
There were 85,000 people on hand to see the No. 8 Florida Gators and No. 6 Georgia Bulldogs collide. It was Heisman Trophy candidates Tim Tebow and Matthew Stafford going toe-to-toe, as the previous season's celebration hung over the University of Florida sideline.
Urban Meyer's Gators were hungry. Roast Bulldog was the chef's special.
All-American linebacker Brandon Spikes sent that message loud and clear on UGA's second play from scrimmage by turning Knowshon Moreno into a human pancake.
Wide receiver Percy Harvin scored UF's first touchdown, and the rout was on.
Florida dominated wire-to-wire and built a 46-point lead before UGA finally found the end zone with its backups in the game. Leading 49-10 with under three minutes to play, conventional wisdom tells us it was time to run out the clock. Even CBS commentators Verne Lundquist and Gary Danielson turned their discussion towards the Southeastern Conference standings and national championship picture.
After a first down run, Danielson figured it was over: "Well, last play of the game coming up."
Timeout Florida.
With 44 seconds left in the fourth quarter, Urban Meyer stopped the clock. A young Cam Newton, knowing what was about to transpire, gave him a slap on the rear. Tebow began pumping up the crowd as running back Emmanuel Moody scampered for another Florida first down. Surely the blowout would be over this time, right?
Timeout Florida.
The UF fans dotting the stadium erupted. Meyer's response to "The Gator Stomp" was to make Georgia stare at the scoreboard a little longer while the Gators piled on. Finally, the clock expired as justice was served inside Jacksonville Municipal Stadium.
RELATED: Florida's Pick-Six Against Joe Burrow Made "The Swamp" Boil Over
Tebow's five total touchdowns trumped Stafford's three-interception nightmare, but Meyer didn't need to rub in his team's near-perfect night any further during his postgame interview with Tracy Wolfson:
"We blocked and tackled very well. We played great defense. That's how you win games, not celebrations or silly stuff."
Georgia certainly didn't forget. Mark Richt hung a picture of Urban Meyer signaling for timeout all over the Bulldogs' facility the following year.
Florida would topple LSU, Georgia, South Carolina and Florida State that season before beating Alabama in the SEC Championship. Tebow and company then took care of business against Oklahoma in the national title, giving Urban Meyer his second title as the head coach in Gainesville.
After "The Gator Stomp," UF and UGA traded three-game winning streaks over the next 12 meetings; Florida was in control, then Georgia, then Florida again, and back to Georgia. The World's Largest Outdoor Cocktail Party is one of college football greatest rivalries, and the 2007 and 2008 classics are all the proof you really need that a Florida-Georgia game is must-see television.