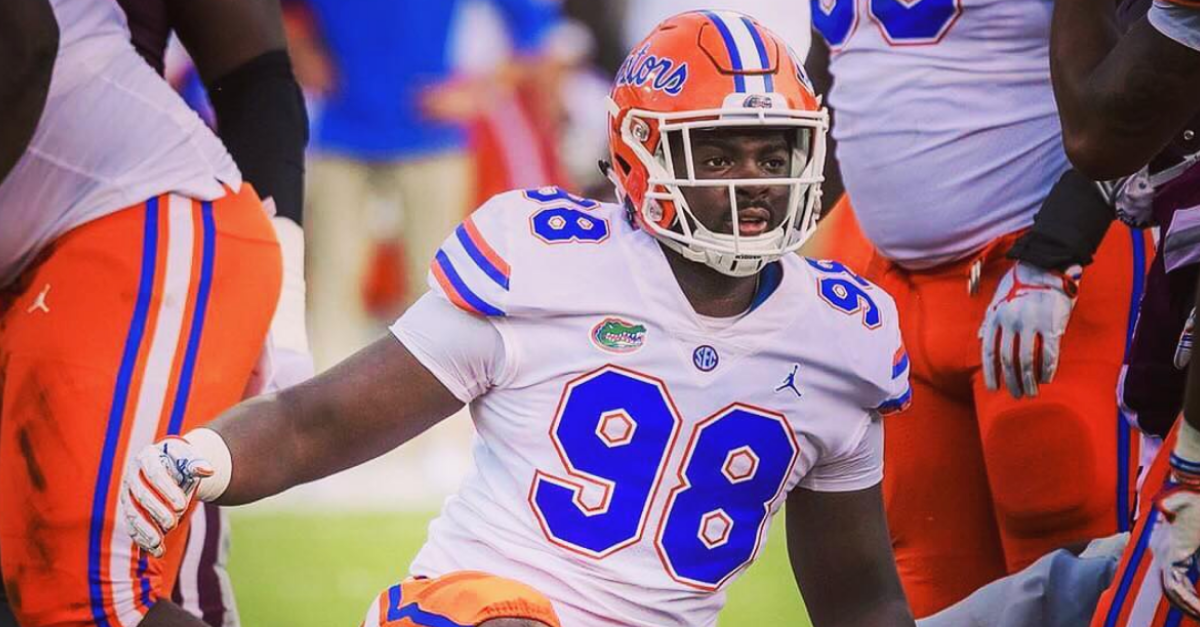 Instagram: @uncleluke98
The Florida-Georgia rivalry has been known to get heated in the past. Urban Meyer and Mark Richt used to engage in petty tactics against each other. But just ask if former linebacker Brandon Spikes, who during his time at Florida a decade ago, tried to gouge a Bulldog's eyes out, resulting in a half-game suspension.
Past rivalry tensions may be why a current Gators defensive player is defending himself on social media. Junior defensive end Luke Ancrum Jr. posted a photo to his Instagram of what looks to be him choking UGA tight end Jackson Harris with the caption, "You grab a dog and shake em," from Saturday's game. Once the picture started spreading on Twitter, Ancrum tweeted out his defense and deleted the photo from Instagram.
Related: Why Gator Fans Will Never Rush the Field After a Win
So what's the truth? Well, you can make the call. The play Ancrum's referring to came on first-and-goal following Feleipe Franks' fumble with about four minutes remaining in the third quarter:
From the camera angle of the CBS broadcast, it appears defensive end Jabari Zuniga flies around the edge to make the tackle on the UGA running back. In doing so, he knocks down Harris. That leads to Ancrum falling on top of Harris, because he was blocking him on the play.
It just so happens that Ancrum falls with his right hand by Harris' throat and left hand on his shoulder. If he had actually been choking him, why doesn't Harris make a big deal of it? And, to Antrum's point, why doesn't the referee do anything? Maybe it's because it never really happened.
But a picture is worth a thousand words, and this one elicited numerous angry tweets from Georgia fans.
Even this FSU fan goes so far as to suggest jail time for…a picture…that doesn't tell the whole story.
Regardless of the Ancrum's intentions, one has to wonder why he thought posting the picture with that caption might be a good idea.