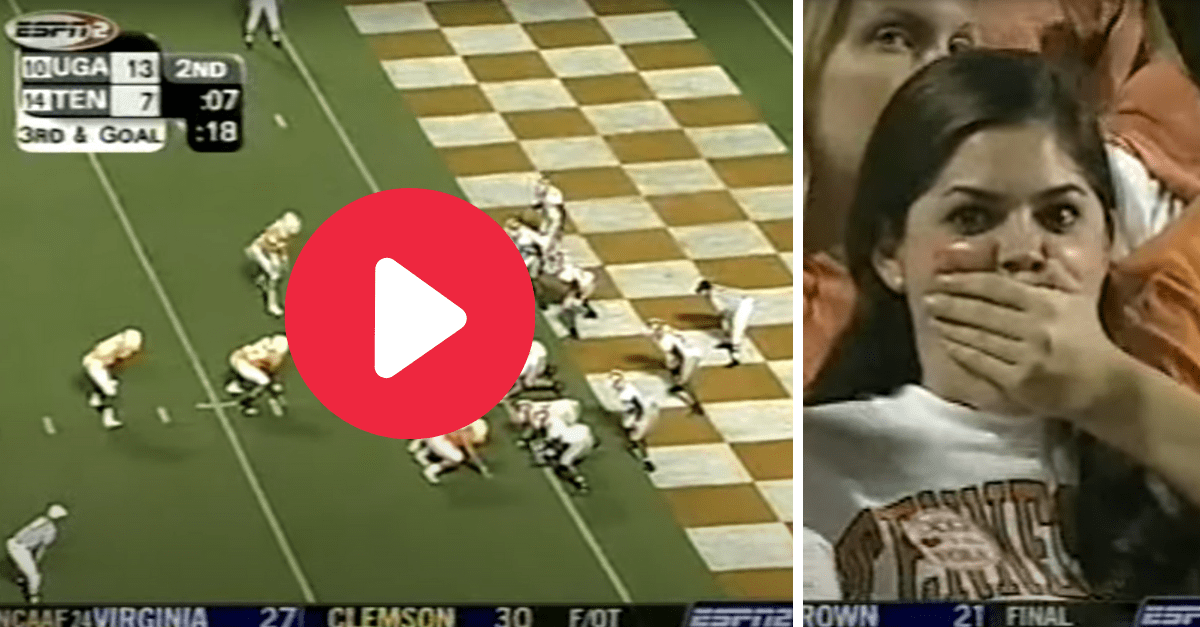 Screenshot from YouTube
The 2003 Georgia Bulldogs were special. Head coach Mark Richt's defense that year was jam-packed with NFL defenders everywhere opposing offensive players looked; David Pollack and Robert Geathers on the defensive line. Thomas Davis and Odell Thurman at linebacker. Tim Jennings and Sean Jones in the secondary.
At the helm of Richt's squad that year was quarterback David Greene, the man whose 11,528 career passing yards still rank second in program history. In 2001, Green went into Tennessee's Neyland Stadium and threw a last-second touchdown pass to Verron Haynes in what became legendary announcer Larry Munson's famous "Hobnail Boot" game call.
Two years later, the Bulldogs returned to Knoxville to give fans more Larry Munson magic.
Sean Jones' Scoop & Score Touchdown
RELATED: David Pollack?s Strip TD Made Him A Georgia Legend
No. 8 Georgia humiliated the No. 13 Tennessee Volunteers in 2003, beating them 41-14. Early on, the game was much closer.
The Bulldogs led 13-7 just seconds before halftime thanks to two Billy Bennett field goals and a Greene touchdown. Tennessee's offense lined up on third-and-goal at Georgia's one-yard line looking to take the lead.
UT quarterback Casey Clausen muffed the handoff to the running back, and it squirted away. As UGA defenders frantically dove for the ball, safety Sean Jones scooped up the fumble and returned it more than 90 yards for a touchdown. Because he picked it up at the eight-yard line, it officially went down as a 92-yard touchdown. The entire play, however, was a 99-yard effort.
Needless to say, Tennessee fans felt like they were punched in the gut. The Vols went from potentially taking the lead at the end of the first half to a 13-point deficit once the second quarter was finished. Georgia kept pouring it on afterward, and Tennessee never mustered a comeback.
Larry Munson's Call
Munson called play-by-play for Georgia games for more than 40 years, and there's no doubt this call was one of his finest pieces of work.
Here's his call:
"Will Tennessee hurdle a line? Will Tennessee just dump a little dink pass in the end zone? Will Tennessee run a toss sweep? Goal line defense. Seven seconds. A fresh back in there. Jabari Davis. Watch him hurdle, let's see if that's what they do," Munson said, setting up the play.

"Jabari fumbled! And we dive on the ball, and we pick it up! We've got a man running on the 20, the 25, the 30. Run! He's got blockers behind him. The 40, the 30. Sean Jones going all the way! Sean Jones all the way! Picked up the fumble and ran about 95 yards, and he had six blockers behind him all the way. Sean Jones picked it up. They were gonna run a sweep with him and dropped the ball. Old lady luck just laughed out loud right there. Holy smokes!"
I mean, you just can't do it any better than Larry Munson.
Georgia had one loss up to that point, a loss to LSU on the road. The Bulldogs went on to lose to Florida, then defeat Auburn and Kentucky before losing to LSU yet again in the SEC Championship game in Atlanta. They finished the season 11-3 after downing Purdue in the Capital One Bowl.
Sean Jones wrapped up his NCAA career by earning first-team All-SEC honors in 2003. He was drafted in the second round of the 2004 NFL Draft by the Cleveland Browns and spent eight years in the league.
As recently as 2014, Jones was back in Athens taking classes. He'll forever be remembered for this iconic Georgia play, though.