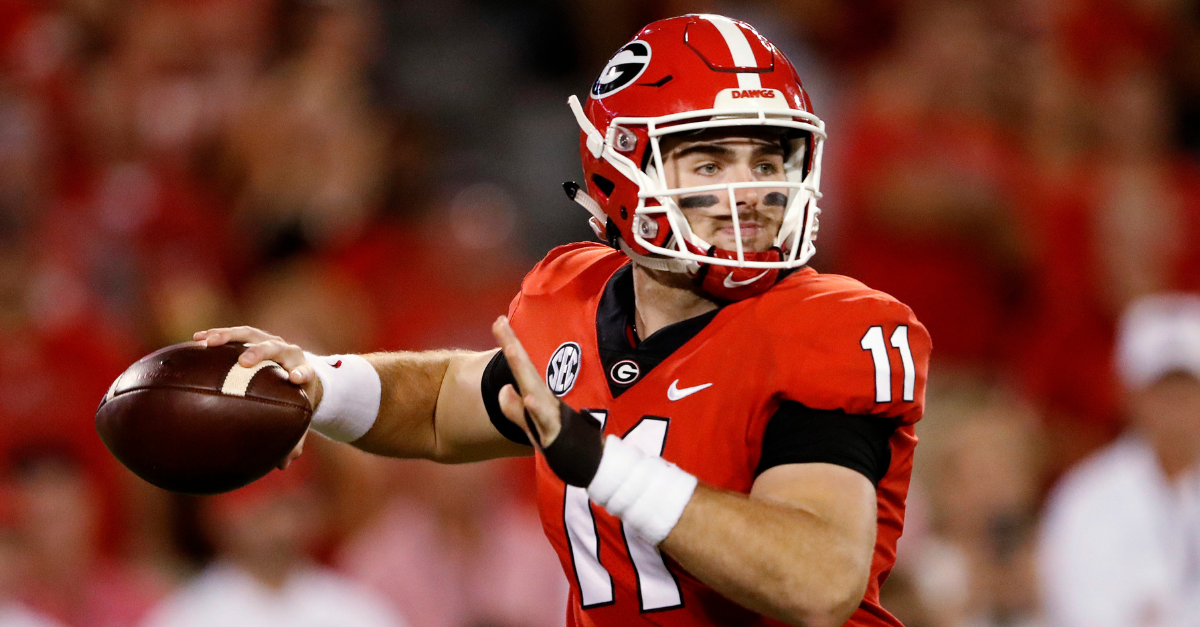 AP Photo/John Bazemore
With a showdown with the LSU Tigers looming, it would have been natural for the Georgia Bulldogs to overlook the Vanderbilt Commodores. And for the first quarter, it appeared that might be the case.
The Bulldogs kicked it into gear in the second quarter, however, unleashing an explosive offensive attack that overwhelmed the Commodores, and cruising to a 41-13 victory at Sanford Stadium in Athens, Georgia on Saturday.
RELATED: Georgia Has 9 Players Who Can Run Faster Than 20 MPH
The offense flexed its big-play potential by averaging 11 yards per completion and over six yards per rush. Some of the biggest plays came from running back Elijah Holyfield, whose 24-yard touchdown run midway through the second quarter gave helped Georgia find their offensive groove, and wide receiver Terry Godwin, who housed a 75-yard touchdown reception put Georgia on the board.
It was a precursor of things to come.
Quarterback Jake Fromm was uber precise, completing 17 of 23 pass attempts for a season-high 276 yards and three touchdowns. Fromm?s play was instrumental in helping the Bulldogs offense find a consistent rhythm. Starting in the second quarter, Georgia scored on six consecutive drives to put the game out of reach.
Georgia?s defense also came up with big plays when tested, too. The Bulldogs' defensive performance, specifically on third down where Vanderbilt only converted 3 of 12 third-down attempts, kept the Commodores from developing sustaining drives.
The Bulldogs performance illustrates their focus. Even with a showdown looming against LSU next week, the leaders and coaching staff did an excellent job of helping the team regroup after a slow first quarter. The result was emphatic, as the Bulldogs outscored the Commodores 34-10 in the final three quarters.
With the win, Georgia can turn its attention to LSU. The Tigers will be eager to rebound following a 27-19 loss to Florida earlier in the day.