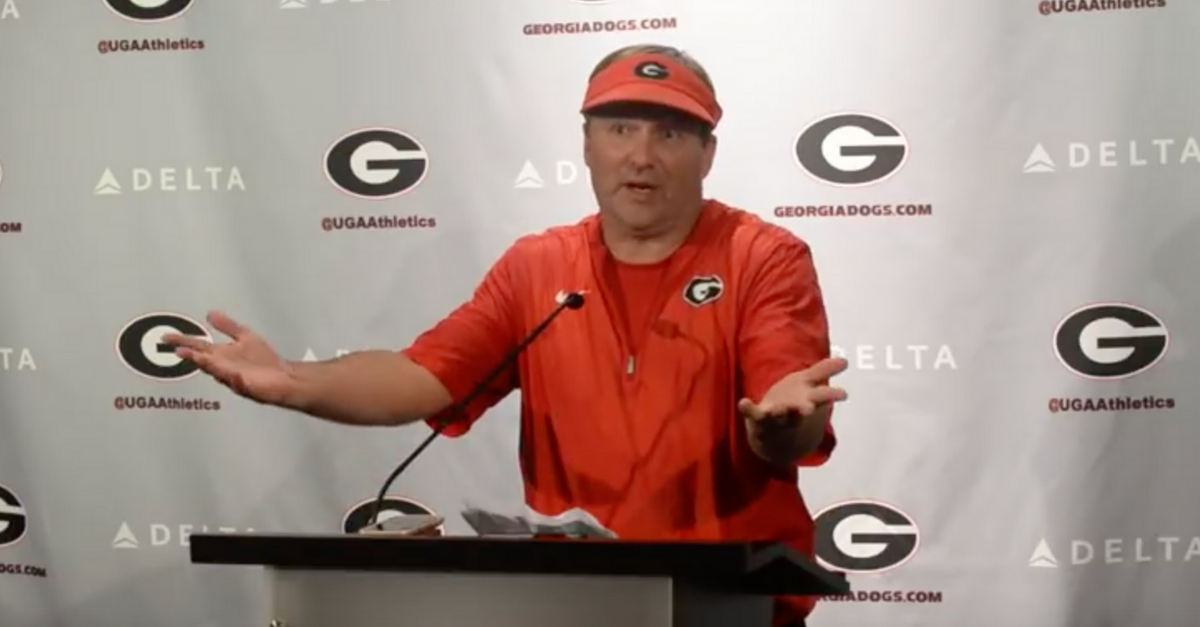 Youtube: Dawg Post
Youtube: Dawg Post
It's a journalist's job to press buttons, overturn stones and report the unseen story of what's going on in the world. In today's world of quick-trigger reporting and "fake news," members of the media have gone from honest reporters to villains with an agenda, and some in this profession aren't helping the rest of us break that mold.
At the Georgia Bulldogs' press conference last Saturday, a reporter asked head coach Kirby Smart a question about five-star running back Zamir White's injury. In epic fashion, Smart blasted the reporter, dismissed his lack of football knowledge and proceeded onto the rest of the presser like a boss.
Zamir White was the No. 1 running back prospect in the nation, and ninth-ranked player overall by 247 Sports, when he committed to play for the Georgia Bulldogs.
The freshman, one of the best running backs to commit to Georgia in a long time, was returning from a torn ACL in his right knee during the North Carolina high school playoffs in November.
While covering a punt during Saturday's scrimmage, White suffered a non-contact injury to his left knee, the opposite, non-surgically repaired knee, and an MRI revealed the worst — it's another torn ACL.
During the post-scrimmage press conference, UGASports.com managing editor Anthony Dasher asked Kirby Smart if it was unusual for Zamir White to be on punt coverage.
Kirby was having NONE of it and swiftly shut down Dasher's question.
"Sony Michel was a first-round pick last year. He covered a punt. Derrick Henry covered every punt at Alabama. I mean, why would you ask that — Is it unusual for him to be on punt? D'Andre Swift's a starter on punt. So, is that unusual for our running backs to play?"

"The only problem is if [reporting on an injury] comes from in here, or if the question is, 'Is that normal for him to be on punt?' I mean, is that a fair question? Is it a fair question? I'm asking y'all. Probably not a fair question, and if you watch football, it's probably not a fair question."
Boom. Roasted.
The third-year head coach added that he was "sick" for his star freshman running back.
The Bulldog fan base has been a mixed bag of reactions to hearing Smart allowed a five-star recruit, who was less than a year removed from an ACL tear, to be covering punts during practice.
The Bulldogs are already loaded at running back, as D'Andre Swift is an early Heisman hopeful heading into their opening week match up against Austin Peay on September 1.
Losing Zamir White might not seem like much at the onset, but a few late season injuries could bring this questionable decision back into the spotlight down the line.