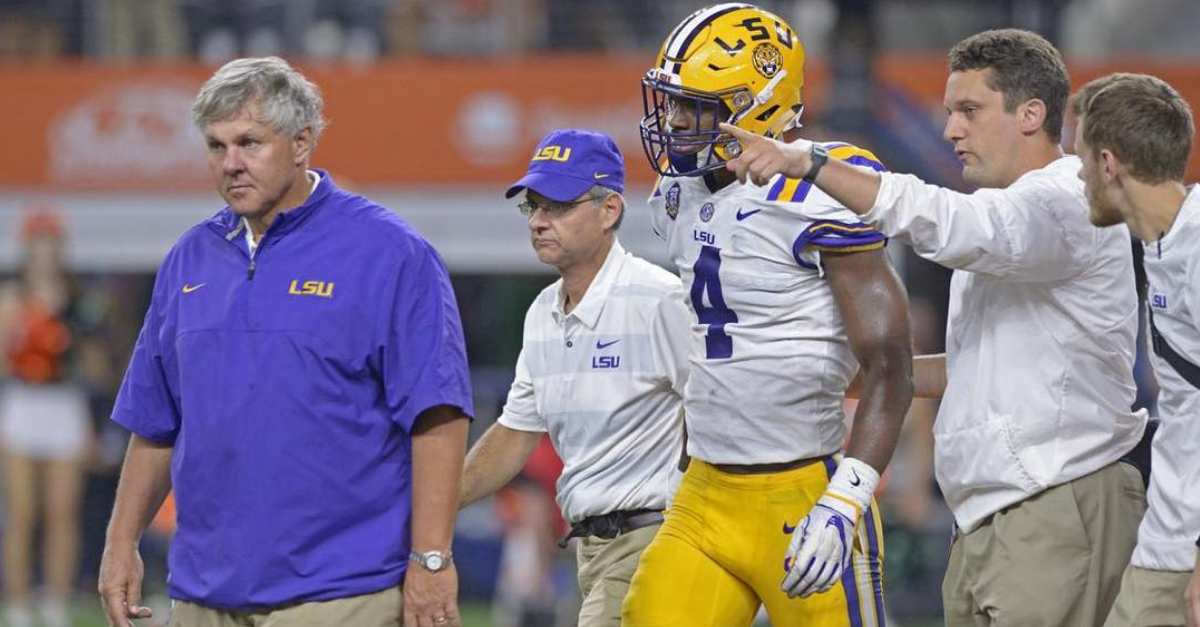 Instagram: @whosthatguy4
Instagram: @whosthatguy4
Ed Orgeron and the LSU Tigers went out on opening weekend and totally dismantled Mark Richt's Miami Hurricanes at AT&T Stadium in Arlington, Texas. LSU got out to a 33-3 lead in the third quarter, but the game was in the bag before Miami finally managed two fourth quarter touchdowns to cut the deficit to 33-17.
Running back Nick Brossette paced the LSU offense with 125 rushing yards and two touchdowns, while the Tigers' defense forced two Malik Rosier turnovers and sacked the Miami quarterback four times on the night. LSU's No. 1 pass rusher, K'Lavon Chaisson, secured one of those sacks, but he left the game with a knee injury, and the prognosis isn't good.
At Tuesday's press conference, Orgeron expressed how impressed he was with the sophomore defensive end heading into this season, but confirmed that Chaisson will be sidelined for the rest of 2018.
"One of the things that didn't go right in the game was that we lost K'Lavon Chaisson for the year. He will be out for the year, and I just met with K'Lavon and talked to his grandmother. I feel bad for him. He's a great young man. He had totally dedicated himself to this year, and he is going to get though this. This is going to pass for him, and he'll have a great career down the road."
The sophomore edge rusher recorded five tackles, one sack and another quarterback hurry before leaving the game against Miami.
K'Lavon Chaisson came to Louisiana State University by way of North Shore High School in Houston, Texas. Chaisson led all of Texas high school football with 15.5 sacks as a senior and was named to the Texas 6A All-State team. He signed with LSU as the No. 5 player in the state of Texas and was considered a Top-50 player in the nation by every major recruiting service.
In his freshman season last year, Chaisson played in 12 games and became just the eighth true freshman since 2000 to start in the season opener for LSU. His 27 tackles, two sacks and 4.5 tackles for a loss earned him Freshman All-SEC honors.
Chaisson is eligible to use a redshirt season and will return to the LSU Tigers in 2019 with three years of eligibility remaining.
As to who will replace Chaisson at a key edge rushing position of LSU's attacking 3-4 defense, that remains to be seen.
"Yeah, we have several guys there," Orgeron said. "Ray Thorton can play both sides. Andre Anthony can play. Travez Moore can play, and we have Jarell Cherry there, a freshman that can play there. So that is a spot that we have some depth at, and we're going to see this week who's the best guy to put at that position."
All four of those guys don't have significant experience playing, so this will be a key few weeks for the LSU defense to find an effective rotation.
No. 11 LSU hosts Southeastern Louisiana in their second game, but then have to travel to Jordan-Hare Stadium and take on the quarterback Jarrett Stidham and the No. 7 Auburn Tigers in what is going to likely be the game of the weekend on September 15.