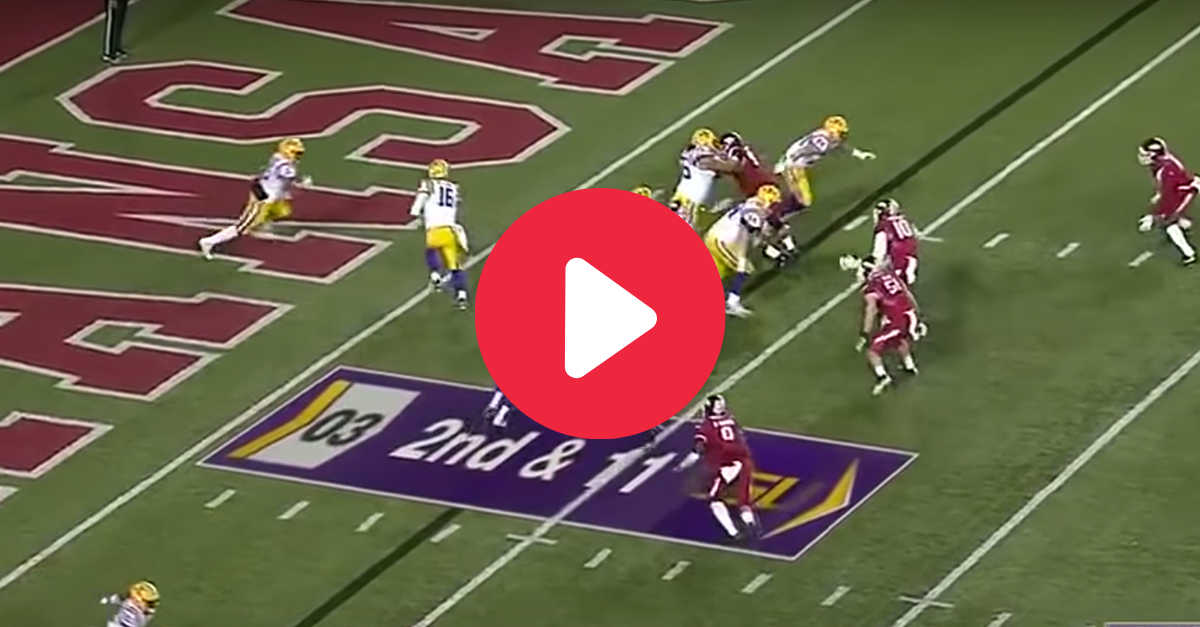 Screenshot from YouTube
Derrius Guice will probably never receive the proper recognition he deserves on the football field. The former LSU running back finished fifth in LSU Tigers history with 3,074 rushing yards and still owns three of the best four single-game rushing performances in school history despite playing in Leonard Fournette's shadow from 2015-17.
The speedy ball-carrier then fell to the NFL team in Washington in the second round of the 2018 NFL Draft, a pick beloved by draft analysts. Ross Tucker said he felt bad for the first player that had to tackle him. Bucky Brooks called him a first-round talent and likened him to Clinton Portis.
A torn MCL and off-the-field issues led to his release from the team in August 2020 and it remains to be seen if another team will pick him up. Still, Guice put together some incredible games during his college football career in Baton Rouge, Louisiana. In 2016, he set an LSU record against the Arkansas Razorbacks.
Derrius Guice's 96-Yard Record Run Vs. Arkansas
RELATED: Kevin Faulk?s ?S On His Chest? Run Set LSU Records
The 2016 season was a special one in terms of LSU rushing history.
On October 22, Fournette rushed for a school record 284 yards against Ole Miss. Four games later, Guice beat that record by one yard in a matchup against Texas A&M. In between that stretch came another eye-popping game for LSU's two-headed monster.
LSU walloped Arkansas in Fayetteville, 38-10, winning the "Battle for the Golden Boot." Guice tallied 252 rushing yards, while Fournette added 98 of his own. The two totaled five touchdowns in the butt-kicking.
With six minutes to go in the fourth quarter, Guice put the game on ice by outrunning every Arkansas defender in sight. LSU's running back took the ball at his own 4-yard line and never looked back, scoring a 96-yard rushing touchdown.
"There's a Tiger loose on the field! Guice, into the end zone! Touchdown Tigers!" LSU play-by-play announcer Chris Blair said.
That, folks, set a program record for the longest touchdown run at the SEC West school. LSU's previous record-holders were Sal Nicolo (Rice, 1952) and Jesse Fatheree (Georgia, 1935), who both notched 94-yard scores.
There's turning on the jets, and there's whatever Guice did on that play.
LSU's 2016 campaign wasn't exactly memorable. The Tigers dropped games to Wisconsin, Auburn, Alabama and the Florida Gators. However, a win over Louisville in the Citrus Bowl led to the school hiring interim head coach Ed Orgeron for good, a move that worked out pretty well.
Without runs like this from Derrius Guice that NCAA season, maybe Coach O never earns the job.