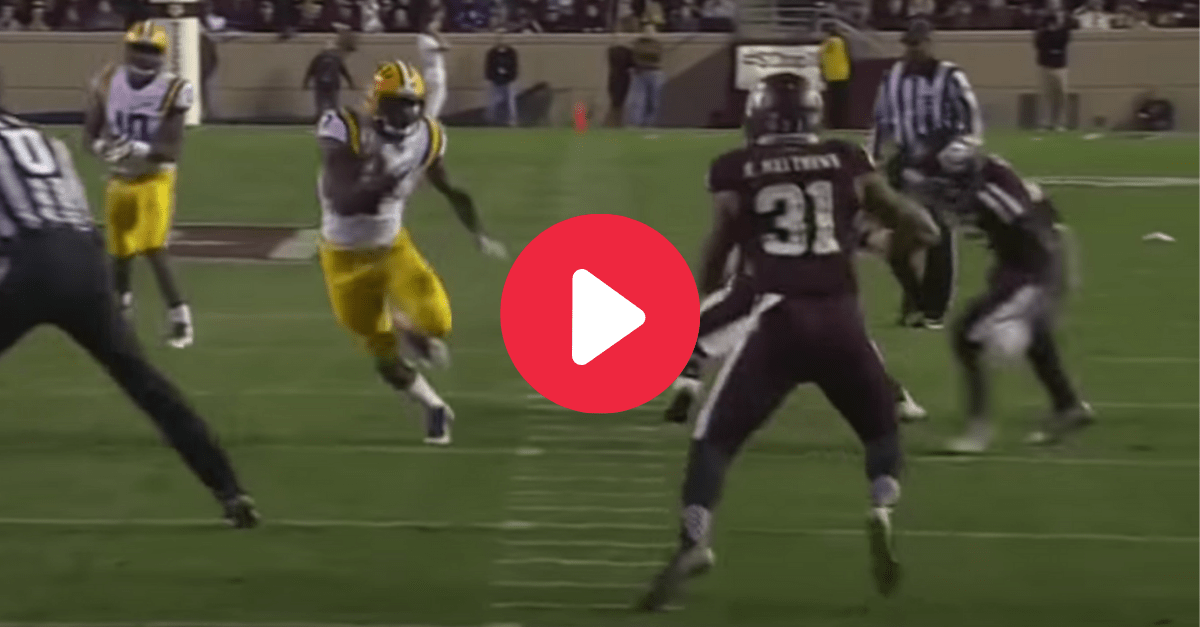 Screenshot from YouTube
From the moment running back Leonard Fournette stepped foot on the LSU Tigers? campus, he was a star. His rare combination of size and speed made him as dangerous as any player in college football. What he did as a freshman to one poor Texas A&M defender proved nobody was going to stop his path to greatness.
In 2014, Fournette ran all over the Aggies for a then-career-high 146 yards on 19 carries with a touchdown. He dominated all night at Kyle Field in College Station and helped head coach Les Miles escape with a 23-17 road win.
His 22-yard touchdown in the second quarter put everyone in the SEC on notice for what was to come in the future.
LSU?s Leonard Fournette Trucks Texas A&M Defender
RELATED: Kevin Faulk?s ?S On His Chest? Run Set LSU Records
Trailing 7-0 in the second quarter, LSU needed a spark. The Tigers really wanted to put some points on the board before halftime on ESPN. So they leaned on running back Leonard Fournette to get the job done.
On second down, Fournette took the handoff from quarterback Anthony Jennings, busted through the left side and made it to the second level of the Texas A&M defense.
Howard Matthews, the Aggies? senior defensive back, was right there waiting to make the tackle. He was in a great position to make the play, too. Then, the 6-foot, 225-pound Fournette decided to lower his shoulder and completely trucked the soul out of Matthews like he was some JV high school player.
All that was left was a quick 10 yards to the end zone for the score.
The play was pure football poetry and was a precursor for what was to come.
In three seasons in Baton Rouge, Louisiana, Fournette racked up 3,830 rushing yards with 40 touchdowns. He finished sixth in the Heisman Trophy voting in 2015 and broke LSU?s single-game rushing record with 284 yards against Ole Miss in his last year.
The New Orleans native was taken No. 4 overall in the 2017 NFL Draft and has been scoring touchdowns with the Jacksonville Jaguars ever since.
Although he had some big-time plays against the likes of Florida and Auburn throughout his NCAA career, that truck stick against Texas A&M will always stand out.