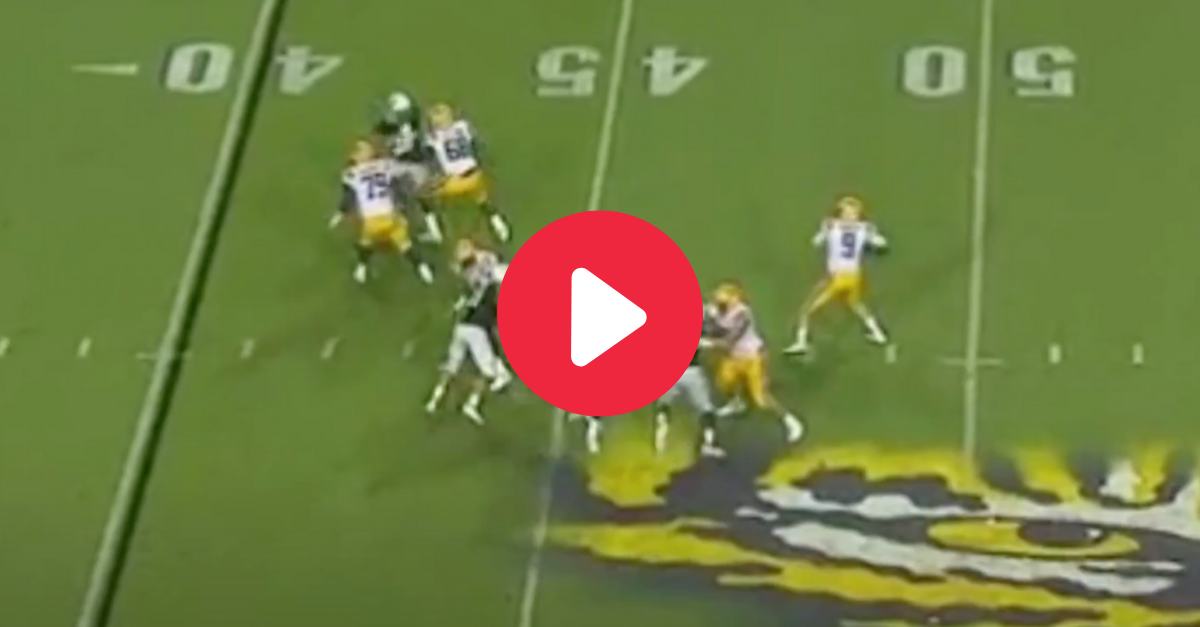 Screenshot from YouTube
Before he cemented his name in the college football record books, before he won the Heisman Trophy, and before went No. 1 overall in the 2020 NFL Draft, LSU Tigers quarterback Joe Burrow was simply trying to make a name for himself. Needless to say, that didn?t take long.
Burrow, who transferred from the Ohio State Buckeyes before the 2018 season, won the starting quarterback job in Baton Rouge. He struggled in the season opener ? a 33-17 victory over No. 8 Miami in Dallas ? but came back against Southeastern Louisiana to give fans a preview for what was to come at Tiger Stadium.
A nine-yard strike to wide receiver Ja?Marr Chase and a one-yard touchdown run in the first quarter gave Burrow his first two scores in an LSU uniform. Then, just before halftime, a 40-yard Hail Mary touchdown to tight end Stephen Sullivan proved greatness was on the way.
QB Joe Burrow?s Hail Mary to Stephen Sullivan
RELATED: LSU?s ?Earthquake Game? Helped Death Valley Become Iconic
With five seconds remaining in the first half on ESPN, and LSU football already holding a 17-0 lead, head coach Ed Orgeron decided to go for more points and put the Southeastern Louisiana football team out for good.
So Joe Burrow fired one into the end zone with no time left, and it fell right into the hands of a leaping 6-foot-5 Stephen Sullivan. Coach O looked like a genius on the sideline.
LSU?s win that day ? a 31-0 shutout ? wasn?t overly pretty, but it produced the expected result. That touchdown pass was easily the best highlight of the day.
The Tigers went 10-3 that year, including 5-3 in the SEC, and featured ranked wins over the Miami Hurricanes, Auburn Tigers, Georgia Bulldogs, Mississippi State Bulldogs, and UCF Knights in the Fiesta Bowl.
Sure, losses to Florida, Alabama and Texas A&M stung, but LSU was back in the national spotlight, and Burrow?s Hail Mary touchdown helped spark an amazing season ahead.