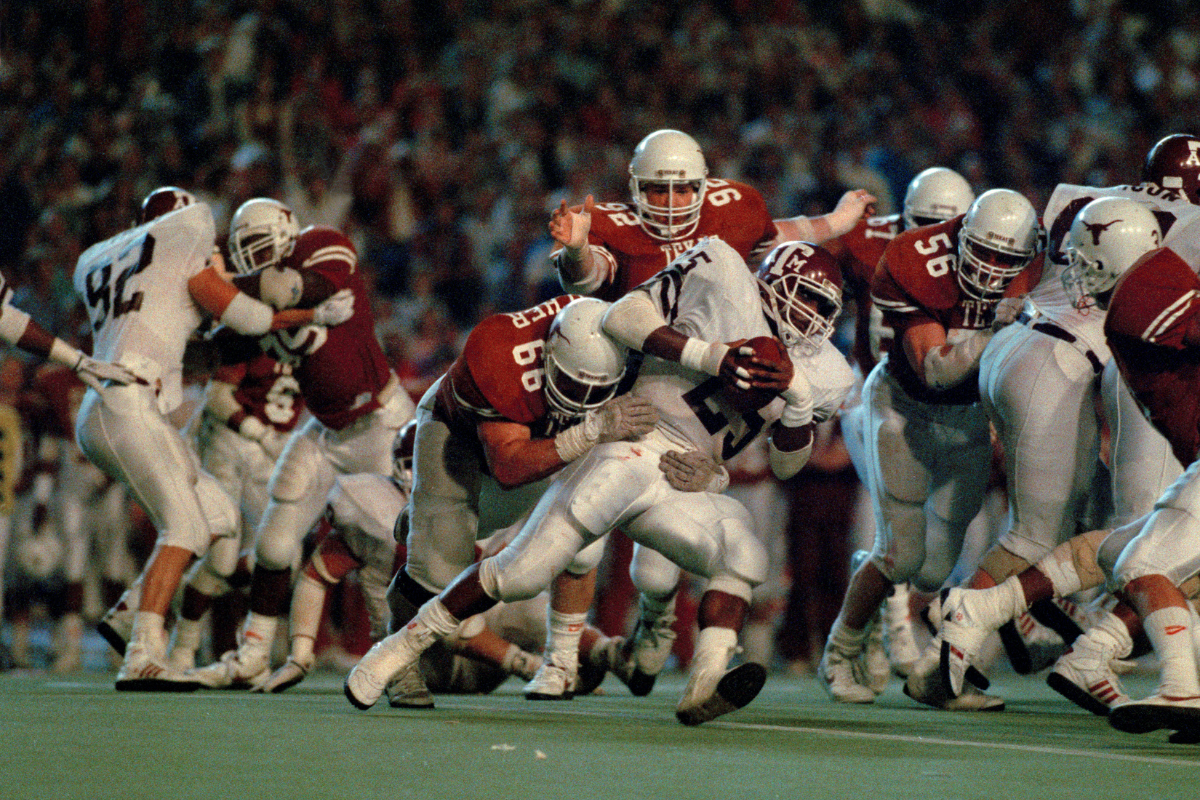 AP Photo/Kevin Geil
With a nickname like "Tank," it was hard not to love former Texas A&M running Darren Lewis dominating the Southwest Conference. The 220-pound mauler put on a show every time he touched the football during his record-setting days in college football.
But greatness has a price. For Lewis, whose NFL career collapsed due to a string of off-the-field issues, getting lost in the fame and fortune of professional football cost him 27 years behind bars.
Darren Lewis' Early Life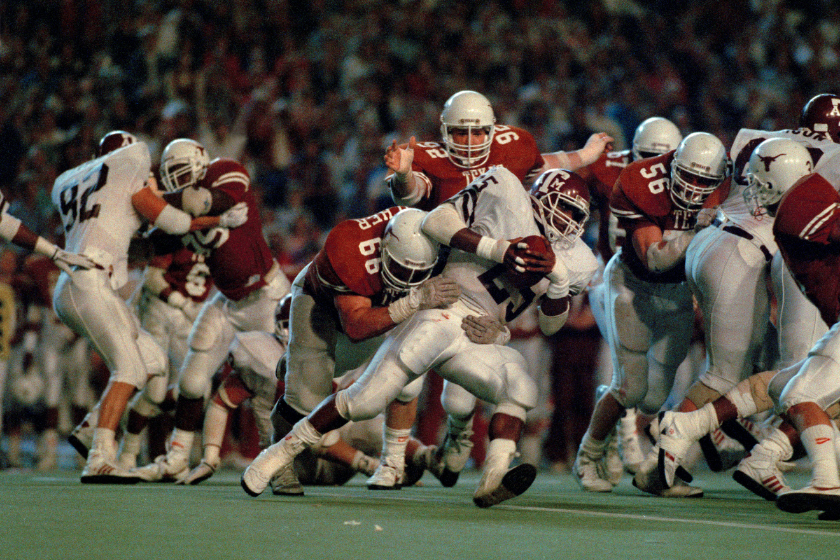 Darren Lewis' life was built around football, something he dominated from an early age. From Rusty Burson's book titled "100 Things Texas A&M Fans Should Know & Do Before They Die," Lewis' sister remembered movie-like scenes at his pee wee football games growing up in Texas:
"When he was 6, 7, or 8, hundreds of people — maybe thousands — would crowd the sidelines [at nearby Danieldale Park] to see him run pee wee games," recalled Kimberly Lewis. "It was like some kind of cult following. He quickly went from being 'Darren' to becoming 'Tank' because he was unstoppable. When you're told all your life that you are Superman, you tend to believe it."
His playing career really began at football hotbed Dallas Carter High School — Carter is the same school that captured Texas 5A State Championship in 1988 over Permian High, which was popularized in the film Friday Night Lights. Lewis earned Parade All-American and Gatorade Player of the Year honors as a senior in 1986 before it was time to make the jump to college football.
"Tank" Lewis at Texas A&M University
RELATED: Bucky Richardson Was a Fan Favorite at Texas A&M, But Where Is He Now?
The fans in College Station, Texas, watched the most prolific running back not just in Texas A&M Aggies history, but one of the best to ever play major college football.
After running for 668 yards and eight touchdowns as a freshman, Lewis exploded onto the national stage as a sophomore in 1988. "Tank" ripped off 1,692 rushing yards — a single-season school record that stood for 30 years — and was named First-Team All-American.
After R.C. Slocum took over as head coach in 1989, Lewis fully adjusted to the new staff and system as a senior the following year. He averaged 5.8 yards per carry, ran for 1,691 yards and 18 touchdowns, and finished 8th in the 1990 Heisman Trophy voting. The two-time All-American bookended his collegiate career by helping Texas A&M embarrass Heisman winner Ty Detmer and the BYU Cougars in the Holiday Bowl, 65-14.
Lewis broke Hall-of-Fame running back Eric Dickerson's Southwest Conference record with 5,012 rushing yards. That mark stands more than 1,300 yards clear of the second-most in Texas A&M history. At the time he left school, Lewis held Aggie records for carries (909), rushing touchdowns (44), 100-yard games (27), 200-yard games (five), and all-purpose yards (5,138).
Safe to say, there may never be another Tank Lewis in College Station.
Lewis Enters 1991 NFL Draft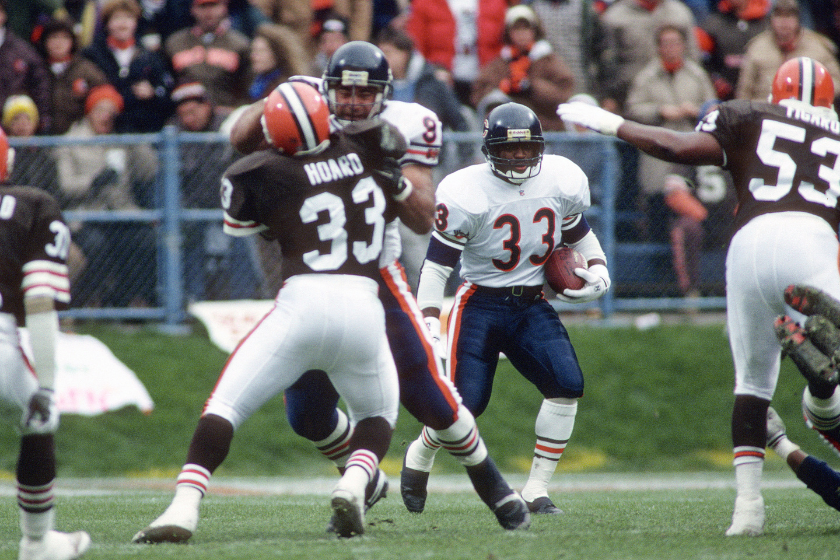 Jumping to pro football was a no-brainer. With the talent of a sure-fire, first-round pick and credentials to back him up, Lewis was ready to solidify his spot among the game's elite.
However, things began to unravel.
As detailed in Rusty Burson's book, Lewis had "befriended a couple "runners" for his agent" who introduced Lewis to cocaine prior to the National Football League's Scouting Combine. A failed drug test there plummeted his stock, ultimately landing him in the sixth round (191st overall) with the Chicago Bears. A publicized domestic dispute with his wife forced the Bears to release Lewis after only three seasons.
The once-prized tailback appeared in only 33 NFL games, tallying 431 career rushing yards. He later received an offer to tryout for the Arizona Cardinals, but Lewis fell victim to drug addiction and crime that turned his life upside down.
"Darren is one of the most gracious, most caring, and most likeable guys I've ever coached," former A&M head coach R.C. Slocum said. "But Darren's biggest fault is probably that he wants everyone to be his friend. As a result, he's allowed many people — bad people — to influence him negatively, and he's been a magnet for trouble."
Drug Addiction & Prison Sentence
Lewis was introduced to crack cocaine shortly after leaving football. Although he was admittedly sober after a stint at a rehabilitation clinic before the 1991 NFL Draft, his addiction worsened to the point that he wasn't able to stay away from serious trouble.
Lewis told 12th Man Magazine that he'd spent all his money on cocaine and lost his house by 1995. His marriage ended a few years later, and Lewis turned to the streets that offered only a laundry list of arrests.
Lewis and a cohort, Christopher Washington, were caught on video committing a string of armed robberies at a Hampton Inn and Suites, a La Quinta Inn, and a 7-Eleven spanning several months in 2012 and 2013. The Dallas Morning News reported that police stated Lewis shot the person working at the 7-Eleven before fleeing the scene.
On Friday, September 26, 2014, Darren Lewis was sentenced to 27 years in federal prison.
His talent as a football player could have transcended any generation. Sadly, Lewis' story is one that reminds us how powerful and dangerous addiction can be, and that no one is safe from its effects.