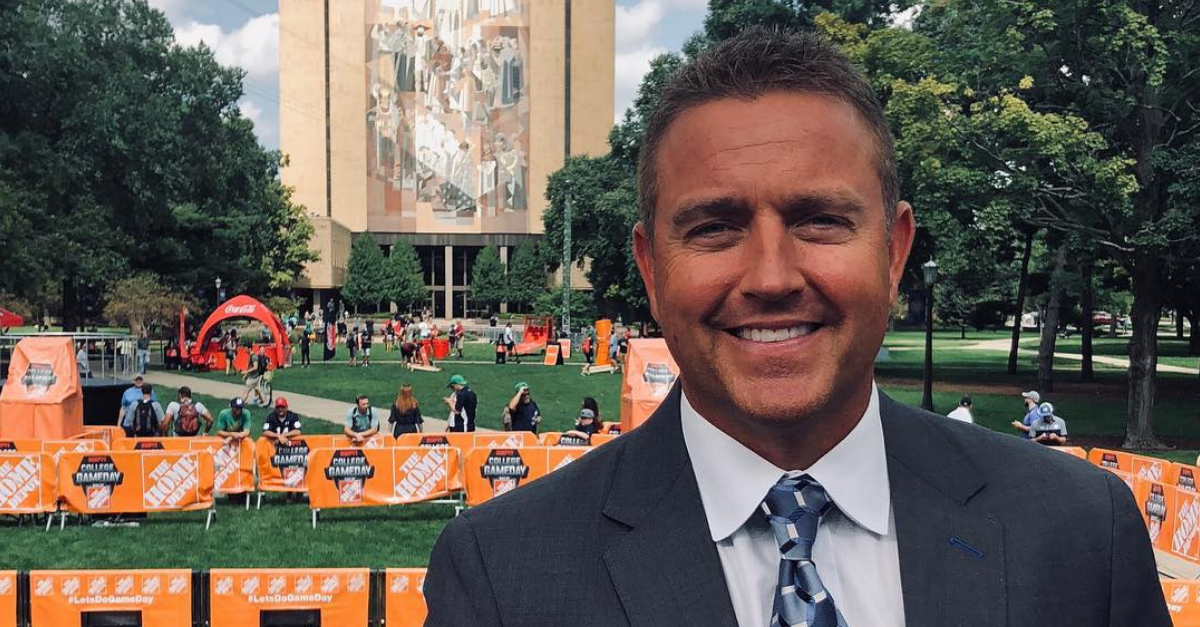 Instagram: @kirkherbstreit
Instagram: @kirkherbstreit
The Texas A&M Aggies started their season with a rout, taking care of FCS opponent Northwestern State 59-7. Running back Trayveon Williams had a record night as the Aggies started the Jimbo Fisher era off in style.
Now, it's on to some serious business when the No. 2 Clemson Tigers roll into College Station. Dabo Swinney's team is loaded with NFL talent, and they're a major College Football Playoff contender this season. Both head coaches have met in big games before, but this time it'll be under the lights at Kyle Field, with ESPN's College GameDay rolling into town.
Week one of the famous college football kickoff show landed in South Bend, Indiana, where Lee Corso and the gang hosted opening weekend ahead of Notre Dame's win over Michigan.
In the second act, the crew is headed for College Station, and College GameDay analyst Kirk Herbstreit has a special message for Aggies' fans prior to Saturday.
There's something poetic about an Ohio State alum using the Texas A&M term of endearment "Gig Em," but I guess whatever you have to do whatever gets the people going. Right, Kirk?
ESPN's College GameDay was last in College Station on October 8, 2016, when the No. 9 Tennessee Volunteers fell to the No. 8 Aggies 45-38 in double overtime. Prior to that was in 2013, when Johnny Manziel's Aggies couldn't repeat the magic of the prior year and fell to Nick Saban and No. 1 Alabama 49-42.
The storylines ahead of this week's monster game?
1. The Dabo Swinney versus Jimbo Fisher rematch.

2. It's the first game of this series since 2005 when Clemson upset No. 17 Texas A&M on opening weekend.

3. How can Texas A&M slow down a Clemson defensive line that had all four starters selected to the preseason All-ACC team?

4. Will we see Kelly Bryant and Trevor Lawrence split time at quarterback for Clemson?

5. Does the 12th Man show up and help force a major upset?
To the last question, I'd like to remind you that Texas A&M starts their games with this.
It's going to be one of college football's best games of the weekend, and Texas A&M fans are getting called out to bring the noise in Aggieland when College GameDay comes to town.