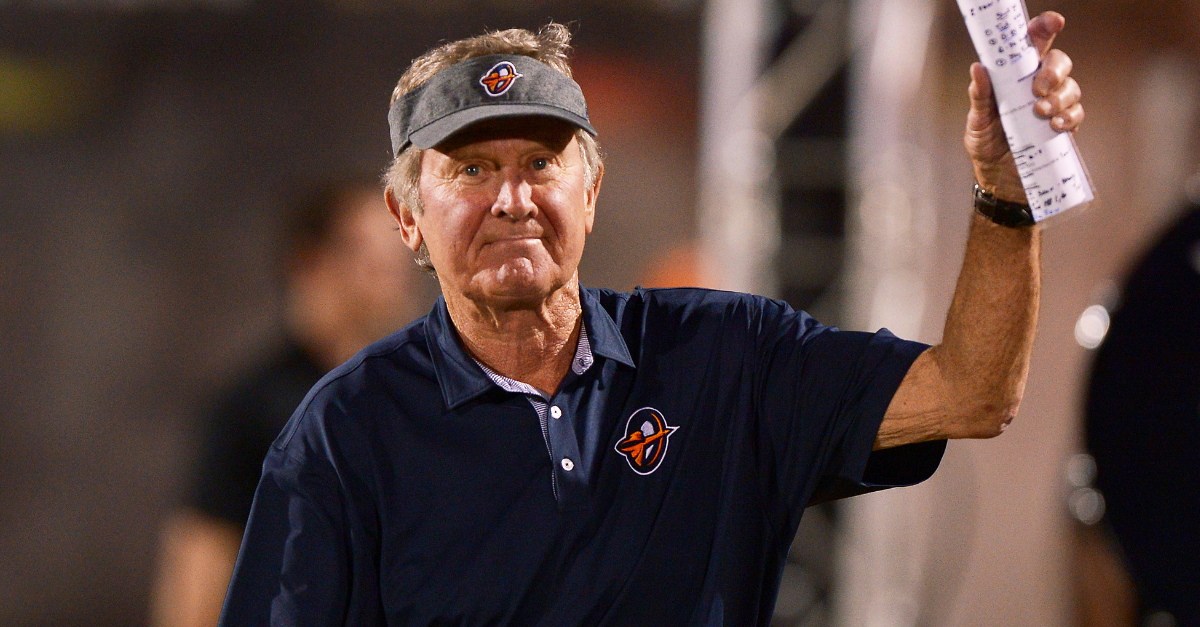 AP Photo/Rick Wilson
Fresh off a coaching stint in the Alliance of American Football, one that he claims an AAF title for the Orlando Apollos since the league folded, Steve Spurrier has found a new passion in his next stage of retirement: the restaurant business.
The Head Ball Coach might be a few years past his prime, but the 74-year-old still has plenty of energy left in the tank. That?s why he is teaming up with Celebration Pointe in Gainesville, Florida to build a new restaurant and bar called Spurrier?s Gridiron Grille, which is expected to open in Fall 2020.
The football legend is about to have his own spot to relax in back near the University of Florida, where his career began.
RELATED: Peyton Manning to Open Western-Style Saloon in Tennessee
The new restaurant is going to be huge. According to The Gainesville Sun, via the football coach?s press conference, it will be 8,400 square feet and have a 1,500-square-foot sports memorabilia exhibit, which will feature a lot of Spurrier?s trophies and awards.
Yes, that includes his 1966 Heisman Trophy, which is currently in a closet at his Crescent Beach house, according to Gainesville.com.
What will the menu look like? Will the wait staff be forced to wear visors? Will Dan Mullen and Mike White do their radio shows from the restaurant? These are details we want to know, too, but, really, it probably doesn?t matter. This is going to be a great spot for Florida Gators fans, both old and new, to have a good time. It will also have a rooftop bar.
?It will be casual, not too fancy, of course. We?ll have televisions all over the place. We want a dining experience with great American fare and maybe a chance for people that want to see the Heisman, instead [of it] being in the closet down at my beach home.

?We?re going to put it out in the open somewhere and hopefully draw a little attention that way.?

? Steve Spurrier, via The Gainesville Sun
After an All-American playing career with the Florida Gators, where he earned SEC Player of the Year honors in 1966 in addition to the Heisman, Spurrier enjoyed an amazing coaching career at the college football and professional ranks.
The Head Ball Coach coached in the USFL?s Tampa Bay Bandits, the NFL?s Washington Redskins, and the AAF?s Orlando Apollos. He also was the head coach of the Duke Blue Devils and the South Carolina Gamecocks.
However, Steve Spurrier, a Miami Beach, Fla., native, is most famous for his time with Florida football, where he won multiple SEC Coach of the Year awards and a national champion in 1996.
It?s only fitting Spurrier?s is in Gainesville, and you better believe there will be a wait out the door when the former UF star player and coach first opens the casual American dining restaurant.
This post was originally published on June 26, 2019, but was updated as fan anticipation has built over the last year.