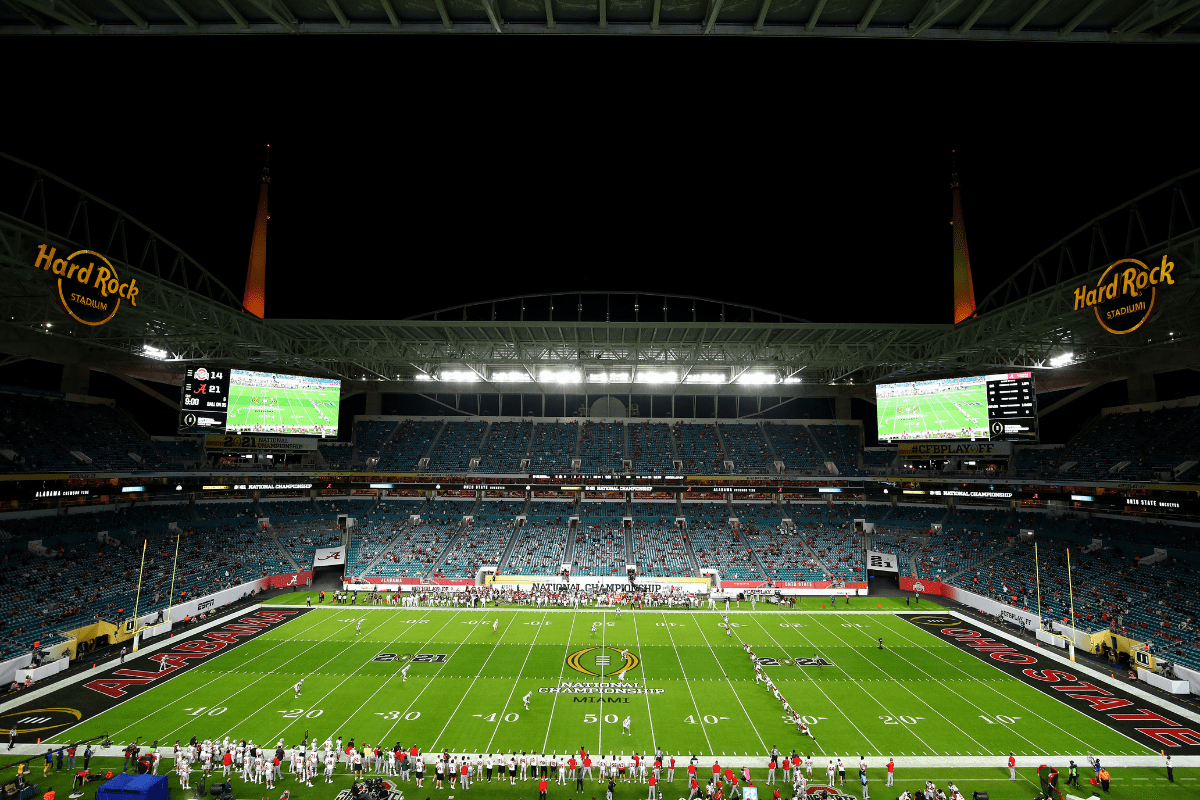 Jamie Schwaberow via Getty Images
Bowl games are the final bow on a college football season before it's wrapped up for good. Fans from around the country are rewarded with matchups they don't normally see in places that may not normally host football games.
The introduction of the College Football Playoff in 2014 threw a wrench into the bowl season we grew up watching. Four teams ultimately determine where the rest of bowl eligible programs will play their postseason game. Throw in money, the potential to revisit old rivalries that spawn across all types of athletics and intriguing cross conference matchups and boom, there's your full bowl game slate.
First, the College Football Playoff committee needs to get through conference championship weekend to figure out which four teams deserve a shot at the national title. At this point, Georgia, Michigan, Alabama and Cincinnati make up the top four while Oklahoma State and Notre Dame remain in the mix. Ohio State is out of the picture after falling to the Wolverines last week. Once that happens, the rest of the bowls fall into place.
We know how the process works, but how about when the matchups are announced?
When Are Bowl Games Announced?
RELATED: The 10 Loudest College Football Stadiums Can Be Heard for Miles
The date, time and location for each college football bowl game were announced back in May. When it comes to selecting the participants, the CFP committee will release its final rankings on ESPN's College Football Playoff Selection Show at noon EST on Sunday, December 5th. From there, the dominoes will fall and matchups for every non-playoff bowl will be announced later in the day.
Safe assumptions can be made since most bowl games have predetermined conference affiliations. However, some teams have already been announced. For example, Middle Tennessee and Toledo open up bowl season with the Bahamas Bowl on December 17th. Additionally, Memphis has a spot in the Hawaii Bowl on December 24th and East Carolina is booked for the Military Bowl on December 27th.
Here is the rest of the bowl schedule along with conference affiliations, kickoff time (all in Eastern), where you can watch and location. Florida and Louisiana are two of the most popular states to host bowl games with nine and three, respectively.
2021-22 College Football Bowl Schedule
December 17
Bahamas Bowl: Middle Tennessee vs. Toledo; 12 p.m.; ESPN; Nassau, Bahamas
Cure Bowl: AAC/C-USA/MAC/MWC/Army; 6 p.m.; ESPN2; Orlando, FL
December 18
Boca Raton Bowl: AAC/C-USA/MAC/MWC/Army; 11 a.m.; ESPN; Boca Raton, FL
Celebration Bowl: South Carolina State vs. SWAC; 12 p.m.; ABC; Atlanta, GA
New Mexico Bowl: AAC/C-USA/MWC; 2:15 p.m.; ESPN; Albuquerque, NM
Independence Bowl: BYU/C-USA; 3:30 p.m.; ABC; Shreveport, LA
LendingTree Bowl: MAC vs. Sun Belt; 5:45 p.m.; ESPN; Mobile, AL
LA Bowl: Pac-12 vs. MWC; 7:30 p.m.; ABC; Los Angeles, CA
New Orleans Bowl: C-USA vs. Sun Belt; 9:15 p.m.; ESPN; New Orleans, LA
December 20
Myrtle Beach Bowl: AAC/MAC/Sun Belt; 2:30 p.m.; ESPN; Conway, SC
December 21
Famous Idaho Potato Bowl: MAC vs. MWC; 3:30 p.m.; ESPN; Boise, ID
Frisco Bowl: AAC/C-USA/MAC/MWC/SBC; 7:30 p.m.; ESPN; Frisco, TX
December 22
Armed Forces Bowl: AAC/Army/C-USA; 8 p.m.; ESPN; Fort Worth, TX
December 23
Gasparilla Bowl: AAC/AAC/SEC; 7 p.m.; ESPN; Tampa, FL
December 24
Hawaii Bowl: Memphis vs. MWC; 8 p.m.; ESPN; Honolulu, HI
December 25
Camellia Bowl: MAC vs. Sun Belt; 2:30 p.m.; ESPN; Montgomery, AL
December 27
Quick Lane Bowl: Big Ten vs. MAC; 11 a.m.; ESPN; Detroit, MI
Military Bowl: East Carolina vs. ACC; 2:30 p.m.; ESPN; Annapolis, MD
December 28
Birmingham Bowl: SEC vs. AAC; 12 p.m.; ESPN; Birmingham, AL
First Responder Bowl: AAC/ACC/Big 12; 3:15 p.m.; ESPN; Dallas, TX
Liberty Bowl: Big 12 vs. SEC; 6:45 p.m.; ESPN; Memphis, TN
Holiday Bowl: Pac-12 vs. ACC; 8 p.m.; Fox; San Diego, CA
Guaranteed Rate Bowl: Big 12 vs. Big Ten; 10:15 p.m.; ESPN; Phoenix, AZ
December 29
Fenway Bowl: ACC vs. AAC; 11 a.m.; ESPN; Boston, MA
Pinstripe Bowl: ACC vs. Big Ten; 2:15 p.m; ESPN; New York, NY
Cheez-It Bowl: ACC vs. Big 12; 5:45 p.m.; ESPN; Orlando, FL
Alamo Bowl: Big 12 vs. Pac-12; 9:15 p.m.; ESPN; San Antonio, TX
December 30
Duke's Mayo Bowl: ACC vs. SEC; 12 p.m.; ESPN; Charlotte, NC
Music City Bowl: Big Ten vs. SEC; 3 p.m.; ESPN; Nashville, TN
Peach Bowl: At-large vs. At-large; 7 p.m.; ESPN; Atlanta, GA
Las Vegas Bowl: Big Ten vs. Pac-12; 10:30 p.m.; Las Vegas, NV
December 31
Gator Bowl: ACC vs. SEC; 11 a.m.; ESPN; Jacksonville, FL
Sun Bowl: Pac-12 vs. ACC; 12:30 p.m.; CBS; El Paso, TX
Arizona Bowl: MWC vs. MAC; 4:30 p.m; Barstool Sports; Tuscon, AZ
Orange Bowl (College Football Playoff Semifinal): TBD; ESPN; Miami, FL
Cotton Bowl Classic (College Football Playoff Semifinal): TBD; ESPN; Arlington, TX
January 1
Outback Bowl: Big Ten vs. SEC; 12 p.m.; ESPN2; Tampa, FL
Citrus Bowl: Big Ten vs. SEC; 1 p.m.; ABC; Orlando, FL
Fiesta Bowl: At-large vs. At-large; 1 p.m.; ESPN; Glendale, AZ
Rose Bowl: Big Ten vs. Pac-12; 5 p.m.; ESPN; Pasadena, CA
Sugar Bowl: Big 12 vs. SEC; 8:45 p.m.; ESPN; New Orleans, LA
January 4
Texas Bowl: Big 12 vs. SEC; 9 p.m.; ESPN; Houston, TX
January 10
College Football Playoff National Championship Game: Orange Bowl winner vs. Cotton Bowl winner; 8 p.m.; ESPN; Indianapolis, IN
Related Videos