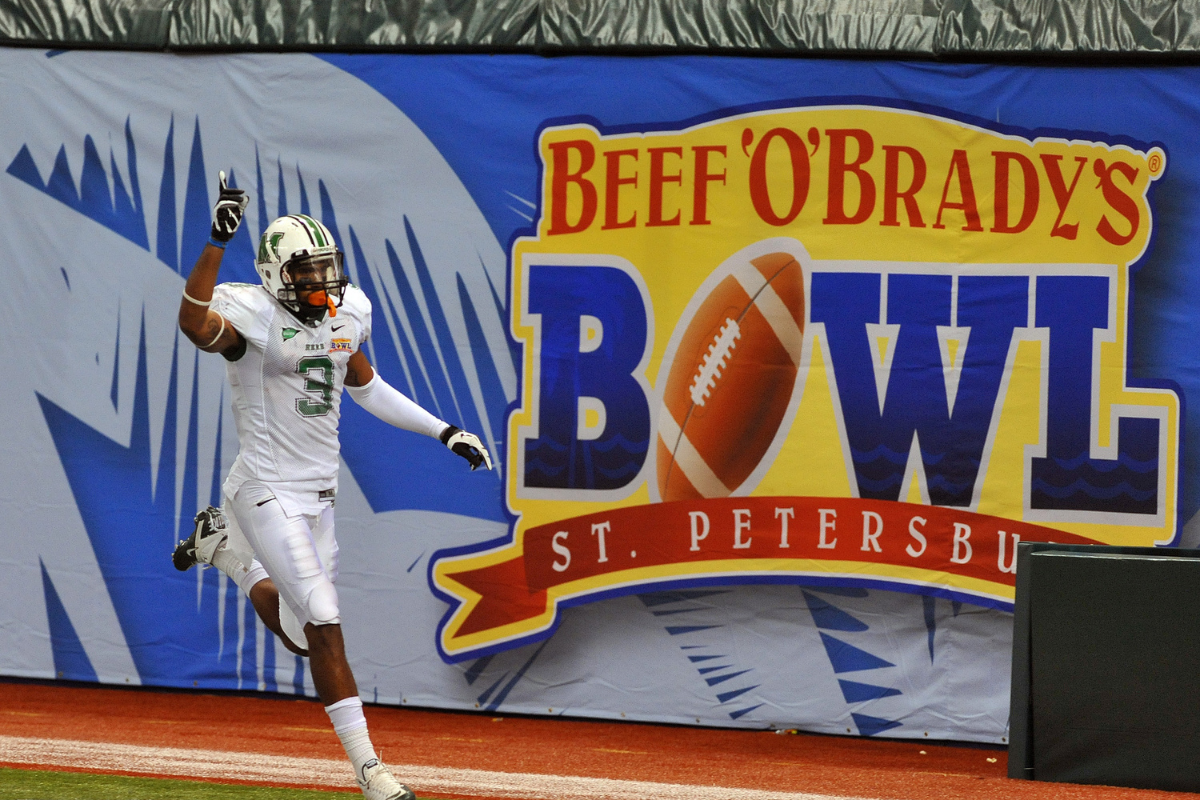 Al Messerschmidt via Getty Images
Like all amateur sports, college football's revenue is somewhere in the billions of dollars range. A good chunk of the cash flow stems from sponsorships, the lifeblood of the sport.
Ads are inescapable throughout the year, and once the regular season ends and bowl games get going, they kick into another gear. Bowl games such as the Rose Bowl, Cotton Bowl, Orange Bowl, Fiesta Bowl and Sugar Bowl are filled with history and haven't changed names in decades. As more and more bowl games have been added to the slate throughout the years, more and more names are needed, which means sponsorships start flowing like wine.
A lot of NCAA bowls keep it simple and name it after where the game is played such as the Boca Raton Bowl, Texas Bowl, Las Vegas Bowl, Bahamas Bowl, LA Bowl, New Mexico Bowl, Arizona Bowl, New Orleans Bowl and the Music City Bowl (counting it).
But, no matter how simple the actual bowl name is, the craziness stems from the pairing of sponsors. We're here to focus on the bowls with names so funny that FiveThirtyEight made a scoring system to measure their absurdity. Before we get started, I don't want to hear any slander about the Cheez-It Bowl or the Famous Idaho Potato Bowl.
I ran a similar mathematical formula that's just as precise called picking and choosing. So, without further ado, here are the nine worst bowl game names of all time.
The 9 Worst Bowl Game Names of All Time
9. Bad Boy Mowers Gasparilla Bowl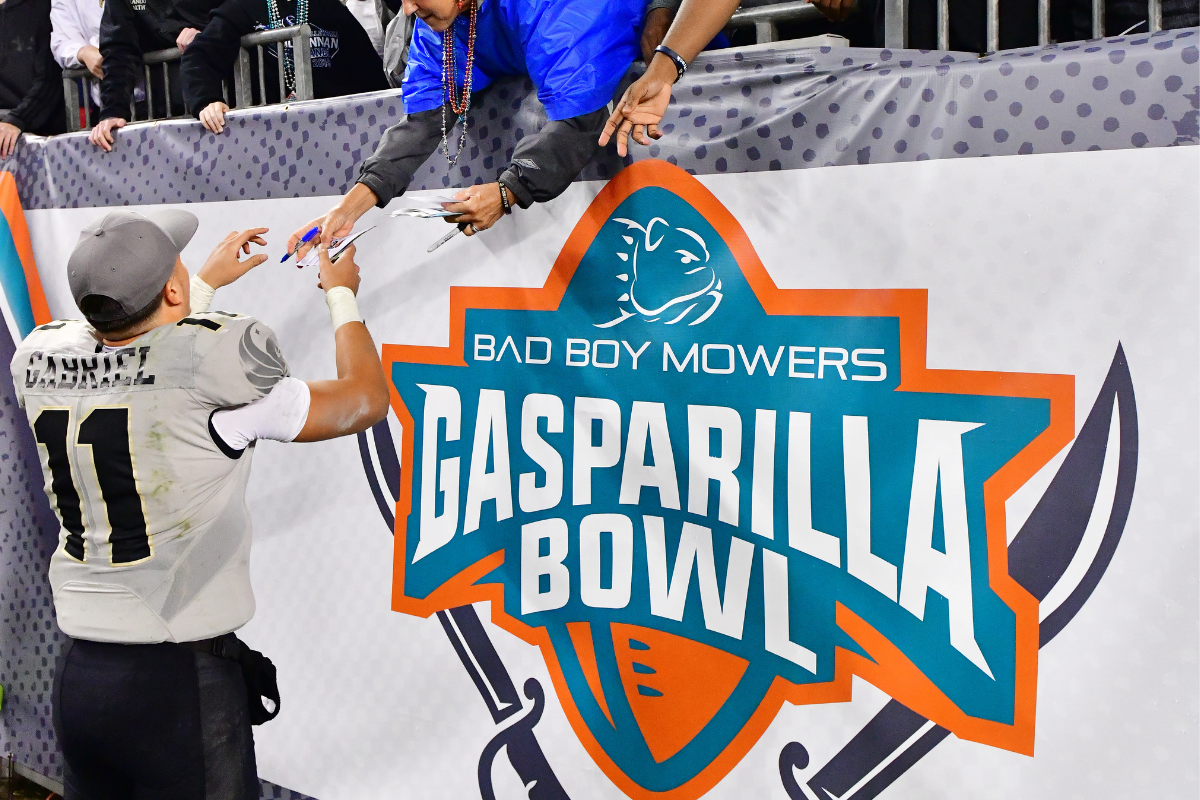 I never thought the Beef 'O' Brady's Bowl could be topped. Then, in 2017, the bowl upped its game by rebranding to the Bad Boy Mowers Gasparilla Bowl. Flows right off the tongue.
8. Poulan Weed Eater Independence Bowl
The Independence Bowl has had several sponsors throughout the years such as Duck Commander, AdvcoCare and Camping World. These have nothing on Poulan Weed Eater, who sponsored the game from 1990 to 1997.
7. The Wheat Bowl
There are two things in this world that get me amped more than anything else: Seeing Dairy Queen crew members flip my Blizzard upside down and the Wheat Bowl. This one is unique because it was a preseason NAIA bowl that ran from 1995 to 2006. Good luck finding evidence it existed.
6. GalleryFurniture.com Bowl
If you don't like the GalleryFurniture.com Bowl, you don't like college football.
5. San Diego County Credit Union Poinsettia Bowl
One of the underrated parts of bowl season is when the announcers have to say the bowl's entire name throughout the broadcast. The producers had to block out over an hour of air time to fit in all mentions of the San Diego County Credit Union Poinsettia Bowl.
4. Salad Bowl
RELATED: How Many College Football Bowl Games Are There?
The Salad Bowl was played in Phoenix, Arizona from 1947 to 1955. There isn't a food out there that screams football more than salad.
3. Cheribundi Tart Cherry Boca Raton Bowl
Say Cheribundi Tart Cherry Boca Raton Bowl five times fast.
2. EV1.net Houston Bowl
Remember that era from the early to mid 2000s where seemingly every bowl was named after a website? The EV1.net Houston Bowl was the final boss.
1. Any "Presented By" Bowl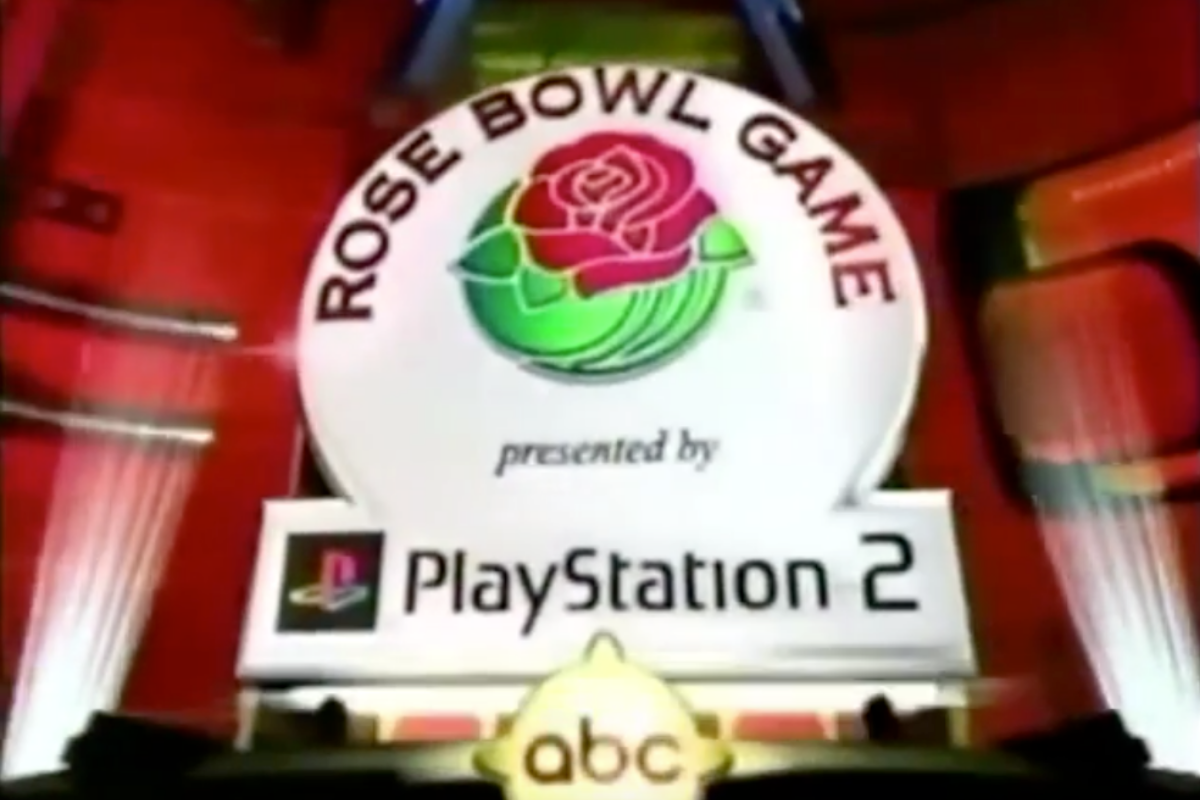 You're sitting down to watch a postseason college football matchup with a perfectly fine bowl game name. You smile, soak it all in, and relish in the moment before "presented by" slides across the screen and makes you want to throw up. We're talking the Rose Bowl presented by PlayStation 2, the Alamo Bowl presented by MasterCard, the New Mexico Bowl presented by Progressive, the Military Bowl presented by Northrop Grumman and the Heart of Dallas Bowl presented by PlainsCapital Bank.
They had us in the first half, I'm not gonna lie.
A word to the wise to companies looking to do this: fans from college football teams — like Alabama, Florida, Georgia, Michigan, Louisiana, Arkansas, Auburn, Boise State, Illinois, Miami, Ohio State, Oklahoma, Tennessee, UCF, Utah, Buffalo, Duke, LSU, Toledo, USC, Wisconsin and in states from Louisiana to New York — are sick of this.
Honorable Mentions
GoDaddy.com Bowl
Raycom Media Camellia Bowl
Taxslayer.com Gator Bowl
Crucial.com Humanitarian Bowl
Servpro First Responder Bowl
Lockhed Martin Armed Forces Bowl
Tony the Tiger Sun Bowl
Zaxby's Heart of Dallas Bowl
Makers Wanted Bahamas Bowl
Popeyes Bahamas Bowl
Boise Bridgepoint Education Holiday Bowl
Battlefrog Fiesta Bowl
Related Videos