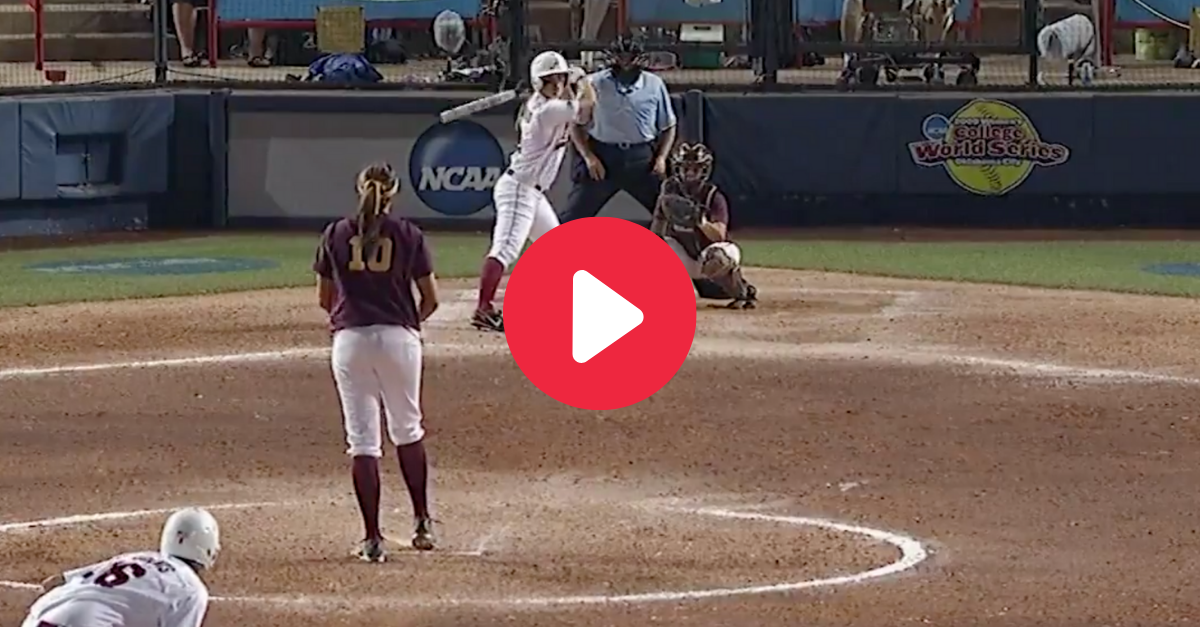 Screenshot from Twitter
Desperate times call for desperate measures, and, at the time, the Alabama Crimson Tide softball team needed something to keep the rally alive. Staying in the Women?s College World Series likely depended on it. Nobody could have guessed what happened next, even in their wildest dreams.
Trailing 2-0 in the bottom of the fourth inning against the Arizona State Sun Devils ? the defending WCWS national champions ? the Tide finally orchestrated some offense against freshman pitcher Hillary Bach. The bases were loaded with two outs and All-American Brittany Rogers was up.
Instead of letting his star player hit, however, Alabama head coach Patrick Murphy took a massive gamble and everyone was formally introduced to freshman Jazlyn Lunceford.
Jazlyn Lunceford?s Pinch-Hit Grand Slam vs. ASU
RELATED: Improbable Walk-Off Triple Play Wins Softball State Title
During the 2009 season, outfielder Brittany Rogers compiled a .381 batting average. She was exactly who any college softball team in America would want at the plate in a clutch moment. For some reason, University of Alabama coach Patrick Murphy disagreed and went with a pinch hitter.
Instead of Rogers ? a four-time All-SEC First Team selection ? batting with the bases loaded on ESPN, Murphy called on freshman Jazlyn Lunceford, who hadn?t recorded an at-bat since the regionals or had a hit in over a month. It was a gutsy call down two runs, to say the least, but it paid off.
Facing a 2-2 count, the lefty leaned into Hillary Bach?s pitch and sailed it over the left field wall for a grand slam. Fans at the game that Friday night in Oklahoma City went wild, and everyone on the Alabama softball roster was there to greet her at home plate.
The pinch-hit home run helped the Tide beat ASU, 6-2, and advance to play Florida.
It was a Lunceford?s only hit of the entire 2009 WCWS.
A Northport, Alabama native and high school star at Tuscaloosa County, Lunceford became much more than a pinch hitting legend during her NCAA career. She was a two-time SEC All-Defensive Team selection for her play in right field and named to the All-SEC Second Team as a senior, where she compiled eight home runs and 40 RBIs.
As a senior in 2012, Lunceford hit a three-run home run in the SEC Championship Game against Florida, played well against Michigan in the Super Regional, and hit another home run against California in the WCWS semifinal to help the Tide win their first-ever title.
Although the Alabama softball team didn?t take home the hardware when she was a freshman, Lunceford?s pinch-hit grand slam was truly incredible and should never be forgotten.