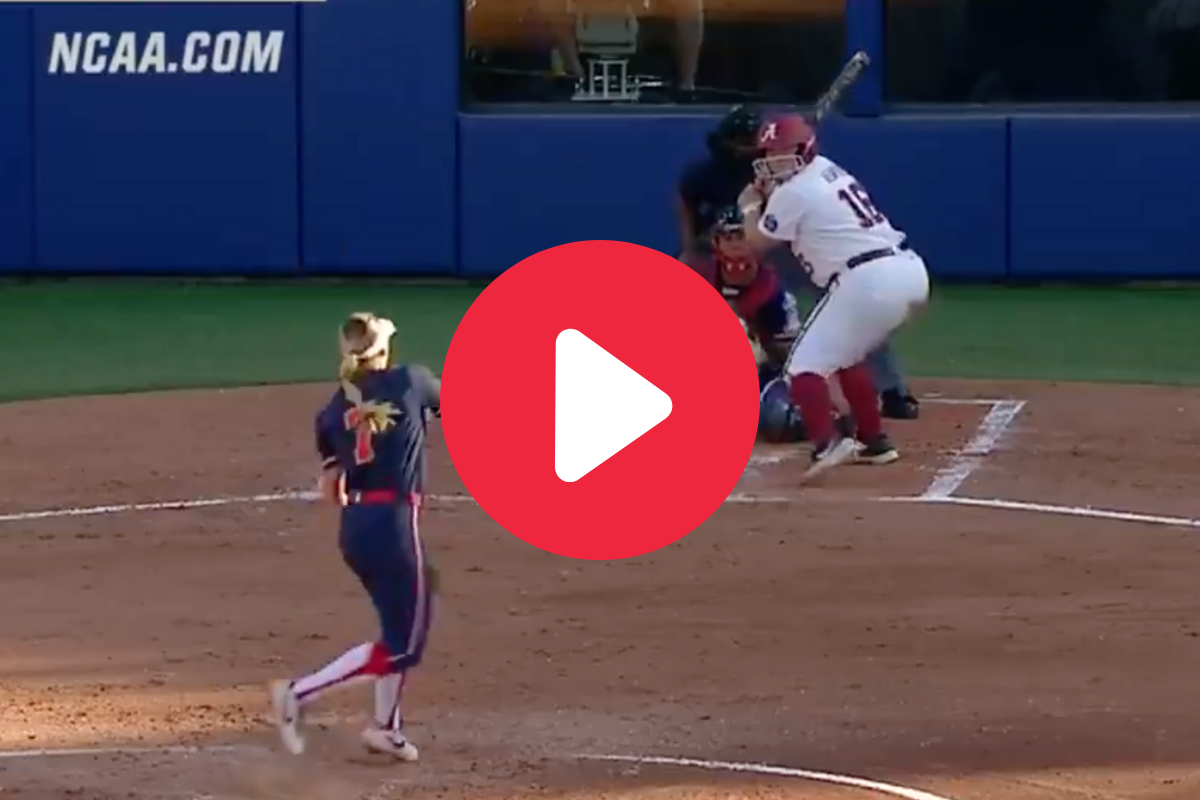 Screenshot from Twitter: NCAA Softball
Alabama softball is all about power.
Ace Montana Fouts looks like the second coming of Jennie Finch every time she fires a 70-plus MPH fastball and strikes out batter after batter. Then there's the female sultan of swat herself, Bailey Hemphill. The Crimson Tide slugger already broke the program career home run record this season and she didn't stop there.
The Women's College World Series doesn't really start until Bailey Hemphill arrives, and Alabama's home run queen announced her presence in Oklahoma City in the only way she knows how.
Bailey Hemphill's Rocket Home Run vs. Arizona
RELATED: Bailey Hemphill?s ?Face Plant? Steal Made Everyone in Tuscaloosa Laugh
Alabama rolled past the Arizona Wildcats, 5-1, in their first game of the WCWS.
All-American slugger Bailey Hemphill played a big role in getting on the scoreboard early. After scoring the team's first run of the game, she promptly blasted a patented "Bailey Bomb" in the third inning.
The rocket home run to left field needed about 1.5 seconds to get out of Hall of Fame Stadium. The sound off the bat alone damn near broke the sound barrier. I hope every fan's ear drums weren't broken after that laser shot.
It was career home run No. 63 for Hemphill. She became Alabama's all-time leader with her 61st blast against Tennessee in the SEC Softball Tournament. She crushed No. 62 against Alabama State in the NCAA Tuscaloosa Regional.
Bailey's home run ball was given to her mom, Christi Hemphill. Something tells me Christi's purse could be filled with softballs by the time Alabama is finished in Oklahoma City.
Abby Doerr added a two-run home run and Fouts struck out 16 in front of her idol, Jennie Finch, as Alabama cruised by Arizona.
Head coach Patrick Murphy's squad will face the Maya Brady-led UCLA Bruins Friday night. Bailey Hemphill is just getting going and every team in the WCWS should be afraid.