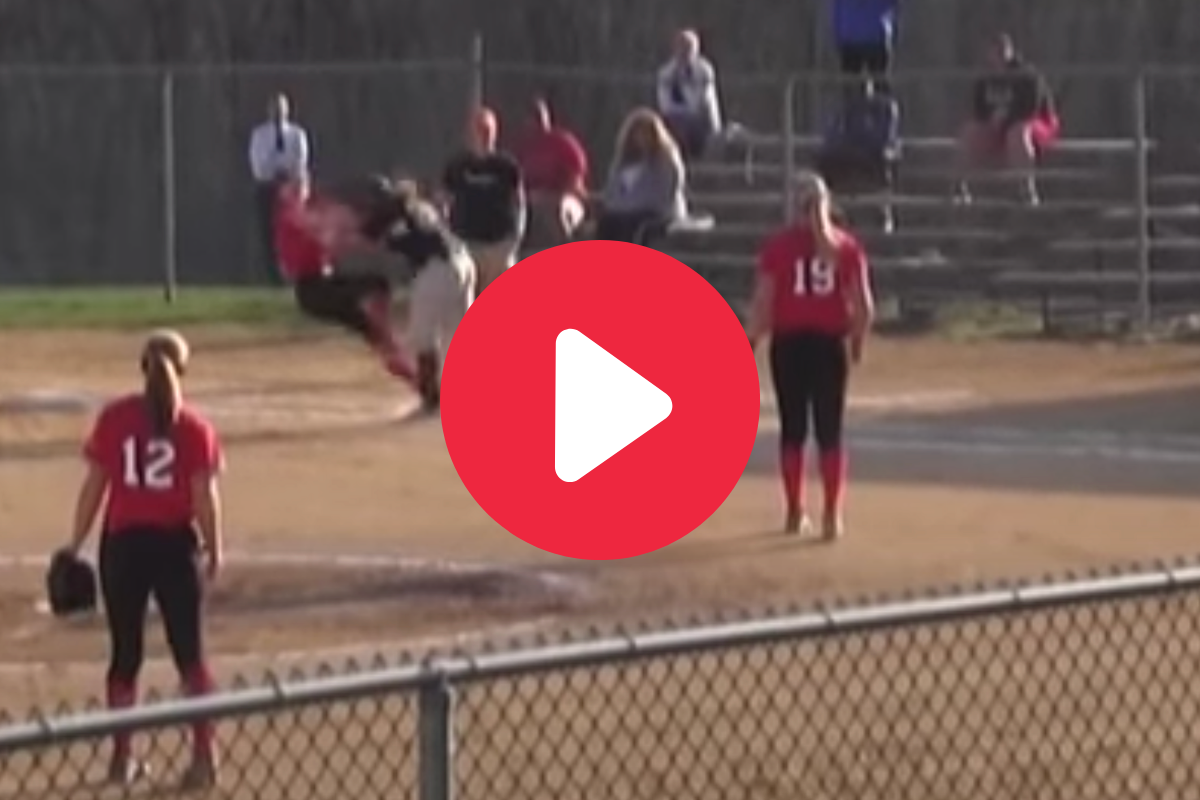 Screenshot from YouTube
There's a saying that I believe Jack Parkman in Major League II once said: "Don't stand on the tracks when the train's coming through." The train, in most cases, is metaphorical. Sometimes it's a 400-pound running back. Other times it's Bo Jackson running full speed at a dude.
In this case, a softball first baseman probably should have heeded that advice. In a sport where girls apparently throw at umpires on purpose and jump kick catchers at home, Taylor Darneille should have 100 percent expected she was going to be flattened when she stood in the basepath at first base.
You tell me. Who's in the wrong here?
Softball Runner Flattens First Baseman
RELATED: Softball Player Jump Kicks Catcher, But Still Called Safe
Taylor Darneille was playing first base for the Saint Francis University Red Flash against Bucknell when the opposing batter hit a pop-up that carried her across the baseline.
As the 5-foot-9 fielder camped under the ball, the base runner trucked her and flattened her to the ground. Darnielle lied there for a while while regaining the wind that was knocked out of her.
Here's where things got dicey: The runner was ejected for the play. Should she have been tossed out of the game? Did she have a right to run to first base or did the fielder have the right to catch the ball? Valid questions for the casual fan.
In the comments of the YouTube video that has almost 200,000 views, Darneille explained why the girl deserved her ejection (and subsequent bean ball).
"Ok people, that's me getting run over. I'm the first baseman. It really is shocking how many of you don't know the rules! I had every right to try to catch the batter's pop fly down the first base line. She is supposed to avoid the fielder making a play on the ball, but she chose not to. I definitely had the wind knocked out of me but continued to play that game. #24 was ejected. And the next time we played Bucknell, my pitcher beaned her," she wrote.
Well dang! These girls play hard ball. Run my teammate over and you get a rise ball to the head.
According to Division I softball rules, she has a point:
"Equipment or the act of an offensive player, coach, umpire or spectator that denies the fielder a reasonable opportunity to play the ball. The act may be intentional or unintentional and the ball must have been playable."
Darneille should have had a reasonable opportunity to make a play, and she wasn't given that. But did the runner really deserve to be ejected? Maybe it was too late for her to do anything but run her over. Maybe it was malicious. I don't know.
Regardless, I'm sure she regretted it the next time these two teams faced off.