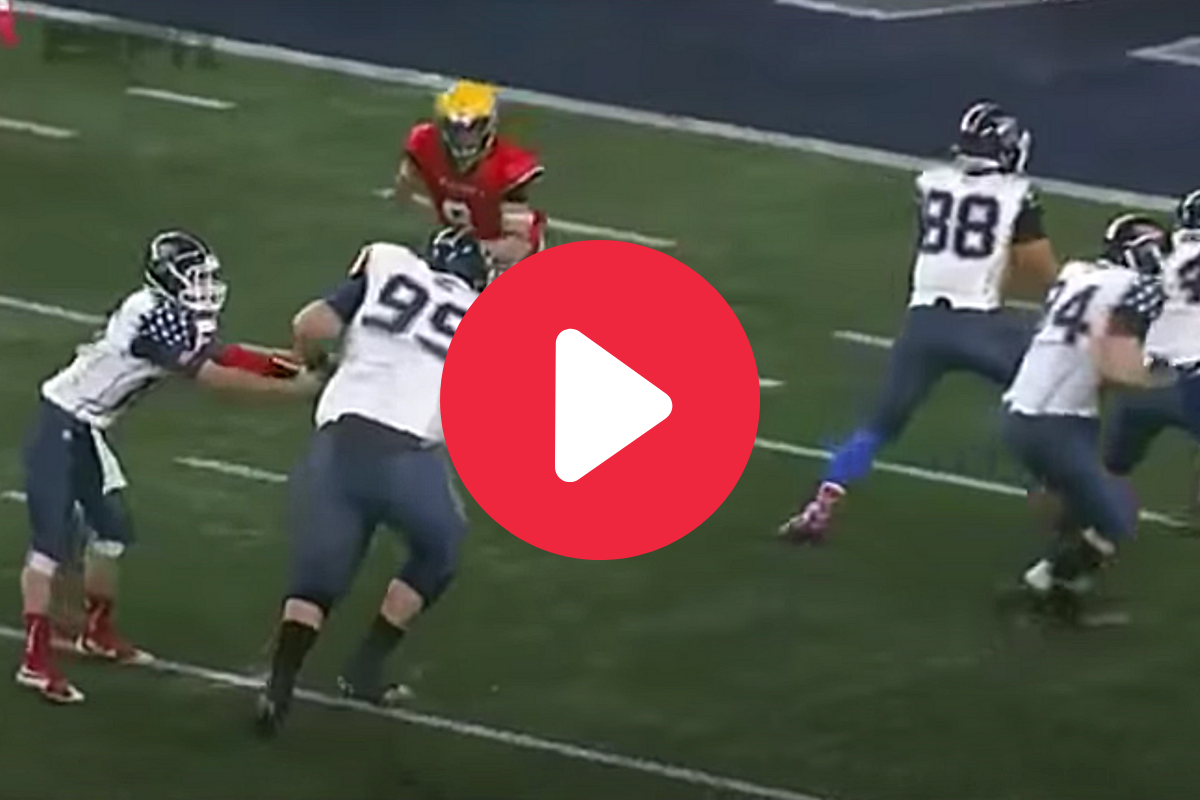 Screenshot from YouTube
Armchair quarterbacks, former players and casual football viewers are all enamored with big men. How can you not? I'm not talking about the linebackers with boulder shoulders or the running backs with bulging biceps. When I say big I'm referring to the dudes who are built like a semi truck and can probably pull the weight of one.
If the heaviest NFL players of all time are 18-wheelers, some of which crack the 400-pound mark on scales, then John Krahn is on a road of his own. Krahn has gained distinction for owning the largest football body anyone has ever laid eyes on: 7 feet tall and 440 pounds.
We've written about Krahn before, simply because his size as a high school football player is so ridiculous. But I had no idea he holds the unofficial record for the biggest big man touchdown of all time.
440-Pound Running Back TD
RELATED: LSU Hosted a Dance-Off & a 280-Pound Lineman Stole The Show
Krahn was playing for Team USA in the 2016 International Bowl Presented by USA Football. The offensive lineman accustomed to protecting quarterbacks was asked to line up as a running back during a trick play late in the fourth quarter of the high school exhibition game with his team leading by a wide margin on ESPN 3.
Krahn gained a couple yards in his first carry, essentially falling forward for a positive gain. Sure enough, on the next play Krahn was given the ball again. Not even four Canadian defenders could stop the burly bowling ball from finding the end zone.
"Move over Fridge!" one announcer said.
Yeah, not even William "Refrigerator" Perry's iconic Super Bowl touchdown can match up with this one. Maybe no one in history can stack up against this stocky star, who scored in a game that has previously featured the likes of NFL players Jameis Winston (Florida State), Mecole Hardman (Georgia) and Dwayne Haskins (Ohio State).
According to Yahoo Sports, the biggest touchdown in NFL history belongs to the 347-pound defensive tackle Vita Vea in 2019. It had previously been owned by Dontari Poe, who checked in at 346 pounds when he scored in an NFL game.
Krahn went on to play college football at Portland State, where he is listed at 6-foot-10 and 410 pounds. He originally attended Riverside Community College after graduating from Martin Luther King High School in Riverside, California.
No matter what his official weight is, you'd have a hard time finding a bigger big man touchdown than this one. Plus, it was a bizarre trick play. Now just imagine John Krahn barreling toward you on a kickoff return.
This post was originally published on October 13, 2020.
Related Videos