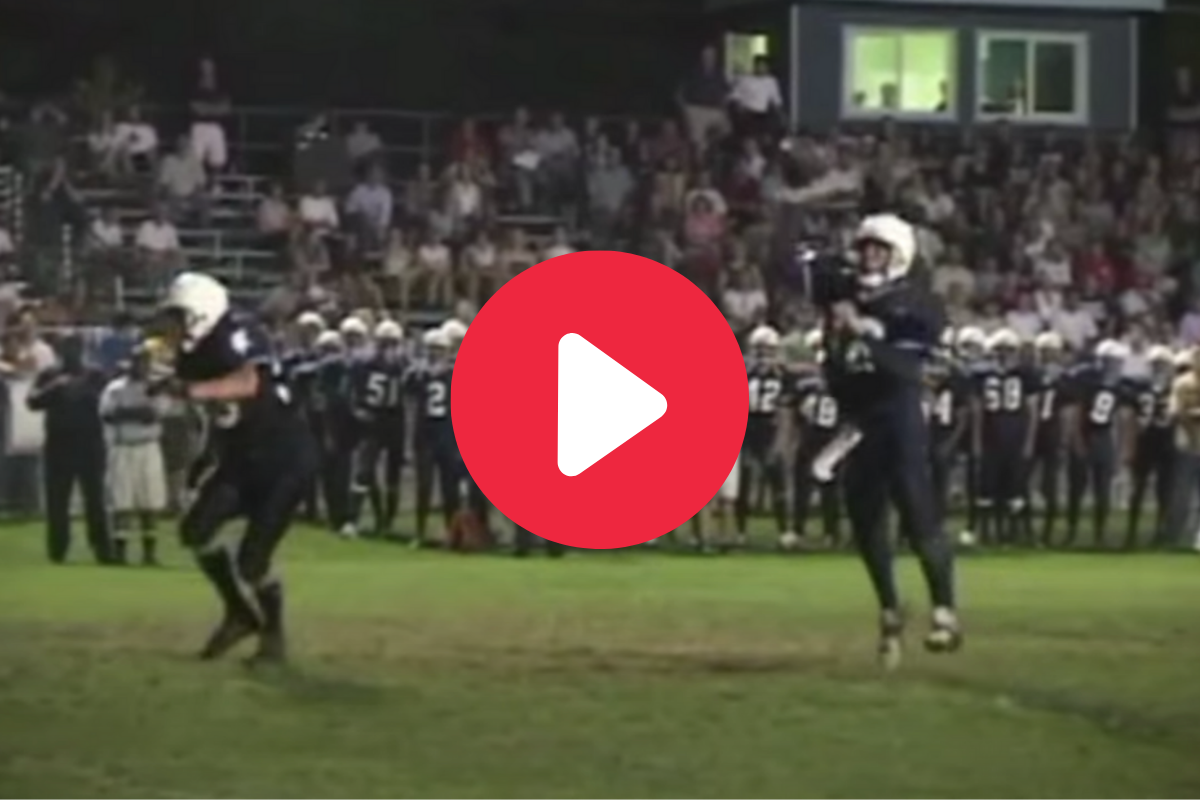 Screenshot from YouTube
Since his professional debut in 2005, Aaron Rodgers has cemented himself as one of the greatest quarterbacks in NFL history. He has represented the NFC in eight Pro Bowls and won two NFL MVP awards. He was also named the Super Bowl MVP after he beat the Pittsburgh Steelers in Super Bowl XLV.
His resume compares favorably to greats like Tom Brady and Joe Montana.
Rodgers may have turned into an icon, but he was the furthest thing from an elite prospect when he played in high school.
Aaron Rodgers in High School
Rodgers played for Pleasant Valley High School in Chico, California, and became the starting quarterback in his junior year. These highlights showcase some of the traits that Rodgers has become known for; his elusiveness and ability to throw touchdowns into tight windows are on display here.
In his high school career, Rodgers threw for 4,419 passing yards, a school record. His team made the playoffs both years he started, but they were unable to advance past the first round.
Despite Rodgers owning several single-season records, he was not heavily recruited by Division I programs. His only interest came from Illinois, who only offered him the chance to walk-on. Rodgers decided to take a chance and play for a junior college team.
Aaron Rodgers in College
Rodgers opted to play for Butte Community College in nearby Oroville, California, with the hope that more prestigious teams would come calling.
The gamble paid off. The Roadrunners went 10-1 and won the NorCal Conference Championship. Rodgers set single-game yards and totals and threw 26 touchdown passes and just four interceptions.
RELATED: Nobody Rocks a Mustache Quite Like Aaron Rodgers
The head coach of the Cal Golden Bears, Jeff Tedford, took an interest in Rodgers after scouting his teammate, tight end Garrett Cross.
After a successful JUCO career, Rodgers was ready to move on to a Division I college football program.
While with the University of California, Rodgers continued to get better. In two years, he generated a passer rating of 150.3 and led his team to a Holiday Bowl appearance in 2004.
It was clear that Rodgers was ready for the next level, and he declared for the NFL Draft.
Aaron Rodgers in the NFL
By now, Rodgers' success in the NFL should not be news. He was selected in the first round of the 2005 NFL Draft by the Green Bay Packers. Alex Smith was the first quarterback chosen in that class, and while he has had a fine career, the San Francisco 49ers may still be kicking themselves for that decision.
After backing up Brett Favre, Rodgers took the starting job in 2008, and the rest is history.
In his time as the team's leader, the Packers have been a perennial postseason threat, and he has caused heartbreak for Chicago Bears, Detroit Lions, and Minnesota Vikings fans countless times.
Aaron Rodgers will likely enter the Hall of Fame in his first eligible year, despite how infrequently he was recruited.
He has been underestimated for his entire career, so the extra chips on his shoulder shouldn't matter much anymore.