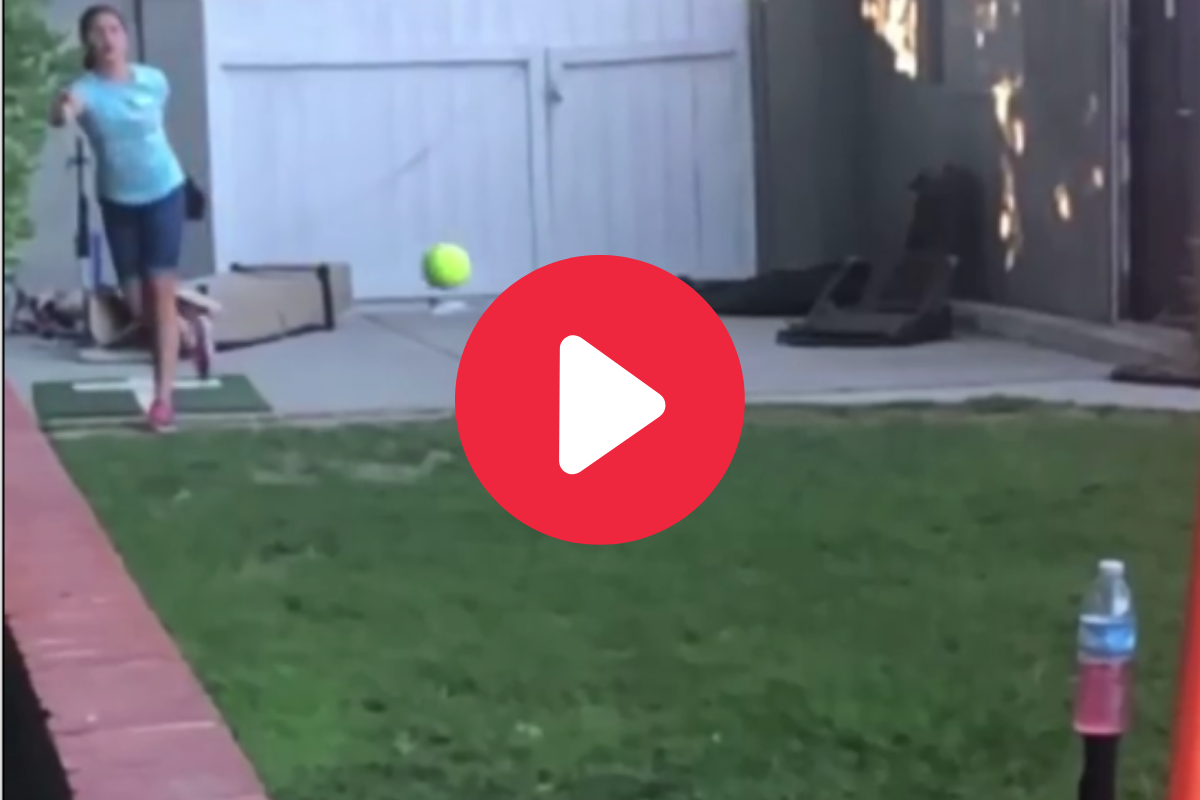 Screenshot from Instagram
Everybody's had those times when you're opening a jar and the lid doesn't cooperate.
No matter how hard you try, it doesn't budge. You pull out all the stops like running it under hot water, using your shirt to get a better grip, whipping out a crowbar, or setting it down and trying to open it with your mind.
Addison Moorman doesn't have this problem. All the 14-year-old softball pitcher needs is a ball and her arm.
Addison Moorman's Deadeye Softball Pitch
RELATED: 9-Year-Old Girl?s Flawless Pitching Motion Made Her a Viral Star
Addison was in the backyard of her Los Angeles, California home getting some extra work in. She was tired of aiming for a glove.
How about a water bottle?
A little softball-bowling wouldn't hurt anyone.
Moorman wanted a bigger challenge. Instead of simply knocking the bottle over, she was going to spin the cap off without the bottle spilling.
Numbers, signs, and mathematical functions are floating around my head as I try to wrap my brain around the physics. I'm in a cloud of equations, and the only thing that'll clear the skies is a YouTube channel that explains what I missed in class and the cap hitting the ground.
Moorman winds up, fires, and brushes the top of the cap.
It hangs in the air, spinning for a second, and descends.
I have no idea what kind of spin you have to put on the ball to make this work. It's either a delicate rotation of the wrist or a spell. The footage is still under review.
The high school class of 2025 product posts all kinds of pitching videos to her Instagram. She's quickly rising as one of the best pitchers on the West Coast. When she's not pitching, she plays in the outfield and drives in home runs and RBIs as a hitter.
Her head coach knows her arm is her most valuable asset.

Batter or water bottle cap, you stand little chance when Addison's in the circle for the OC Batbusters Coyle/Areliz 14u squad.