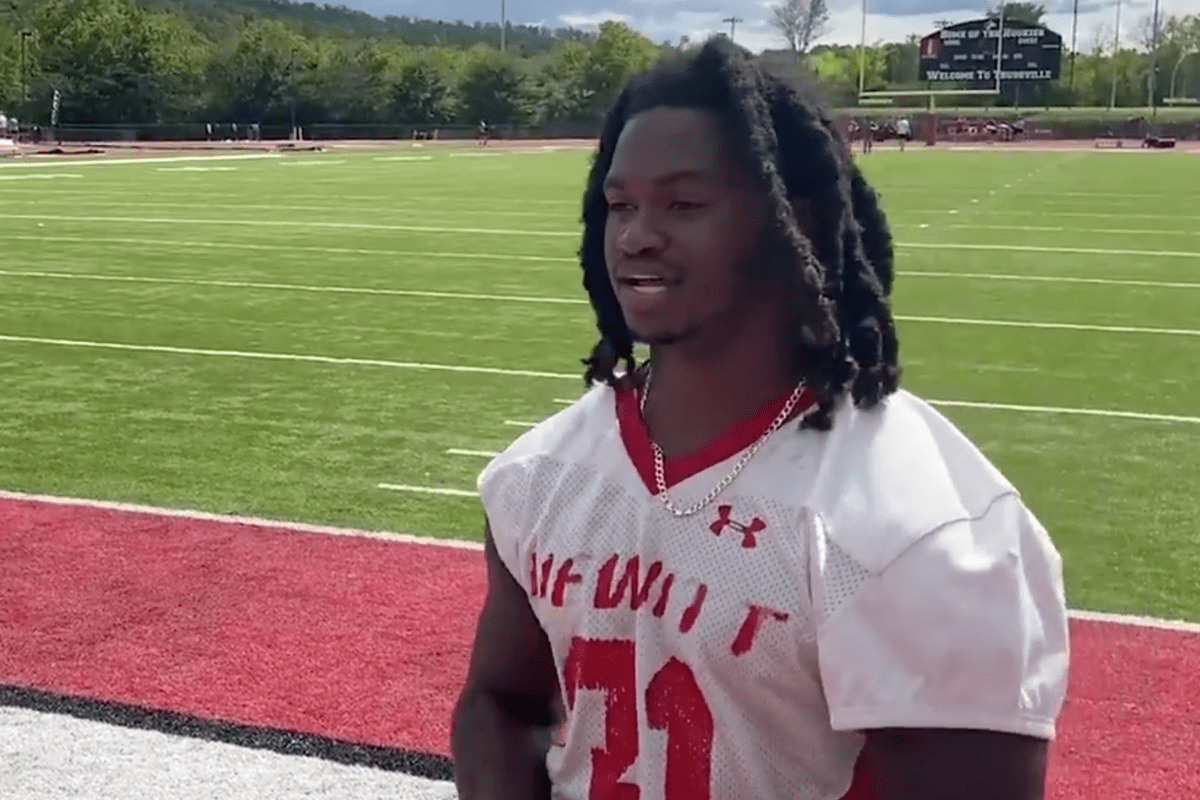 Screenshot from Twitter
Armoni Goodwin is a resident of Trussville, Alabama, and he wasn't expected to be leaving the Yellowhammer State to be play his college football. The four-star running back had his sights set on joining the Auburn Tigers for the 2021 season.
In addition to Gus Malzahn's team, Goodwin received offers from Iron Bowl rival Alabama, as well as Arkansas, Georgia Tech, Jacksonville State, Kentucky, Louisville, LSU, Mississippi State, Nebraska, Ole Miss, SMU, Tennessee, and Alabama-Birmingham.
The Hewitt-Trussville High School star had been an Auburn commit since his sophomore season, and it's clear that his talent is widely respected and sought after. The Crimson Tide gave Goodwin an offer over a year later, but despite any possible contemplation, he did not decommit from his initial pledge.
LSU, however, was able to persuade him.
Armoni Goodwin Recruiting
RELATED: LSU's First 2022 Commit Has Game-Changing Versatility
There was worry that Armoni Goodwin would not be able to return to full strength for his senior year after a torn ACL and MCL ended his 2019 season prematurely. However, his knee injury is considered part of the past, and he is back to firing on all cylinders.
As a sophomore, Goodwin was the focal point of Hewitt Trussville's offense, rushing for 1,458 yards and scoring 15 Huskies touchdowns. He is a bit undersized at 5-foot-8 and 190 pounds, but he makes up for it with blinding quickness and an ability to weave through defenders.
Goodwin was named a MaxPreps Preseason All-American in 2020.
RB Armoni Goodwin Highlights
Running backs are not known for their durability or lengthy careers, so it is admittedly a bit concerning that Goodwin needed to have the reconstructive surgery before his college career even began. He undoubtedly has the potential to help bring Auburn football to even greater heights, but Tigers fans will have to wait and see if there are any ill-effects or more knee problems down the line.
Goodwin has frequent communication with Auburn running backs coach Carnell "Cadillac" Williams, according to AL.com, and will presumably be paired with Tank Bigsby, who has the chance to be a superstar in his own right.
Auburn has the unfortunate task of competing with the likes of Alabama, Florida, and Georgia in the SEC yearly, so the recruiting class must be consistently strong. 247Sports believes that Goodwin will be a strong Power Five starter with the chance of becoming an NFL Draft pick a few years down the line.
Currently, the only two NFL running backs from Auburn are Peyton Barber and Kerryon Johnson, but if Armoni Goodwin plays up to his potential, he has a chance to be the newest member of that group.
This article was originally published on October 26, 2020.
---
Armoni Goodwin Decommits From Auburn
UPDATE (December 1, 2020): Goodwin officially decommitted from Auburn in a post written on social media. He said he believes he "rushed into committing" as a sophomore in high school.
"First off, I want to start off by thanking Coach Malzahn, Coach Cadillac and Auburn University for recruiting me and believing in me. But after many sleepless night and a lot of praying I have decided to decommit from Auburn University and open up my recruitment process. I was overwhelmed and think that I rushed into committing, without thinking that this is the biggest decision of my life right now. Auburn University is still in my top 3. I just want to explore my options, during this short amount of time, to make sure that I make the best decision because this has not been easy for me. My trust is in God, therefore I know I will be making the right decision," he wrote.
Goodwin hasn't given any indication where he might commit next. He has 17 offers in total, according to 247Sports.
---
Armani Goodwin Signs With LSU
UPDATE (December 29, 2020): Goodwin, a longtime Auburn commit, didn't wait long to commit and sign with LSU. The four-star athlete signed his letter of intent with the LSU Tigers during the early signing period, marking a big nab for Orgeron and running backs coach Kevin Faulk.
Considering Goodwin was committed to a rival school and is a top-100 prospect, I'd say LSU did well in coaxing him to Baton Rouge. Whether or not he ends up being the next great LSU running back remains to be seen.
This post was originally published on October 26, 2020, but has been updated to reflect Goodwin's recruitment.