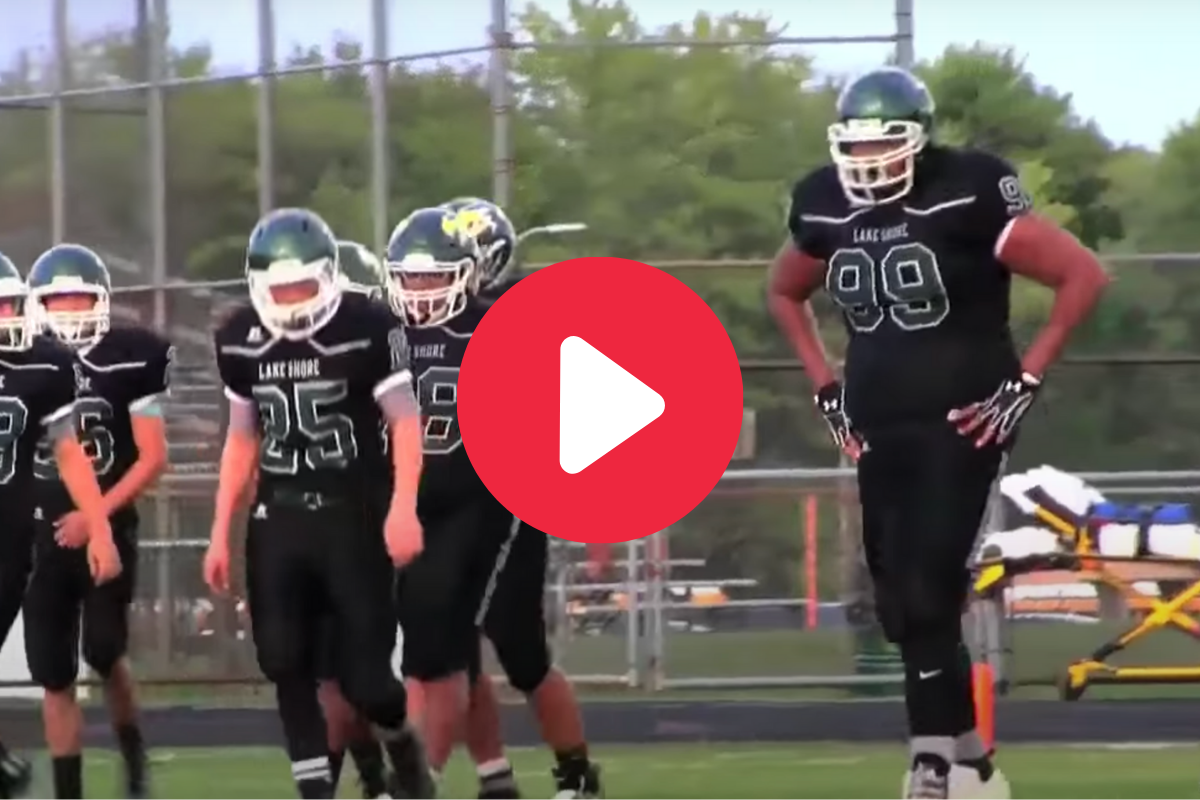 Screenshot from YouTube
Most high school football recruits are cut from the same cloth. They are generally the same size, speed, and have similar attributes. Occasionally, there are notable outliers.
Offensive lineman Brave Williams is one of the most unique football players to don the pads. The big man was 7-foot-1 in high school and has grown two inches since. He also weighed an incomprehensible 400 pounds.
Williams has been a medical marvel for his entire life. He simply never stopped growing. According to Lynden Ostrander of MaxPreps, Williams was 5-foot-3 in kindergarten.
Brave Williams in High School
RELATED: 6-Foot-9, 330-Pound Offensive Tackle is a Pancake Machine
Brave Williams played for Lake Shore High School in Angola, New York, which is a suburb of Buffalo. He joined the football team in his sophomore year and played nose tackle in addition to his work on offense.
Unfortunately, his playing career ended when he was a high school senior, as his team went 1-7 on the year.
Of course, at that height and athletic ability, playing basketball was non-negotiable. Upstate New York is not known for their high school sports stars, so when someone the size of the NBA's Shaquille O'Neal comes along, he will undoubtedly get press coverage.
He would have been one of the tallest player to ever suit up in the NFL.
Brave Williams After Lake Shore
Although NCAA offers did not come through athletically, he still got to attend Minnesota Prep Academy. The big guy has been described as an incredibly intelligent gentle giant, and he graduated from the school last year.
Williams has Native American heritage and lived on a Seneca Nation reservation in nearby Cattaraugus.
While playing for his football team, his workout included 1,000 squats and 20 reps of bench presses at 200 pounds. A Reddit comment thread did not believe this workout, but then again, some people just like to be cynical.
Brave Williams is lucky to have been able to play high school sports. It must have been incredibly intimidating to go against him on the offensive line or guard him in basketball. His professional dreams may be over, but WWE could be his next calling.
At his size, he could be a dominant heavyweight champion for years.