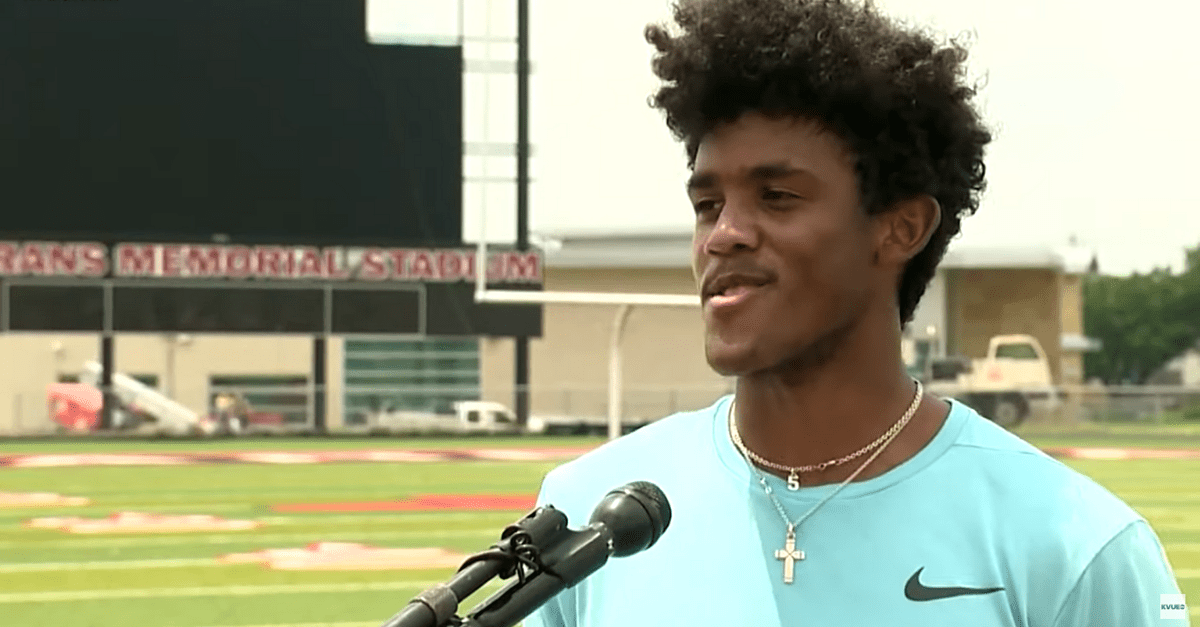 YouTube: KVUE
Texas is at it again. According to recruiting rankings compiled by 247Sports, seven of America's 25 highest-rated high school football players in the Class of 2022 hailed from the "Lone Star State" as of August 2020. That included the No. 1 overall prospect, Southlake Carroll quarterback Quinn Ewers. (His mullet ranked second.)
Not far down that list is Del Valle wide receiver Caleb Burton. Playing just 20 minutes outside of downtown Austin, Texas, there is no shortage of scouts who can find Burton. Under the tutelage of his father and head coach Charles Burton, the Del Valle Cardinals face state championship contenders like Lake Travis and Westlake every season. Yet, Caleb Burton wasn't on anyone's radar until his freshman year.
That's because the 6-foot wideout didn't play competitively until middle school, then transitioned to wide receiver upon arriving at Del Valle High School's varsity team.
"When I had no offers, I was looking at all the other kids that had offers. I just knew I really wanted that," Burton told KVUE in May 2020.
Well, almost 40 scholarship offers later, it's safe to say Burton earned his pick of the litter.
5-Star WR Caleb Burton
Ranked as the No. 1 wide receiver prospect in America and 11th overall recruit, per the 247Sports Composite player rankings, Burton boasts at least 37 scholarship offers heading into his junior season. As you'd expect, his offer list is a who's who of college football royalty.
Burton's offers include Arizona State, Auburn, Baylor, Boston College, California, Duke, Florida State, Georgia Tech, Kansas, LSU, Miami, Michigan, Nebraska, Notre Dame, Oklahoma State, Ole Miss, Oregon, Penn State, SMU, Stanford, TCU, Texas A&M, Texas Tech, USC and Utah. Syracuse, where his father was a four-year letterman at linebacker and safety, also extended an offer.
Schools that appear to have an early advantage are Alabama, Georgia, Clemson, Ohio State, and the hometown Texas Longhorns.
Burton caught 82 passes for 1,515 yards and 18 touchdowns through his first two high school seasons, according to statistics submitted to MaxPreps. Maybe it's because the Del Valle Cardinals' combined record the previous four seasons was just 19-26, but Burton wasn't named a MaxPreps Sophomore All-American in 2019, nor was he named to the website's Preseason Junior All-American team ahead of the 2020 campaign.
Burton pairs elite instincts with above-average footwork and a huge catch radius for someone only playing competitive ball a short time; His speed and agility makes him a big threat after the catch. 247Sports' Gabe Brooks says Burton "possesses all-conference potential with long-term NFL Draft ceiling" and compares him to Denver Broncos wide receiver Jerry Jeudy.
Caleb Burton Highlights
Whichever school lands this kid is getting a plug-and-play wideout with all the tools to be a 1,000-yard receiver at the college level.