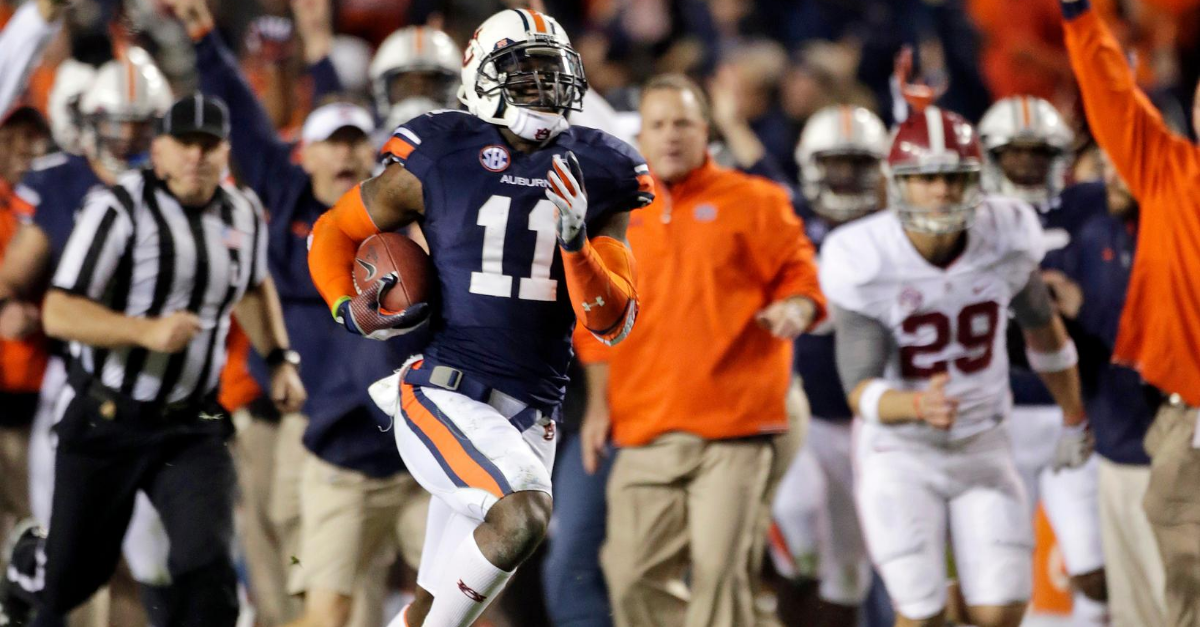 AP Photo/Dave Martin
Every Auburn Tigers fan should know the name Chris Davis. He is responsible for one of the greatest plays in Iron Bowl and college football history. The ?Kick Six? touchdown against the Alabama Crimson Tide will always be what he?s best known for, but he has a new calling.
After his standout career on The Plains, Davis played for the NFL?s San Diego Chargers and San Francisco 49ers before signing with the Birmingham Iron of the AAF. His playing days are over, and now he has turned his attention to coaching high school football.
Davis was hired to be the cornerbacks coach at Pinson Valley High School and will provide valuable insights to a new generation of stars.
Chris Davis Lands High School Coaching Job
RELATED: Courtney Upshaw Left the NFL. Now, He?s a Volunteer College Coach
A Birmingham native, Chris Davis returns to the Yellowhammer State to become a coach. Given his resume, you better believe it will be a natural fit.
In four seasons at Auburn, the standout defensive back and All-American kick returner racked up 119 tackles and 24 pass deflections while helping the Tigers win two SEC titles and the 2011 BCS National Championship.
Davis? first job at Pinson Valley this football season is to coach five-star cornerback Ga?Quincy McKinstry, the top defensive back in the nation who is deciding between Auburn, Alabama, and LSU.
As long as the coronavirus pandemic and COVID-19 outbreak allows it, Pinson Valley?s season begins against Hewitt-Trussville on August 21, according to AL.com. He will also get a first look at the rivalry game between Clay-Chalkville in October.
If anyone on the football team needs to know how to cover dangerous wide receivers, Davis is the man. And if they need to know how to take a missed field goal back for a touchdown, he?s got that covered, too.