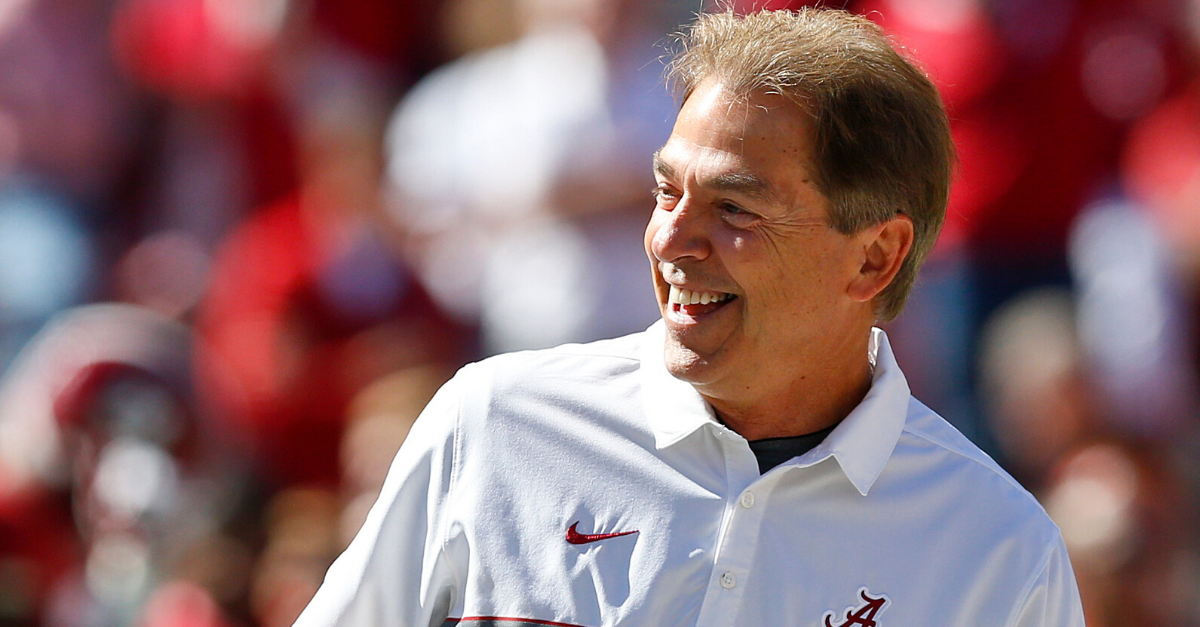 AP Photo/Brynn Anderson
Alabama Crimson Tide head coach Nick Saban can get it done with the best in college football history. Not only does he win on the field, but he's also a maestro on the recruiting trail. When he picked up the phone to call La Salle High School defensive back Devonta Smith, it paid off once again.
Smith, a three-star recruit from Cincinnati, Ohio, has committed to Alabama. This, of course, comes after his recent de-commitment from the Ohio State Buckeyes, and he made the new announcement across social media.
"Alabama has always been my dream school and somewhere I've always wanted to go and compete with the best and get coached by the best," Smith said, via 247Sports. "And also get my degree from, spend my four years there."
There's a family connection to Alabama, too. Smith's first cousin is former Crimson Tide and NFL star running back Shaun Alexander. Needless to say, he will be welcomed to Tuscaloosa with open arms.
DB Devonta Smith Commits to Alabama
RELATED: 4-Star DB Commits to Florida for Third (And Maybe Final) Time
Ranked as the nation's No. 30 cornerback for the 2021 football recruiting class, according to the 247Sports Composite, Devonta Smith ultimately picked the Tide over scholarship offers from Boston College, Cincinnati, Duke, Georgia, Georgia Tech, Indiana, Iowa State, Kentucky, Louisville, Michigan, Michigan State, Minnesota, Nebraska, Northwestern, Notre Dame, Oklahoma, Oregon, Penn State, Pittsburgh, Tennessee, Vanderbilt, Virginia, Virginia Tech, West Virginia, and Wisconsin, among others.
The Ohio high school standout is headed to the SEC to shut down every wide receiver that he lines up across.
"I can't even lie to you. Bama has always been my dream school," Smith told 247Sports, which ranks him as a four-star prospect. "I've always looked up to Coach Saban. He's my idol. He's the best ever to do it in my eyes and I'm pretty sure everyone else's eyes, too. There really wasn't much of a pitch. His resumé puts it out there for you. There's nothing he promised me or nothing he can promise me. I'm going to go in there and put my head down and go to work like I always do. I've never been handed nothing in my life and I don't plan to get anything handed to me now. I'm going in to work for everything I need and want."
Another star player is Alabama-bound.
DB Devonta Smith Highlights
No matter where Devonta Smith ends up in the final recruiting rankings, he doesn't need to be a five-star prospect for everyone to know the kind of impact he can make at the NCAA level and beyond.
At 6-foot and 185 pounds, Smith has some big-time talent and will be a huge addition to the Alabama secondary in the future.