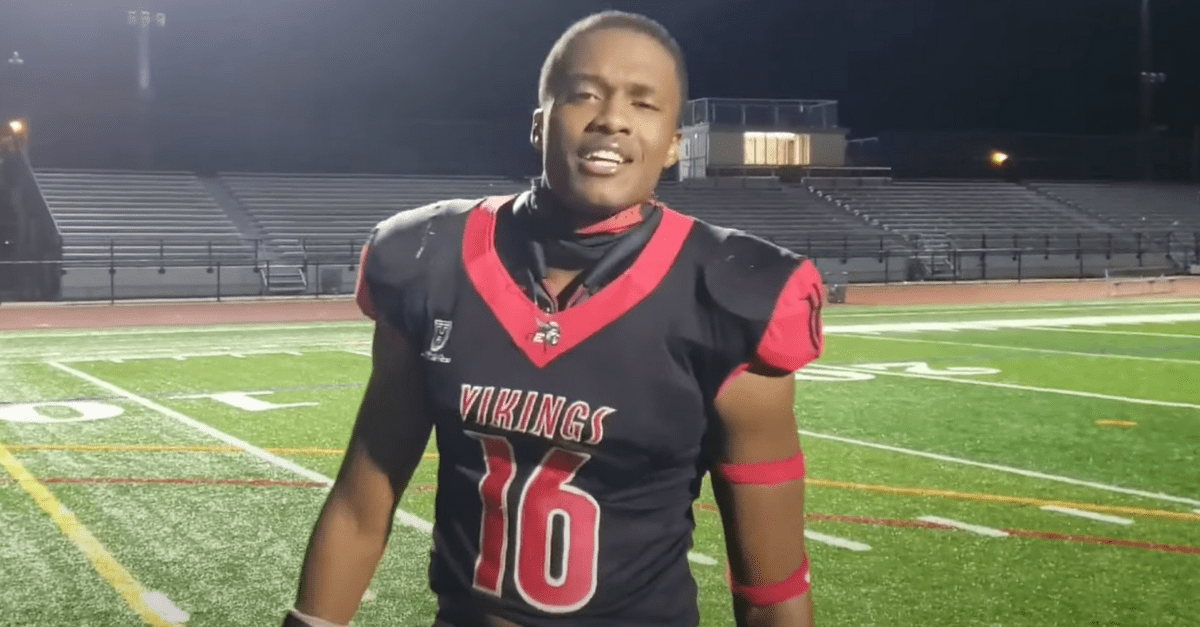 Screenshot from YouTube
Back in early April, Philadelphia Northeast High School defensive end Elijah Jeudy was ready to get down to business. No longer was he taking additional phone calls from coaches about his recruitment. The 6-foot-3 edge rusher knew the college football programs he could see himself playing at in the future.
A four-star weak side defensive end, Jeudy racked up over 25 offers by the end of his junior season, according to 247Sports. The vast majority of them were Power 5 schools, too. A difficult decision had to be made, however, and he was ready to focus on his final five.
"I want to thank all of the coaching staff members who were recruiting me," he wrote on Twitter. "But with that being said after this final five is released my recruiting will be officially closed for all schools except the schools in the final five, God bless."
Jeudy announced his final list on social media on April 8, and it was very SEC heavy.
DE Elijah Jeudy Recruiting
RELATED: No. 1 QB in America Announces His College Decision
Ranked as the No. 10 weak side defensive end nationally and No. 7 prospect in Pennsylvania for the 2021 football recruiting class, according to the 247Sports Composite, Jeudy's offer list is rather impressive. Cutting the list must have been difficult, but it had to be done.
The battle for the potential game-changing defender was between the Georgia Bulldogs, LSU Tigers, Oregon Ducks, Tennessee Volunteers and Texas A&M Aggies.
Jeudy ultimately cut schools such as Alabama, Arizona State, Baylor, Florida, Georgia Tech, Indiana, Iowa State, Maryland, Michigan, Michigan State, Nebraska, Ole Miss, Penn State, Pittsburgh, Rutgers, South Carolina, Virginia Tech, West Virginia, and Wisconsin, among others.
The Philly native was reportedly looking to make a commitment this summer, but it could have changed if the NCAA didn't allow any more official visits for a little while longer due to the coronavirus pandemic and COVID-19 outbreak.
Then, on April 19, he made it official.
Elijah Jeudy Commits to Georgia
On a live social media broadcast, four-star defensive end Elijah Jeudy committed to head coach Kirby Smart and the Georgia Bulldogs. It was a a joyous occasion, with his family by his side, as he joined the Dawgs' 2021 college football recruiting class.
"I am going to Georgia," Jeudy said. "I feel as though that is the best fit for me just for the simple fact that I feel that I can fit in. I have a good relationship with the coaches. I feel as though being coached under coach Kirby Smart – he gives that extra push, he will push the players when they need that little extra – he can help me work on stuff that I need to work on.

"I feel as though the school can help improve more as a person also and not just on the field.""
Jeudy won't be signing his National Letter of Intent for awhile, but his commitment to Georgia football didn't last long.
Elijah Jeudy Decommits from Georgia
After rumors swirled that Elijah Jeudy was going to back away from his UGA commitment, he made his decommitment official in a tweet on September 15 and announced he won't make his final decision until National Signing Day.
Elijah Jeudy Highlights
Elijah Jeudy, the No. 173 overall prospect in his class, will certainly need to get stronger, but as a high school prospect entering his senior season, he's got plenty of upside. There's no doubt he can become a potential force at the next level and potentially in the NFL.
This post was originally published on April 9, 2020 and will be updated throughout Jeudy's recruitment.