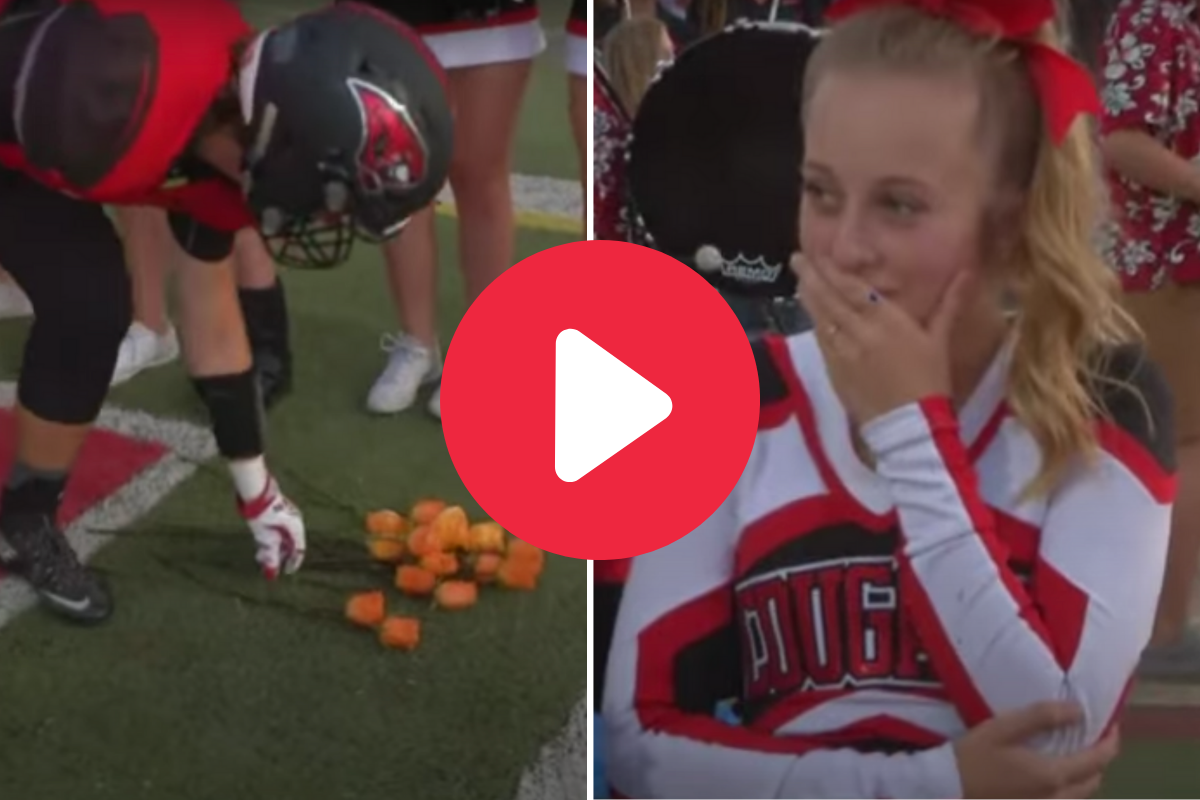 Screenshot from YouTube
Sports have the power to bring people together. There truly is a familial aspect to playing on or rooting for the same team, and the moments that can come out of those feelings are magical.
At Foothill High School in Palo Cedro, California, cheerleader Ashley Adamietz didn't realize how large her support system was. In 2016, the high school senior was diagnosed with chronic myeloid leukemia, and though she didn't tell many people, word got around.
Before the first game since her diagnosis, Foothill's entire football team dropped orange roses at Ashley's feet, creating an emotional, viral moment.
Football Players Give Cheerleader Roses 
RELATED: Teen Gets Texas-Sized Send-Off Before 25 Weeks of Cancer Treatments
As you can see, Adamietz was blindsided by the gesture. She took to her Twitter account to share her thoughts because the look of shock did not leave her face for a second in the video.
This idea was organized by Ryan Caetano, a player on Foothill's team. He spoke to KRCR news and said the original idea was for the crowd to all wear orange, and with the help of head coach Joey Brown, Caetano took it a step further.
Brown said that it was a simple gesture, and the Cougars were "taking care of family business" because Adamietz was "part of the Cougar family."
The orange roses were special to the occasion because the color orange represents leukemia awareness. It is an awful disease that can alter lives, so it is great to see that everyone involved could organize so quickly.
The hashtag #AshleyStrong circulated on social media, and before long, event organizers raised over $3,000 to help Adamietz and her family.
When players and fans unite, they have to power to do great things. This story was featured on outlets such as CNN and ESPN and got the press it sincerely deserved.