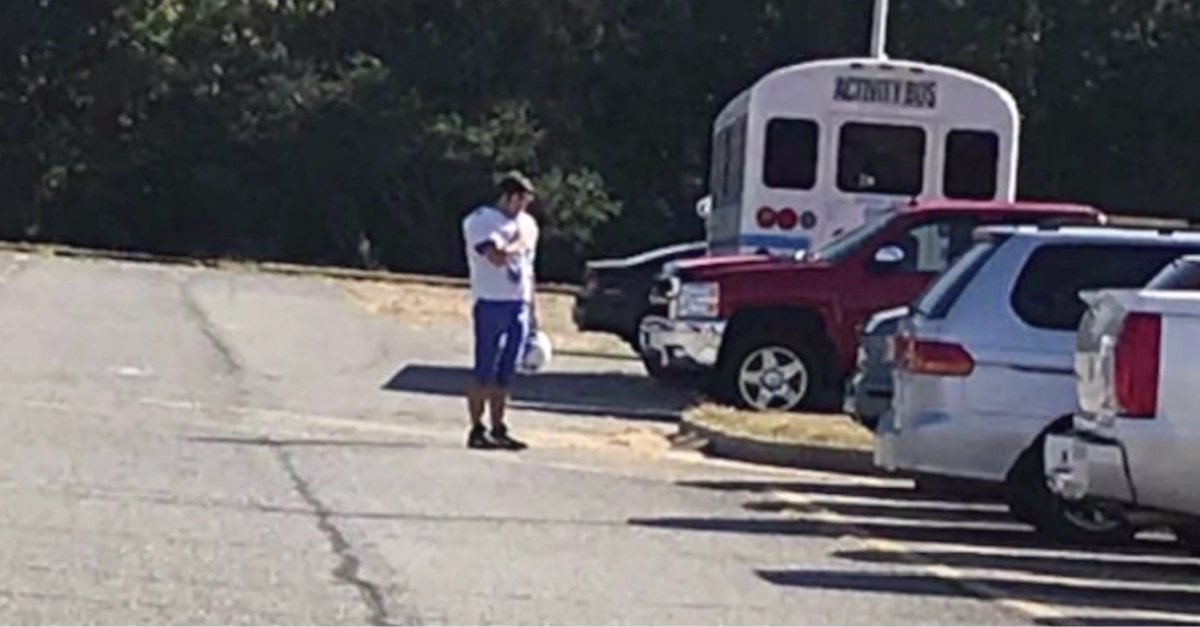 Screenshot from WGHP News
South Davidson High School football player Jacob Pope was on his way to practice. Suddenly, the North Carolina teen heard the unmistakable melody of the Star-Spangled Banner playing in the distance prior to a girl's softball game. That's when Pope stopped in his tracks and stood at attention while the national anthem played. Little did he know, someone was watching.
A teacher snapped a photograph of Pope standing at attention from across the parking lot, and the image went viral almost immediately after it was posted to Facebook. It's been shared thousands of times across social media, and the story received national attention.
"No one was there," Pope told Charles Ewing of FOX 8 News. "I just stopped because it was the right thing to do."
HS Football Player's National Anthem Salute Goes Viral
RELATED: High School Senior Delivers Incredible National Anthem Performance
With protests swirling around the national anthem that extend back to Colin Kaepernick and NFL teams kneeling prior to games, seeing a high school football player make this choice, all alone, in the middle of a parking lot is about as patriotic a moment as you'll ever see.
"Character is what you do when no one is looking. He defines that," Lauren Pope, Jacob's mother, said.
The positivity and respect for Pope's silent action flooded social media from all over America.
"They said, 'God bless this boy. I know he's been raised right. Amen. Awesome kid," Jacob said of the Facebook comments.
"Folks this is what we like to call discipline and respect! That is a true sign of a great athlete," one man commented.
While such a proud moment may have shocked the Davidson County kid, it's a testament to how little things make the biggest impact. Sometimes, focusing on doing the right thing all the time, rather than only when the world's eyes are on us, actually means more.
Jacob Pope isn't an NFL star, nor did he do this solo act of patriotism to draw attention. This small-town high school football player is just someone who believes in something greater than himself: his country.
Kudos, Jacob. Keep flying your American flag high.
This post was originally published on October 1, 2019.