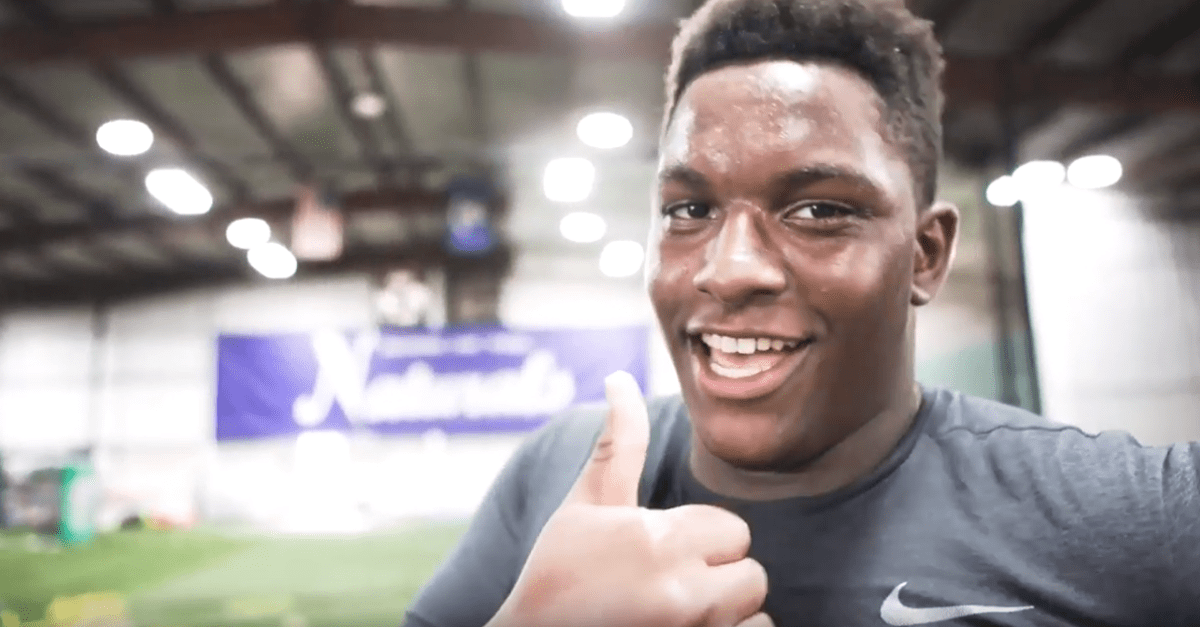 Screenshot from YouTube: Bayou Video Productions
A defense in football is only as strong as its interior. Having a talented and dominant defensive tackle can really change everything a team does on that side of the ball, and the top college football recruit in the state of Louisiana looks like the next, great one.
Maason Smith is not only the top recruit in his home state, but he is the second-ranked defensive tackle in the country and 20th overall recruit, according to the 247Sports Composite. Not surprisingly, all the top college football teams in the country want him. Bad.
The five-star defensive lineman out of Houma, LA has the body of a player who will be ready to play as soon as he steps on campus. Listed at 6-foot-5 and 316 pounds, it should be no surprise he is such a highly-touted member of the 2021 recruiting class.
At Terrebonne High School, Smith is a game-changer and racked up scholarship offers from schools around the country. He is the No. 1 defensive tackle, top player in Louisiana, and sixth-ranked prospect by Rivals. Meanwhile, ESPN ranks him sixth among defensive tackles and 58th overall.
Anyway you slice it, Smith is already a five-star stud who still has one season of high school football remaining.
Maason Smith Recruiting
In June of 2018, Smith received his first Division I scholarship offer from Louisiana Monroe and less than a week later got another from Southern Miss. Since then, it has been constant offers for the possible NFL prospect.
He currently holds 30 offers, but in October 2019, Smith posted a tweet revealing his top eight schools. The SEC made up a bulk of that list with four from the Southeastern Conference, two from the Pac-12, and one apiece from the ACC and Big 12.
Alabama Crimson Tide
Florida Gators
Georgia Bulldogs
LSU Tigers
Miami Hurricanes
Oklahoma Sooners
Oregon Ducks
USC Trojans
Maason Smith Highlights
As a defensive tackle, Smith may not put up huge numbers or have the coolest looking plays, but he obviously has great mobility for a guy his size.
Smith tallied 12 sacks, 36 tackles for loss, and 11 batted passes during his sophomore and junior campaigns and can play anywhere along the interior defensive line.
With his speed at the position, he will be a problem for interior offensive lineman in whichever conference he decides to play in. He is definitely someone I would want on my defense, or at the very least, play in a conference where my team wont have to play him.
This article was originally published November 13, 2019. It was updated following Smith's junior season and announcement of his final eight schools.